Fencing sometimes is also known as Olympic fencing is a sport in which two competitors fight using swords, where points are given on the basis of making contact with the opponent. This is based on the archaic skills of swordsmanship. Here are the Top 10 Female Fencers of All Times.
Top 10 Female Fencers of All Times
Elisa Di Francisca
A Jesi andrà in scena un bellissimo spettacolo di amicizia e integrazione grazie agli European Games of Integrated Fencing!Io e tanti campioni jesini come @VVezzali, Trillini e Cerioni, saremo in pedana sabato 8.09. Non mancherà anche la mitica @VioBebe! Vi aspettiamo numerosi! pic.twitter.com/n2qEO3Bz1S

— Elisa Di Francisca (@ElisaLovesJesi) September 3, 2018
Di Francisca is an Italian fencer, Olympic champion in 2012, World champion in 2010 and three-time European champion. She won the 2010–11 World Cup series and has seven World Cup victories to her name. With the Italian team, she was Olympic champion in 2012, five-time World champion and seven-time European champion. She has a long list of achievements. She is widely known for her extraordinary postures and movements and the ability to swirl in a very amazing way in one of the most dangerous sports, fencing.
Valentina Vezzali
Valentina Vezzali is an Italian fencer. She is also a politician, as a fencer, she has won six Olympic gold medals. Vezzali is one of only four athletes in the history of the Summer Olympic Games to have won five medals in the same event a feat very rarely achieved; she is one of the very best in what she does. She is regarded as one of the fastest female fencers the world has ever seen.
Laura Gabriela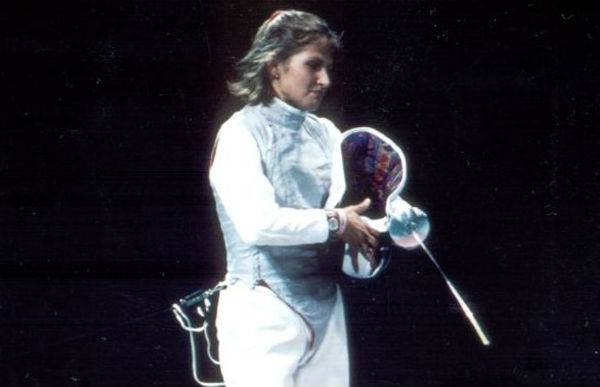 On no three is none other than Laura Gabriela a Romanian foil fencer, world champion in 1995 and Olympic champion in 1996. After her retirement, she became a coach, then a sports administrator. She is now vice-president of the Romanian Fencing Federation and a member of the Romanian Olympic and Sports Committee.
Giovanna Trillini
Giovanna Trillini is an Italian fencer. She is a four-time Olympic champion and she won additional silver and two bronze medals in individual Olympic competitions. Trillini won the bronze medal at the foil 2006 World Fencing Championships. Later in the tournament, she also won a silver.
Anja Fichtel-Mauritz
On rank five of our list is the German fencer Anja Fichtel-Mauritz. At the 1988 Olympics, she won in the individual and team competitions, and she won the individual competition of the World Championship for two years. She was the winner of the World Championships three times as a member of the national German team. From 1986 until 1996 Fichtel held the title of German champion.
Jujie Luan
Jujie Luan is number six on our list of top female fencers of all time. She is a Chinese-born Canadian fencer. She became the first Chinese athlete to win the gold medal in fencing at the 1984 Olympics. At the age of 50, Luan represented Canada at the 2008 Olympics. She has also participated in the 1988 and 2000 Olympics. Luan was an outstanding athlete in her youth; she had already done well in track and badminton before trying fencing. She started fencing at the age of 17 and quickly joined the national team in the same year. Luan was 2nd in the 1978 World Junior Championships.
Pascale Trinquet
On number seven is the French fencer and another Olympic champion in foil competition Pascale Trinquet. She won a gold medal 1980 Olympics. She also won a gold medal in team foil with the French team. Her elder sister Véronique Trinquet is also a fencer and Olympic medalist.
Ildikó Tordasi
On number eight on the list of top ten women fencers is the Hungarian fencer who won four Olympic medals in the foil competition none other than Ildikó Tordasi. She was named Hungarian Sportswoman of The Year in 1973. She won the world title in the same year. Tordasi won the World title again in 1976, and one Olympic Gold Medal. She died at the age of 63.
Antonella Ragno-Lonzi
On number nine of our top ten female fencers list is the Italian fencer and foil champion Antonella Ragno-Lonzi. She has a gold medal in foil at the 1972 Olympics and a bronze at the 1960 and Olympics. She is married to Gianni Lonzi, A water polo player. Her playing style and form has inspired many.
Elena Belova
Elena Belova is a Russian foil fencer. She competed at four  Olympic events in the individual and team both and won four gold, one silver, and one bronze medal, She was the first female fencer to win four gold medals. She nearly won the fifth gold in one year but lost her last pool match to the last-placed fencer.
So these were the top 10 Best Female Fencers of All Time. Feel free to share and don't forget to comment down below.
Summary
Reviewer
Review Date
Reviewed Item
Top 10 Female Fencers of All Times
Author Rating