Top 10 Best Cricketers Who Retired Too Early
July 10, 2021 By Sourav
---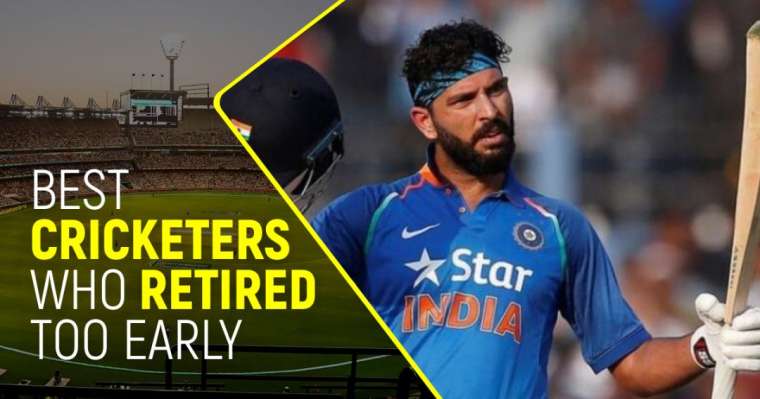 The worst thing that can happen to any player is to call for early retirement from her/his promising career. Early retirement can be a result of an injury, freakish accidents, controversial activities, etc. Let's see the list of Top 10 Best Cricketers Who Retired Too Early.
Best Cricketers Who Retired Too Early | 2021 Updates
Though some have come back from their hiatus, others have succumbed and dwindled into insignificance as careers ended tragically. We have a lot of greatest cricketers who had singularly distinguished careers promised ahead of them but for one or the other reason, their career ended tragically. Sad as they sound, I hope their lives and excellent contributions to the sport are remembered.
10. Craig Kieswetter
Known for being an aggressive batsman and an efficient wicketkeeper, Kieswetter retired at the age of 28 after getting seriously injured in the eye during a T20 tournament. He had begun his career in 2007 by playing county cricket for Somerset. Following his strong performances, he made his international debut in 2010.
Still suffering vision problems, Kieswetter's career ended tragically. He decided to call it a day in 2015. And now, he definitely deserves his mention among the best cricketers who retired too early.
9. Vijay Bharadwaj
Bharadwaj was an excellent right-hand batsman who scored 5553 runs and an amazing right-arm off-break bowler, snatching 59 wickets in 96 matches. In his debut one-day international in Kenya (1999-2000), he received the Man of the Series title. In the 90s he was chiefly responsible for Karnataka's triple victory in the Ranji Trophy.
Bharadwaj had a shining career ahead of him which was horribly cut short by a laser eye operation that went terribly wrong. Instead of seeing better, the surgery left him short-sighted and unable to keep his eyes open for long. His career ended tragically and he retired in 2006.
8. Nari Contractor
Contractor was a left-handed opening batsman who set fire in his debut innings after scoring hundreds of runs (becoming the second man to do so, following Arthur Morris). The omen of injuries had followed Contractor from the beginning, starting from when he was called to replace the captain of the Gujarat team to when he broke two ribs at Lord's in 1959.
Eventually in 1961-62 when he was leading India, Contractor took a blow at the back of his skull. He stayed in a coma for the next 6 days and woke to see the sad demise of his international career. He deserves his mention among the best cricketers who retired too early.
Fun fact: During the time, batsmen wore no helmets.
7. Saba Karim
Saba Karim was one hell of a cricketer who started his first-class career at the age of 15. Besides being a right-hand cricketer, he was also a wicket-keeper. In the 1990-91 Ranji Trophy, Karim played the best cricket of his life, scoring 234 for Bihar.
In the Standard Bank Series in South Africa, though Karim had a successful start, he could make only 49 runs in the next eight innings. Then in 2000, a brutal eye injury ended his career tragically.
Although before officially handing over the bat, for good, he did play this one Test match in November 2000 against Bangladesh. Karis undoubtedly deserves his place among the best cricketers who retired too early.
6. Ryan Harris
Harris was a promising right-arm Australian fast bowler who suffered injuries for the majority of his career. Harris has dual citizenship in Australia and Britain, and once considered playing for Britain. He also played for the Indian Premier League for the Deccan Chargers.
Then following a knee surgery that left him bedridden for 6 months, Harris's career ended tragically. The 35-year-old announced his retirement in 2015. He now deserves his place among the best cricketers who retired too early.
5. Jonty Rhodes
He played for the South African cricket team between 1992 and 2003 and was noted for his quick running and excellent fielding abilities. Rhodes was recorded for making the 9th highest number of run-outs in ODI by a fielder.
Despite his great performance chart, Rhodes had to retire from Test (in 2000) and ODI (in 2003) following some severe injuries. But still, fans regard him as the greatest fielder of all time.
Fun facts: Following retirement, Jonty Rhodes took up a job at Standard Bank as an account executive. In 2015, he had a daughter named India (after the country India). Rhodes also plays hockey and was part of the 1992 Olympic Games team.
4. David Lawrence
Lawrence was a powerful English fast-bowler, who in a career span of only 5 years (1988 to 1992) played five Tests and one ODI. Beginning from the age of 17, Lawrence was praised for his vigorous pace but criticized for being inaccurate. The cricket control board selected him for the English team in 1988 for a one-off Test against Sri Lanka.
It wasn't until 1991 when he was once again called to play for the national team. And just when he was establishing himself as a proficient fast-blower, Lawrence suffered a ghastly knee injury and his career ended tragically. His kneecap shattered after a ball hit him. Later he attempted comebacks but failed and retired at the age of 29.
3. Graeme Pollock
Fans still regard South Africa's finest cricketer, Pollock, as one of the greatest left-hand batsman ever. Pollock's international career ended tragically due to the unfortunate sporting boycott during the Apartheid era in South Africa. He broke a number of records and played 23 Test matches, exhibiting the incredible talent he possessed.
Pollock was part of a famous cricketing family and the recipient of numerous awards and accolades. He, without any doubt, deserves his mention among the best cricketers who retired too early.
2. Hansie Cronje
The saddest ending to an excellent cricket career is when the player is caught in a match-fixing scandal and thus he is one of the athletes whose careers ended tragically. In one of the greatest match-fixing scandals of all time, Hansie Cronje, a promising South African cricketer was recorded having conversations with bookmaker Sanjay Chawla.
Cronje maintained innocence at first but following rounds of cross-examination, he admitted of his misdeeds. The ensuing lifetime ban ended his career in 2000.
Two years later Hansie Cronje died in a plane crash that many believe was a pre-planned accident. Undoubtedly, he deserves his mention among the best cricketers who retired too early.
1. Raman Lamba
Lamba was primarily a right-handed batsman who played 32 One day Internationals and only 4 Test matches whose careers ended tragically. He began his cricket career in the 1980-81 Ranji Trophy.
He played around 87 matches scoring 6362 runs until his death in the championship season of 1997-98. While fielding for Dhaka's leading club, Abahani Krira Chakra in Bangladesh, Lamba was hit on the temple by a cricket ball hit.
The speed of the ball was such that after knocking against Lamba it went flying into the wicketkeeper's hand. The collision caused internal hemorrhage, then coma, and eventual death.
It was revealed that Lamba didn't like wearing a helmet while fielding close in and despite being suggested to wear one, he refused. And now, he deserves his place in the list of the best cricketers who retired too early.
Greatest Cricketers Who Retired Early - All-Time Infographics
Final Words
More to add up in the list of best cricketers who retired too early. Let us know in the comments below.