Top 10 Biggest Sports Scandals Of All Time
August 23, 2021 By Sourav
---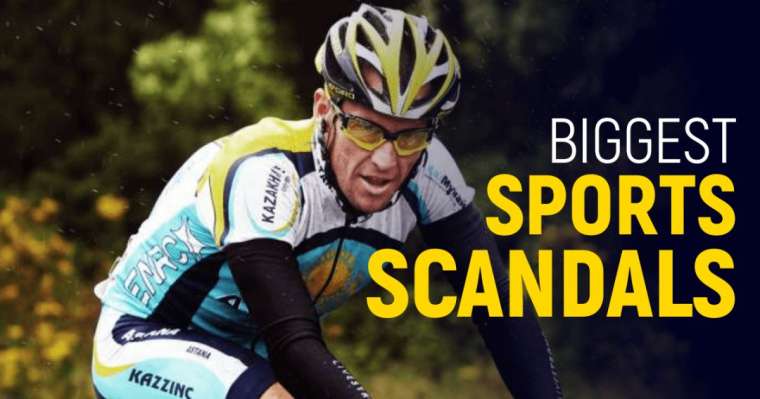 The world of sports is worshiped by many. Consequently, sports stars are often treated like gods. But, when gods fall, they go to hell. And, we all know that both fraudulence and sports are as old as human nature. Take a look at the Top 10 Biggest Sports Scandals of All Time.
Biggest Sports Scandals | All-Time Scandal List
Whatever the reason be – pressure to win, lust for money, cheating in sports is not forgiven. The discovery of fraudulence in sports has potentially destroyed many careers.
10. Danny Almonte
Scandal: Too old to play
At number 10 position of the 10 Greatest Sports Frauds is Danny Almonte who is a former baseball player from the Dominican Republic.
In the year 2000, Almonte began playing Little League baseball. With a capability to throw at 70 MPH, he became quite a sensational player. After the 2001 Little League World Series in which Almonte led his team to finish third-place, controversies rose regarding his age.
It was in fact later revealed that Danny Almonte was two years too old to be playing in the Little League World Series. The concern about age got considerable media attention.
Later Almonte continued his career, playing for different teams and in 2010, he began serving as a volunteer assistant coach for his high school baseball team - Cardinal Hayes High School.
9. Tim Donaghy
Scandal: Money Staking
Tim Donaghy is a retired basketball referee who played in the National Basketball Association (NBA) from 1994 to 2007 for about 13 seasons. Before officiating in the NBA, Donaghy used to play for his school's baseball team.
Previous to the money scandal, Donaghy was involved with another scandal that got a basketball player suspended for seven seasons.
In the 2007 NBA scandal, Tim Donaghy was accused of money staked on games and then making calls that affected the point spread on the games.
In 2008, Donaghy was sentenced to 15 months in federal prison. This one surely deserves its mention among the top 10 biggest sports scandals of all time.
8. Marion Jones
Scandal: Check fraud & steroid use
At number 8 position of the top 10 biggest sports scandals of all time is Marion Lois Jones or Marion Jones-Thompson who was a former track and field athlete and also a former basketball player. She is a World Champion with 3 Gold Medals won in 1997, 1998 & 1999.
Her career has been submerged in a lot of controversies. In the Summer Olympics of 2000, she won 2 bronze medals and 3 gold medals but was later stripped of her titles owing to steroid use.
At the time of the BALCO scandal, she was among the most famous athletes involved in the scandal. Later Jones's name got also involved in a check-counterfeiting scheme.
In 2008, Jones was sentenced to 6 months of prison because of her involvement in the check fraud case and use of steroids during the Olympics.
7. Frederick Lorz
Scandal: Didn't run the entire course
Frederick Fred Lorz was a long-distance runner who had a day job as a bricklayer. Reportedly he trained himself during the night. In 1904 he got selected to participate in the marathon at the Olympic Games.
On the day of the marathon, Lorz apparently became exhausted after running for nine miles. From then on for the next eleven miles, he got a lift in his manager's car.
The car broke down all of a sudden allowing Lorz to finish the rest of the marathon on foot. A soon as he reached the finishing line, everyone hailed him as the winner without knowing the whole story.
Initially, he played along but retracted when the spectator said he didn't run the whole way. Lorz was subsequently banned for life by the Amateur Athletic Union.
6. Alex Rodriguez
Scandal: Performance-enhancing drugs
At number 6 position of the top 10 biggest sports scandals of all time is Alexander Emmanuel Alex Rodriguez who was a baseball infielder of Major League Baseball (MLB). He played for the New York Yankees.
Regarded as one of the greatest baseball players ever, Rodriguez has previously played for the Texas Rangers and the Seattle Mariners.
He has held many records and got several awards including ten Silver Slugger Awards, fourteen All-Star, three American League (AL) Most Valuable Player (MVP) Awards, etc.
After accusations of using performance-enhancing drugs, in 2009 Rodriguez admitted to using it due to pressures of performing well. In 2013, he got suspended for 211 games which later came down to 162 games.
5. Ben Johnson
Scandal: Doping
Benjamin Sinclair Ben Johnson is a former sprinter and is one of the top 10 biggest sports scandals of all time.
He gained international prominence in 1982 when he won two silver medals at the 1982 Commonwealth Games. This bright athlete was involved in a shameful controversy.
In the World Championships in Athletics in 1987 and the Summer Olympics in 1988, he set 100 meters world record winning one Olympic gold medal and two Olympic bronze medals.
But later the Olympic Doping Control Center found stanozolol in Johnson's urine resulting in his disqualified. Johnson lost both the records and his title.
4. Rosie Ruiz
Scandal: Didn't run the entire course
At the number 4 position of the top 10 biggest sports scandals of all time is Rosa Ruiz Vivas who was an American marathon runner. Her first big break came in 1979 when she was able to participate in the New York City Marathon.
She came 11th and was therefore qualified for the Boston Marathon a year later. At the Boston Marathon, she made history. She didn't just win but her finishing time was the third-fastest female time ever recorded in any marathon.
However, spectators didn't fail to notice that, unlike other runners, Ruiz was not covered in sweat, neither was she panting. Her thighs were just flat.
It gave rise to suspicions. The investigation was launched and it was discovered that Ruiz didn't run the entire course. She was stripped of her medal eight days after the race.
3. Sylvester Carmouche
Scandal: Took advantage of foggy weather
Sylvester Carmouche caught everyone's attention in the early '90s with an ingenious trick he had pulled from under everyone's noses. A relatively unknown jockey, the name of Carmouche's horse was Landing Officer.
During the race, the track was covered with thick fog, so much so that the spectators could see nothing but could only hear the noise of the hoofs.
Taking advantage of the situation, when other horses were zooming past Carmouche halted and paced back near to the finishing line.
Then when he heard horses nearing the line, he kicked Landing Officer and crossed the finishing line. Later other jockeys testified that Carmouche was not riding beside them. He got a 10-years ban.
2. Boris Onishchenko
Scandal: Cheating
At the number 2 position of the top 10 biggest sports scandals of all time is Boris Onishchenko who is a former modern pentathlete and a member of the Soviet Union's modern pentathlon team.
Early in his career he had established a good name for himself and was immensely respected by his fellow Olympians. Previously he had competed in the 1968 Summer Olympics and in the 1972 Summer Olympics.
In the 1976 Summer Olympics, the Soviets held the fourth position and needed one push to win the gold. Fencing was the next event and Onishchenko being the finest fencer was called upon to compete.
During the game, his opponent complained that Onishchenko's weapon went off without hitting him. Upon investigation, the illegal modification was found on his weapon. Besides, Onishchenko was disqualified and his team was forced to withdraw.
1. Lance Armstrong
Scandal: Doping
Lance Edward Armstrong is one of the greatest cyclists of all time. His notable career success has been the seven consecutive Tour de France win from 1999 to 2005.
Later he was stripped off of his titles after allegations of doping. Since the 1999 Tour de France, serious doping allegations were made against him, and later he was charged for running the greatest doping program in the history of any sporting event.
Armstrong did not appeal against the charges and confessed that the doping allegation was true.
However, the Lance Armstrong case is still regarded as the most epic downfall of a sports star in professional sports history.
Final Words
So, which one out of the list of 'top 10 biggest sports scandals of all time' tarnish the sportsman spirit more? Let us know in the comments below.
Biggest Sports Scandals | 2021 Infographics