Top 10 Biggest Disappointments In NBA History
November 16, 2020 By Sourav
---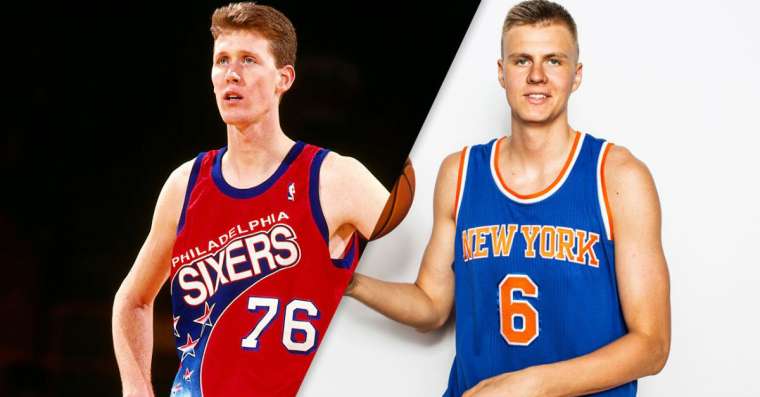 When clubs get to pick players who rank highly on the NBA draft they usually expect to get talented individuals who will lead their teams to glory in the future. However, for every brilliant player which gets picked as Number 1, 2, or 3, there's one equally as bad. Most of the players being picked in the draft are either youngsters coming from universities or unproven imports from other continents. That's why picking a player can sometimes be a hit and sometimes a miss, and instead of picking a Michael Jordan, a Vince Carter, or a Dirk Nowitzki, teams end up choosing players like Michael Olowokandi or Darko Milicic. And, here are the Top 10 Biggest Disappointments In NBA History.
Biggest Disappointments in NBA History
Many people compare the NBA draft to going to an online casino and trying out your luck. Sometimes you win large sums of money, but sometimes your high expectations aren't met. For example, if you go to some of the best South African online casinos there is a high chance that you are going to win a lot of money. However, there is also a small chance that you may have an off-day. The same is true for the NBA draft. So, check out our list of the Top 10 Biggest Disappointments In NBA History.
10. Sam Bowie
Basketball star Sam Bowie isn't on this list because he was particularly bad; in fact, he suffered various injuries which halted his progress when he could have established himself as one of the more influential players of his generation. In his injury-plagued career, he averaged around ten points and seven rebounds per game, which should be considered as a disappointment for the second pick in the 1984 draft, but shouldn't make Bowie 'worthy' of this top 10 NBA disappointments list.
However, the fact that Bowie was picked ahead of one Michael Jordan does make him a major disappointment and qualifies him for the number 10 spot on this list. The club that picked him in 1984, Portland Trail Blazers, continued to perform poorly on the draft and missed several other star players in the years that came after picking Bowie.
9. Nikoloz Tskitishvili
When Tskitishvili was selected as a Number 5 pick in 2002 by Denver Nuggets, many fans were hoping that the Georgian giant will be a handful for opponents. However, with 3,9 points per game in his first season, Nikoloz didn't quite instill fear in his markers. The fact that his first season was actually his best in the NBA really says a lot about his performances.
8. Shawn Bradley
When Philadelphia 76ers picked Shawn Bradley as Number 2 in the 1993 draft they probably thought that his height of 7 feet- 6 inches will present an impenetrable wall for opponents. However, the only thing that Bradley's height inspired in opponents was a desire to make dunks over him. The most famous of these was probably when Tracy McGrady decided to put himself in the highlights reel and used Bradley as a way to get there.
7. Adam Morrison
In the 2006 draft, the Charlotte Bobcats could have chosen Paul Milsap or Rajon Rondo. However, they opted for Adam Morrison, based on his college performances. In fact, it was none other than Michael Jordan who made the call to sign Morrison. It's fair to say that, together with deciding to leave the NBA and play baseball for a while, this was one of Jordan's biggest mistakes.
6. Pervis Ellison
Having the nickname 'Out of Service Pervis' is not the best way to describe your playing style. But, that is exactly how Pervis Ellison played for the Sacramento Kings and Boston Celtics. However, he was picked as the Number 1 pick in the 1989 draft. He has all the potentials to become one of the greatest basketball players of all time. However, he wasted all his talents.
5. Greg Oden
The Portland Trail Blazers appear on this list again, with their 2007 Number 1 pick. When one remembers that the other option for the Trail Blazers was Kevin Durant, suddenly their draft agony becomes much more apparent and you start feeling for them.
4. Michael Olowokandi
The LA Clippers expected great things when they took Olowokandi as the Number 1 pick in 1998. However, with something close to 10 points per game, the center didn't exactly turn out to be the big game decider he was supposed to be. The Clippers were certainly less than pleased, especially as they could have picked Dirk Nowitzki, Vince Carter, or Paul Pierce instead of Olowokandi.
3. Hasheem Thabeet
Thabeet was picked as Number 2 in the 2009 draft. However, the Grizzlies could have chosen Ricky Rubio or James Harden. The Tanzanian failed to impress. And, his size of 7 feet 6 inches didn't amount to much in his four years in the NBA. He averaged less than 3 points and 3 rebounds per game.
2. Kwame Brown
If the Wizards hadn't selected Kwame Brown in 2001 as the Number 1 pick, they might have chosen Pau Gasol or Tyson Chandler. However, they didn't and they ended up with the hugely disappointing Brown. He averaged just 4.5 points and 3.5 rebounds per game.
1. Darko Milicic
The 2003 NBA draft featured some of the game's best players in the world today. LeBron James went as pick Number 1, but there were other exciting players like Chris Bosh, Carmelo Anthony, or Dwayne Wade.
Detroit had the option to choose second and they opted for Darko Milicic. And with that, they made the biggest mistake in NBA history. He played for 2 and a half seasons there, but never really managed to establish himself as a starter. He played approximately 5 minutes per game.
In his first season with the Pistons, they won the NBA, but the Serbian center didn't contribute in any way. Had Detroit chosen any one of Carmelo, Wade, or Bosh, the Pistons might have had a winning dynasty at their hands. With Milicic however, they had a player they couldn't wait to get rid of.