Top 10 Best Wakeboarding Boats in the World
January 11, 2021 By Sourav
---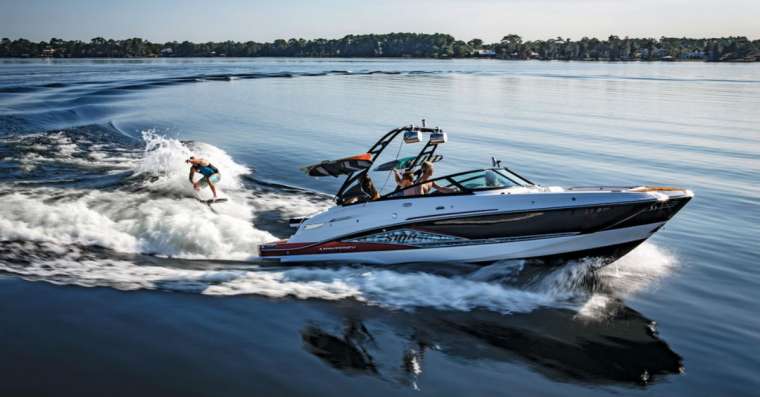 Whether you're at the helm or on the end of the tow rope in question, the boat you're using makes a huge difference in your water skiing or wakeboarding experience. Manufacturers have an intrinsic knowledge of this, which is what makes water sports boats one of the best competitive boats of any segment in the marine industry. Here is a list of the Top 10 Best Wakeboarding Boats in the World.
Best Wakeboarding Boats in the World | 2021 Updates
10. Centurion Enzo SV244
Centurion has been upping its game expertly over the last several years and nowhere is that more prominent than in its Enzo line of towboats and the flagship Enzo SV244. A fabulous wake-surfing machine, the Enzo SV244 comfortably holds up to 1,750 pounds of water ballast in its tanks for wakes so massive, a tow rope is absolutely superfluous. This boat definitely deserves its place among the top 10 best wakeboarding boats in the world.
9. Malibu Wake setter 247 LSV
"Go big or go home" is an appropriate idealism for the Malibu Wakesetter 247 LSV because, well, it's big—in a completely literal sense. This is the largest model in the Malibu line, and it's officially rated to carry seventeen people.
It's also notably big on features, including everything Malibu knows about building the towboats. It has rear-facing transom seats, flip-up wet stowage is finely accessible from the swim platform, a rubber step pad, and also a brawny 410-horsepower Indmar engine.
8. Moomba Outback
New buyers who are perhaps consciously cross-shopping a towboat with a stern-drive runabout are almost always stunned at the difference in prices. The boats are comparable in terms of their size, amenities, and equipment.
It isn't really hard to see the value in Moomba Outback, a truly versatile towboat that can accommodate skiers and borders. It now holds an eighth place among the top 10 best wakeboarding boats in the world.
7. Nautique Super Air Nautique 230 E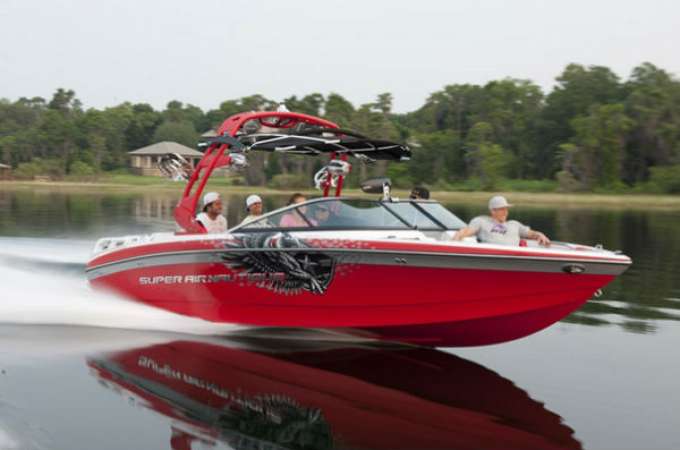 The electric wakeboard boat is here in Nautique's newer version of the Super Air Nautique 230, the 230 E. Details are still scant as of now, but here's what we know.
Twin electric motors with an efficient peak output of 160 kW (about 215 horsepower) draw energy from the lithium-ion batteries with an available storage capacity of a total of 78 kW-hours.
6. MasterCraft X30
At the sixth place in the list of the top 10 best wakeboarding boats in the world, we have X30. The only new model from MasterCraft for the year 2012, the X30 has fantastic features that make it a standout in the industry.
It can easily be fitted with three different towers. And, each of the towers folds down smoothly to windshield height and locks in place with some impressive trick latches.
5. Supra Sunsport 242
The Supra Sunsport 242 is a true gem of the game. Its profile is so sleek and utterly refined it makes you want to wash it by mere hand. Inside, the Sunsport 242 provides 270 degrees of the wraparound lounges, with innovative pop-up backrests to strongly support passengers watching the action behind the boat.
This wakeboard deserves its place among the top 10 best wakeboarding boats in the world.
4. Tigé RZ4
No boat company has been pushing the boundaries of design consistently further than Tigé. Over the past few years, the company's wise choices of gel-coat colors, graphics packages, and overall design have broken new territory and demonstrated some genuinely fresh thinking, and its RZ4 in this list of top 10 best wakeboarding boats in the world is a flawless example.
But, Tigé takes it further with more exceptional attention to detail, function, and ergonomics.
3. Ski Nautique 200 Closed Bow
Slalom skiing is no less challenging or for that matter exciting than it used to be, but it got overshadowed by the habit of wakeboarding. So, towboat manufacturers jumped in with both feet, expertly turning out lots of new models geared to throwing the largest wakes, and boasting the loudest stereos, and carrying the biggest number of millennials.
This lands Ski Nautique at 3rd place in the list of the top 10 best wakeboarding boats in the world.
2. Malibu 21 vRide
It's very common for towboat manufacturers to keep good hull designs from the top-shelf models in their lineups for so long that they eventually tend to become a company's value leader. There are a few of them in this story too. And, that includes Malibu's 21 vRide and there's a good reason for that as well: lots of bang for the buck.
At number 2 of the top 10 best wakeboarding boats in the world, Malibu's 21 vRide is a dedicated wakeboarding platform that appears standard with the features you need to keep you satisfied for the boating seasons yet to come.
1. MasterCraft X-7
The X-7 has been in MasterCraft's lineup under one popular model name or another for more than a decade. That can essentially mean the company is either too lazy or cash-strapped to sincerely tool up a replacement. Or maybe, the product still rocks in style. In this case, it's the latter.
The X-7 was designed when Clinton used to be the president, but it is still one of, if not the only, hull design ever formally approved for all five competitive events to date: slalom, trick, jumping, barefooting, and wakeboarding.
Wakeboarding is not for ordinary people to participate in as it is one of the richest sports in the world. And, here is our selection of the top 10 best wakeboarding boats in the world. We hope you liked it. And, don't forget to send us your opinion about this list.