Top 10 Best Sports Media Personalities of All Time
January 27, 2021 By Sourav
---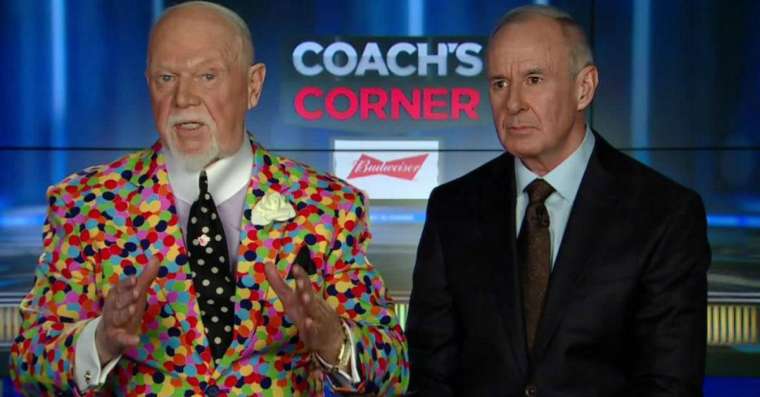 When it comes to sports analysis and coverage, the role of media is absolutely undeniable and irreplaceable. The media personalities, including journalists, broadcasters, radio or television sportscasters, etc. are the people who bring the matches to life. While the real game is all about fun, enjoyment, and excitement, the commentaries of the media people make watching or listening to the matches on television or radio experience in itself. Then there are the pre and post-match discussions that talk about the details of the matches which the media personalities do with great eloquence and confidence. Let us take a look at the Top 10 Best Sports Media Personalities of All Time.
Best Sports Media Personalities of All Time
10. Don Cherry
Canadian ice hockey commentator Donald Stewart "Don" Cherry was born on February 5, 1934, and currently works with CBC Television. He is also a retired professional hockey player and NHL coach. He is known for his rigid Canadian nationalism, flamboyant dress, and outspoken manner and was nicknamed Grapes. Cherry is known as a syndicated radio commentator for the Sportsnet Radio Network.
He co-hosts an intermission segment of the Canadian sports program Hockey Night with Ron MacLean in Canada called "Coach's Corner". Cherry also played for the Boston Bruins and later coached the team for five seasons. He was named as the seventh greatest Canadian on the Canadian Broadcasting Corporation's television special called "The Greatest Canadian." Besides, he now holds the tenth place in the list of best sports media personalities of all time.
9. Jim Rome
American sports radio talk show host James Phillip "Jim" Rome was born on October 14, 1964, and currently syndicated by CBS Sports Radio. He hosts the Jim Rome Show on radio broadcasted from a studio near Los Angeles, California. Rome hosted a television show called Jim Rome Is Burning for a number of years which was aired on ESPN in the United States and TSN2 in Canada.
He is also noted as a previous host of Talk2 in ESPN2, The FX Sports Show in FX, and The Last Word in Fox Sports Net. Jim ended his relation with ESPN in 2011 to join the CBS network for hosting his own show and an interview-format show on the Showtime channel. Besides, Talkers Magazine also named him as the 29th most influential talk radio personality.
8. Bob Costas
American sportscaster Robert Quinlan "Bob" Costas was born on March 22, 1952, and working with NBC Sports television since the early 1980s. He is famous as a prime-time host of nine Olympic games which includes the 1992 Barcelona Olympics, 1996 Atlanta Olympics, 2000 Sydney Olympics, 2002 Salt Lake City Olympics, 2004 Athens Olympics, 2006 Turin Olympics, 2008 Beijing Olympics, 2010 Vancouver Olympics, 2012 London Olympics and the most recent 2014 Sochi Olympics.
He currently hosts an interview show called Studio 42 with Bob Costas. Costas previously hosted NBC's National Football League coverage and NBA coverage, and also known for the National Basketball Association and Major League Baseball coverage. He hosted Bravo's coverage of the 2009 Kentucky Oaks in 2009. He now holds his place as one of the best sports media personalities of all time.
7. Al Michaels
American television sportscaster Alan Richard "Al" Michaels was born on November 12, 1944, and currently works with NBC Sports after he spends almost three decades with ABC Sports. He is widely known for calling play-by-play of National Football League games and also Monday Night Football. Michaels is quite famous for hosting several sports programs such as Miracle on Ice at the 1980 Winter Olympics.
As an interesting fact, he is the announcer of the earthquake-interrupted Game 3 of the 1989 World Series. Michaels achieved the Emmy Award for Outstanding Sports Personality a record five times. He also achieved the "National Sportscaster of the Year" award three times till now by the National Sportscasters and Sportswriters Association.
6. Dick Vitale
American basketball sportscaster Richard John "Dick" Vitale was born on June 9, 1939, and widely known by his nickname "Dickie V". He is quite popular for his several catchphrases such as "baby" and "diaper dandy" and also regarded for his colorful remarks which he makes during games with an outrageous appeal towards the sports.
He also appeared in several movies and is the author of nine books till now. Vitale has earned his place in the Basketball Hall of Fame on September 5, 2008, due to his contribution towards the sports. The University of Detroit named its basketball court in his honor in 2011. Dick Vitale then achieved his place in the Little League Museum Hall of Excellence on August 18, 2012.
5. Erin Andrews
American sportscaster and television personality Erin Jill Andrews was born on May 4, 1978, and currently serves as the host of FOX College Football for Fox Sports. She is also famous for her anchoring in the popular reality show "Dancing with the Stars" for ABC. Erin has previously co-hosted the College GameDay on ESPN. She worked as a contributor for Good Morning America on the ABC network.
Erin replaced Brooke Burke-Charvet as the co-host of Dancing with the Stars on February 23, 2014, which began its 18th season in March 2014. She also replaced Pam Oliver as the sideline reporter on Fox's lead NFL broadcasting crew on July 14, 2014. Playboy magazine named Erin as the "America's sexiest sportscaster" twice, in 2007 and 2008. She now also holds her place among the best sports media personalities of all time.
4. Vin Scully
American sportscaster Vincent Edward "Vin" Scully was born on November 29, 1927, and is widely known as the play-by-play announcer for the Los Angeles Dodgers baseball team. He is also famous for his signature introduction to Dodger games which says, "It's time for Dodger baseball! Hi, everybody, and a very pleasant good day to you, wherever you may be." He already spent 65 seasons with the Dodgers which is the longest tenure of any broadcaster with a single team.
Scully now calls most of the Dodger home games and several road games on KLAC radio and SportsNet LA television. He received the Ford Frick Award from the National Baseball Hall of Fame in 1982. Scully received his place in the National Radio Hall of Fame in 1995. He also honored with a Life Achievement Emmy Award. He definitely deserves his place among the best sports media personalities of all time.
3. Chris Berman
American sportscaster Christopher James "Chris" Berman was born on May 10, 1955, and is famously known by his nickname Boomer. He currently hosts the SportsCenter, Monday Night Countdown, Sunday NFL Countdown, U.S. Open Golf, the Stanley Cup Finals, and several other sports programs on ESPN and ABC Sports. He also calls play-by-play of select Major League Baseball games for the ESPN channel.
Berman with color commentator Trent Dilfer and sideline reporter Rachel Nichols called play-by-play for the Monday Night Football game between the San Diego Chargers and Oakland Raiders in 2012. Berman was awarded a star on the Hollywood Walk of Fame on May 24, 2010. He also achieved the Pete Rozelle Radio-Television Award on July 12, 2010.
2. Marv Albert
American sportscaster Marv Albert was born Marvin Philip Aufrichtig on June 12, 1941. He currently works with Turner Sports and CBS Sports. Besides, he also serves as the lead announcer for NBA games on TNT. Albert also calls NCAA tournament action for CBS and Turner, and regional NFL games on CBS. He became famous as "the voice of the New York Knicks" from 1967 to 2004. His fans still now widely regard him as "the voice of basketball."
Marv called the play-by-play of six Super Bowls which included Super Bowl XLII in 2008. Albert also called seven Stanley Cup Finals and several NBA Finals. He is the co-host and reporter for two World Series in 1986 and 1988. Albert achieved his place in the National Sportscasters and Sportswriters Association Hall of Fame in 2014. He now holds second place in the list of the best sports media personalities of all time.
1. Clay Travis
American sports journalist Richard Clay Travis currently serves his duty as a writer and television analyst for Fox Sports. Travis now holds the top spot in the list of best sports media personalities of all time. He is quite famous as an analyst on Fox Sports 1's college pre-game show. Besides, he also hosts their weekly SEC football show. Travis is a national radio show host for NBC Sports and also works as a columnist and editor for Outkickthecoverage.com.
Besides his career as a sports personality, he also worked as a lawyer in the U.S. Virgin Islands and Tennessee. He covered D1 Sports Training with NFL prospects preparing for the NFL Draft in the year 2008. Clay Travis was named as the Best Sports Radio Host We Love To Hate" by the Nashville Scene in 2010 in the publication's "Best of Nashville" issue.
Even though most people would prefer to watch their games right in the field, some cannot afford to do so, and the media personalities make games for audiences who depend on the electronic media a whole new experience. Some might even say that media personalities make sports much better to watch or listen to on TV or radio, than being in the gallery. So, here is the updated list of the best sports media personalities of all time. We hope you liked it!