Top 10 Best Free Agent Signings In The NBA | 2021 Updates
October 19, 2021 By Admin
---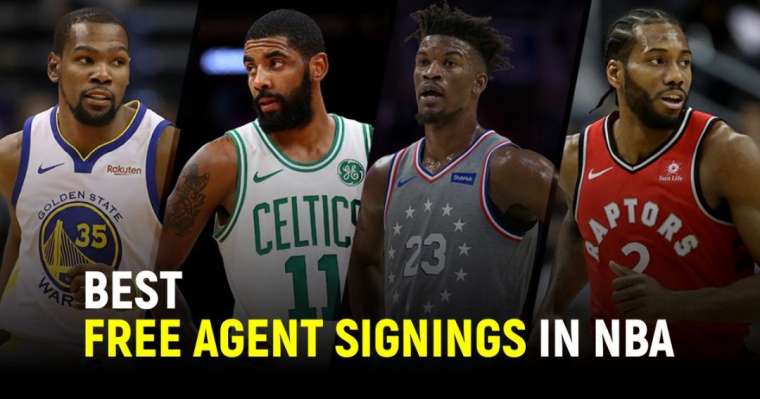 NBA signings are the essential factor for a team to achieve success in the long term. Many signings turn out to be the worst because of the bad performances and experience of players. Because of contracts, signings are bad for players if they have a terrible experience with the team. But as a free agent, players have the authority to sign with others. Here we will discuss the best free-agent signings in the NBA that are an excellent experience for players and management regarding performance and financial benefit.
Best Free Agent Signings In The NBA | 2021 Ranking
We have already published our exclusive ranking of the hottest NBA players to look for this year. But statistically speaking, these basketball series will be truly incomplete without mentioning the best free-agent signings in NBA history.
10. Danilo Gallinari
Team: Atlanta Hawks
Contract Duration: 3 Years
Signing Amount: $61.5 Million
In the free-agent class of this year, forward Danilo Gallinari plans to secure a three-year deal with the Atlanta Hawks, a person with knowledge of the deal said.
It was not official until the agreement was signed that the individual could speak publicly about it. In 2019-20, Gallinari, who turned 32 in August, averaged 18.7 points and shot 40% from the 3-point range for Oklahoma City.
Atlanta is seeking to accelerate its plan by bringing in more talent and competing for a playoff spot this year. This fantastic deal is regarded as one of the best free-agent signings in the NBA because of Gallinari's great NBA career with impressive stats.
9. Davis Bertans
Team: Washington Wizards
Contract Duration: 5 Years
Signing Amount: $80 Million
Arturs Kalnitis, Davis Bertans' agent, says the Wizards and Bertans have agreed to a five-year, $80MM contract, per Adrian Wojnarowski at ESPN.com. Bertans' new contract also includes an early termination option for year five. The team's number-one priority was re-signing the talented stretch four.
It achieved that goal at an exorbitant price. Many experts considered this one of the best free-agent signings in the NBA. However, due to his history of ACL injuries and a desire to stay in the NBA after the season, Bertans chose not to participate in the NBA's restart.
During his first season as a Wizard, Davis averaged 15.4 points, 4.5 rebounds, and 1.7 assists per game in 54 games (29.5 minutes per game). Bertans had a career-best 42.4% three-point shooting percentage per game in 2018.
8. Tristan Thompson
Team: Boston Celtics
Contract Duration: 2 Years
Signing Amount: $19 Million
Yahoo Sports' Chris Haynes reports that the Celtics have signed free agent center Tristan Thompson to a $19M deal over two years. Thompson's agent, Rich Paul, confirmed the deal. On a lighter note, Tristan is one of the most handsome players in the NBA to look for this year.
Cleveland.com's Chris Fedor reports that Thompson will receive the full mid-level exception offered by Boston, which was more than the Cavaliers were willing to give. While Cleveland was hopeful of retaining Thompson, the Celtics were motivated to deal when Paul Millsap chose Denver over Boston.
As a member of the Cavaliers for the first nine years of his career, Thompson won a championship in 2016 and appeared in four NBA Finals. Last year, Thompson averaged 12.0 points per game, 10.1 rebounds, and 2.1 assists.
7. Joe Harris
Team: Brooklyn Nets
Contract Duration: 4 Years
Signing Amount: $75 Million
Nets coach Phil Jackson reportedly signed the excellent Joe Harris to a four-year deal worth $75 million this year, retaining their top free agent with designs on contention. Besides, he is now widely regarded as one of the best basketball players in 2021.
Harris averaged 14.5 points per game this past season and made 42.4% of his triples, making him an NBA star long-range threat off the catch. Harris grabs one of the best free-agent signings in the NBA.
With so much interest in Harris around the league, the Nets had no option but to sign him. They were operating well over the salary cap and couldn't find another player of his caliber elsewhere.
6. Bogdan Bogdanovic
Team: Atlanta Hawks
Contract Duration: 4 Years
Signing Amount: $72 Million
It has been announced that Atlanta has signed Bogdan Bogdanovic, following Sacramento's refusal to match the Hawks' four-year, $72 million offer sheet.
The Hawks put a trade kicker on Bogdanovic's deal so that if the Kings considered him an upcoming trade piece, it would have been costly to move him. One of the NBA champions, Hawks, creaked a great deal, indeed.
This provided added incentive for McNair did not match the Hawks' offer. As reported by The Times, the deal includes the player's option and a 15% trade kicker, making it one of the best free-agent signings in the NBA.
5. Goran Dragic
Team: Miami Heat
Contract Duration: 2 Years
Signing Amount: $37.4 Million
During the opening week of free agency, Goran Dragic announced Friday that he'd remain with the Miami Heat. Dragic signed the franchise's five-year, $85 million contracts in February 2015. He was Miami's leading playoff scorer before the Finals, a series he missed due to a foot injury and reportedly agreed to a three-year deal.
A second-year is reportedly a team option. The Heat's offensive production dramatically depends on Dragic, and he's a good fit for everyone else on the roster regardless of his defensive shortcomings.
Miami Heat guard Goran Dragic is getting a high salary due to his decades-long relationship with the team. Miami is not preventing them from signing other free agents with salary-cap exceptions.
4. Montrezl Harrell
Team: Los Angeles Lakers
Contract Duration: 2 Years
Signing Amount: $19 Million
The move Montrezl Harrell signed in the offseason was by far the best move made by any team during the entire free agency period. You can again give credit to Rob Pelinka and Jeanie Buss for making the right decision.
One of the richest basketball players, Harrell, first signed with the Los Angeles Lakers. And that helped them achieve a significant step forward. When Harrell went to Los Angeles, the Los Angeles Clippers lost an integral piece.
However, this Montrezl proved that this is one of the best free-agent signings in the NBA with his performance. It's hard to deny what Montrezl Harrell brings to the Lakers. He's long, tall, strong, and bright, playing with an edge.
3. Fred VanVleet
Team: Toronto Raptors
Contract Duration: 4 Years
Signing Amount: $85 Million
A longtime Raptors player, Fred developed from an undrafted free agent into the best bargain in the league at $9.3 million U.S. last season. In any case, VanVleet made it clear this offseason that he intended to be paid, as he was probably the best free agent on the market.
To keep one of the greatest NBA stars, VanVleet, Toronto might either have to overpay or lose him to an aggressive bidder. Fred has proved that this is one of the best free-agent signings in the NBA because of his tremendous performances.
However, the Raptors re-signed him for $43 million over four years, a rate that is most likely reasonable considering Charlotte traded $120 million for a diminished Gordon Hayward.
2. Serge Ibaka
Team: Los Angeles Clippers
Contract Duration: 2 Years
Signing Amount: $19 Million
The Los Angeles Clippers have signed Ibaka to a two-year, $19 million contract, which is the mid-level exception, per Shams Charania of The Athletic. ESPN's Adrian Wojnarowski first reported the agreement.
The Clippers have acquired Ibaka in exchange for Luke Kennard and Montrezl Harrell from the Lakers. They have traded Landry Shamet to Brooklyn and Kennard for Montrezl Harrell. The Clippers also gain versatility, as Ibaka is less of an energy player than Harrell, but he is equally as defensively adept and a dangerous shooter.
Due to his 39 percent shooting percentage from last season, the Clippers may be able to spread the floor with five players on the perimeter without compromising rim protection.
1. Christian Wood
Team: Houston Rockets
Contract Duration: 3 Years
Signing Amount: $41 Million
A deal was reported to have been struck between the Rockets and Detroit Pistons forward Christian Wood, who emerged as a late-bloomer last season. The player gained some strength during the final stretch of the season, making the team's starting lineup from February onward and setting up positive results.
Also, this deal turned out to be one of the best free-agent signings in the NBA. During a period of potential transition, he joins a Houston organization. It's risky to pay over the odds for a player with a relatively small production sample. Wood now joins his sixth NBA team in five seasons, during which he has played in the G League.
Last season's raw production (22 points, ten rebounds, 1.5 blocks per-36), combined with his sharpshooting splits of 56/38/74, certainly justified a significant investment. His ability to score inside and outside is remarkable.
Best Free Agent Signings In The NBA - Infographics
Final Words
We hope you liked the list of our best free-agent signings in the NBA. We appreciate your feedback. Feel free to leave a comment in the comment box.
FAQs Regarding Free Agent Signings In The NBA
Q. How long is NBA free agency?
Before signing a two-way contract, the player was on an NBA active or inactive roster for at least 15 days. A restricted free agent has five primary options: Accept his team's prior qualifying offer, play out the season and become a free agent the following summer.
Q. What does it mean when an NBA player is a free agent?
In professional sports, a free agent is an individual who is not under contract with a specific team and is, therefore, eligible to sign with any club. Additionally, the term may refer to a player currently under contract but who can solicit offers from other teams.
Q. When was free agency introduced in the NBA?
NBA players, now consisting of 18 teams, and the Players Association settled on April 29, 1976, which changed the balance of power in pro sports.
Q. Do undrafted players get paid?
The NFL paid signing bonuses to at least 56 undrafted free agents totaling at least $10,000, and 15 of them received money upfront exceeding $15,000. These figures are based on a survey of undrafted free agents conducted by the NFL Players Association.