Top 10 Best Female Bikers of All Time
November 23, 2021 By Sourav
---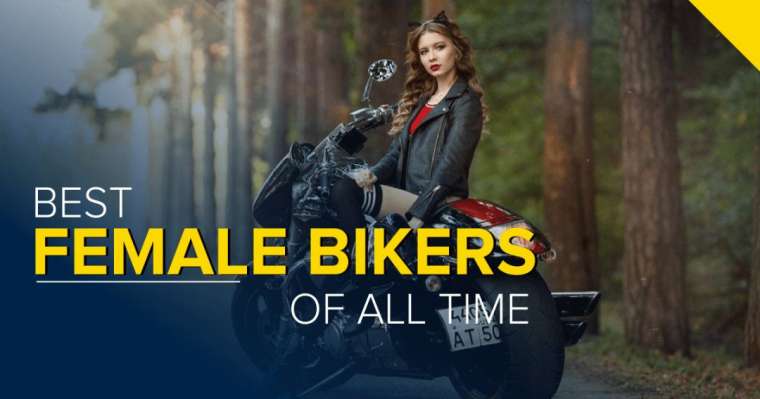 While women have equaled men at everything from sports, education, jobs, and even have been to space but still, hell breaks loose when they ride bikes. So in this list of Top 10 best female bikers of all time, we take a look at the best female bikers of all time who not only broke the stereotype but were actually as good as men at bike racing.
Best Female Bikers of All Time | 2021 Updates
Bikes have always been considered Men's toys. Love for superbikes and bike racing has been thus always been considered a guy thing, so whenever people see a woman riding a badass bike in public, it turns people's heads.
10. Ashley Fiolek
At number 10 in our list of best female bikers of all time, we have Ashley Fiolek. She is credited to have made Motocross more popular among females. Ashley didn't have the ability to hear but she happened to have great talent on the motorcycle.
She nearly won the Women's Pro class at Loretta Lynn's in 2006 riding a Supermini but in the future, she became the first-ever female to get a full factory ride from Honda. She also won the WMX titles 4 times in her career.
9. Tamsin Jones
At number 9 in our list of best female bikers of all time, we have Tamsin Jones. Off-road races are generally considered tougher than normal track races and off-road doesn't get tougher than the Dakar Rally. Tasmin is one of the few female riders who can boast of completing the Dakar rally on the first attempt.
She was only the first woman home on two occasions in the extremely tough Red Bull Romania Extreme Enduro. She also holds the record for the highest altitude a female rider has ridden on (Mt. Everest - 17,581 feet).
8. Elena Rosell
Coming at number 8 in our list of best female bikers of all time, we have Elena Rosell. This Spanish racer was the first-ever female to participate in the Moto2 class. She also competed in the Moto2 World Championships in 2011 and 2012, with her best finish being 20th at Sepang in 2012.
It's a shame that her career has not been consistent as she faced too many crashes. Now she is back in the Spanish Series but given her talent, it wouldn't be a surprise if she returns to Moto2 again.
7. Elena Myers
At number 7 on our list, we have Elena Myers from the USA. At the young age of 25, she has quite a tally of achievements in her CV. She is the first woman to win the AMA Pro Racing road race in the USA, winner at the 600cc Supersport race at Infineon Raceway 2010.
Myers became the first female ever to win any Motorsport race at the legendary Daytona International Speedway (in 2012). She currently rides a Suzuki GSX-R1000 and is expected to further elevate the standing of women at Motorsports.
6. Maria Herrera Munoz
At number 6 in our list of best female bikers of all time, we have Maria Herrera Munoz, a Spanish racer touted to be the future star of the racing arena. She is the current leader of the Spanish CEV Moto3 Championship which is a highly competitive feeder class into the Moto3.
She is young and talented and is sure to set the MotoGP scene on fire in the future. Besides, she is now almost dominating these extreme sports.
5. Laia Sanz
At number 5 on our list, we have Laia Sanz. She is a Spanish legend, not only is she the current Women's World Endura Champion but she has also won the Women's Trial World Championship 13 times and Women's Trial European Championship 10 times.
Laia started riding at the age of 3 and was racing by the time she was 7. She is currently the world's best female off-road rider in the world, though from 2014 that titles have come under attack by Jane Daniels, another prolific racer.
4. Maria Costello
At number 4 in our list of best female bikers of all time, we have Maria Costello. This English racer held the Guinness World record for being the fastest female racer at Isle of Man TT with an average lap speed of 114 kmph until Jenny Tinmouth broke the record in 2009.
She is one of the better-known faces of the female racing scene and has done a lot to promote women's participation. Costello undoubtedly dominated this one of the toughest sports during her peak time.
3. Jenny Tinmouth
At number 3 in our list of best female bikers of all time, we have Jenny Tinmouth. This English racer is the current female record holder in the Isle of Man TT for lap timing, She set the Guinness World Record in her first-ever TT in 2009.
Tinmouth then broke her own record in 2010 when she set an average lap speed of 119.945 kmph which was, in turn, another Guinness World Record. She is also the only female rider to have participated in the British Superbike Championship.
2. Jane Daniels
At number 2 in our list of best female bikers of all time, we have Jane Daniels from the UK. At 23, she is UK's top female Enduro rider. She was second in the Women's Enduro World Cup 2013, and in the final race she defeated the champion, Laia Sanz.
Jane started 2014 with a bang by coming in second in the opening Spanish round of WEWC. She is highly rated by her peers, both male, and female, and is expected to achieve great heights.
1. Ana Carrasco
Spanish biker Ana Carrasco is the best female biker of all time. At the age of 17, she is the world's only female competitor in MotoGP; she rides a Kalex KTM in Moto3. She started riding bikes from the tender age of 3 and then moved onto the Spanish MiniGP series and then to the Spanish 125 championship.
In 2013, aged 16 she made her debut on Team Kalvo KTM, and later that year in Malaysia she became the first female bike racer to achieve points in Moto3.
Conclusion
We salute all the ladies who are featured in this list of top 10 best female bikers of all time for breaking into the bike racing scene that was wholly dominated by men and breaking all the stereotypes and clichés to give men a run for their money when it comes to racing.
Best Female Bikers of All Time - Infographics
So, here is the complete list of Best Female Bikers. Share your thoughts about Biker Babes in the comment box.