Top 10 Athletes With Disabilities Who Competed In The Paralympics
August 18, 2021 By Sourav
---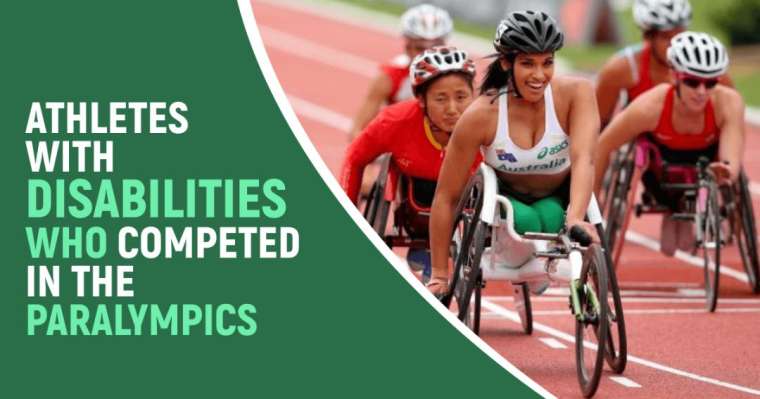 The multi-sport international event for athletes with physical disabilities is called Paralympics. It started in 1948 with a couple of British World War II veterans. And here we bring you 10 athletes with disabilities who competed in the Paralympics as well as able-bodied competitions.
Athletes With Disabilities Who Competed In The Paralympics
There are Winter and Summer Paralympic Games and these are held right after the Olympic Games. For years Paralympics have been striving for funds and equal treatment like that of the Olympic athletes.
10. Natalia Partyka (1989 – Present)
Partyka is a table tennis player from Poland. She was born without a right arm. Partyka participates in both competitions for athletes with disabilities as well as competitions for able-bodied athletes.
She participated in the 2000 Summer Paralympics at the age of just 11. And, she became the youngest Paralympian ever to participate.
Partyka has a number of medals and titles to her name including a gold (for singles) and a silver (in the team event) at both the Beijing Paralympics and Athens Paralympics.
9. Oscar Pistorius (1986 – Present)
Oscar Leonard Carl Pistorius is a sprint runner hailing from South Africa. He was born with congenital absence of the fibula) in both legs. When he was 11-years-old, both his legs had to be amputated below the knee.
After succeeding in the Paralympic, Pistorius decided to participate in the able-bodied international competition.
Skeptics said that his artificial limb was an unfair advantage but following a legal call, he was allowed to enter the competition, in the men's 400 meters and 4 into 400 meters relay races. He became the first double leg amputee to do this.
8. Marla Runyan (1969 – Present)
Runyan is an American marathon runner, roadrunner, and track and field athlete. Five times gold medallist at the Paralympic Games, Runyan is legally blind.
Under the T13 classification for disability athletics, she holds records in 400 m, 800 m, 1500 m, 5000 m, Pentathlon, high jump, and long jump.
In both 2002 and 2006, she has received the 'Runner of the Year' title.
7. Jeff Float (1960 – Present)
Jeffrey James Float is a former American swimmer who is known for being the first legally deaf athlete from the USA to win an Olympic gold medal. He lost most of his hearing at the age of 13 months (90% deaf in his right and 65% in his left ear).
Though he qualified for the 1980 Summer Olympics, he couldn't participate as the US had boycotted the Olympics that year. In the 1984 Summer Olympics, Float captained the swimming team and bagged a gold medal in the men's 4×200-meter freestyle relay.
When he emerged from the pool, the crowd roared and Float said, "It was the first time I remember distinctively hearing loud cheers at a meet. I'll never forget what 17,000 screaming people sound like. It was incredible!"
6. Paola Fantato (1959 – Present)
A former Italian archer, Fantato is the proud winner of 8 medals (5 of them being gold) at the Summer Paralympics. Confined to a wheelchair since the age of 8, she has a number of credits tucked in her belt.
Between 1988 and 2004 she participated in the Summer Paralympic Games, five consecutive times, taking home a total of five gold medals, two bronzes, and one silver.
She also won bronze in women's individual and gold in the women's team at the 1996 Summer Olympics and Paralympics. Besides, she bagged more gold medals at the 2000 Summer Paralympics, and a gold and silver at the 2004 Paralympics.
5. Neroli Fairhall (1944 – 2006)
Neroli Susan Fairhall, a New Zealander, was the first-ever paraplegic competitor to participate in the Olympic Games. Since childhood Fairhall was pretty athletic but all that came to an end after a motorbike accident that paralyzed her from the waist down.
She took up archery and decided to compete in the 1984 Summer Olympic Games becoming the first-ever paraplegic competitor.
In the 1982 Commonwealth Games, Fairhall won gold. She won a number of medals and held titles in many international tournaments.
4. Lis Hartel (1921 – 2009)
Hartel was one of the Athletes with Disabilities Who Competed in the Paralympics. At the age of 23, she suffered from polio which caused paralysis below the knee and damaged her hand.
She was also pregnant at the time. Doctors advised her to retire from competitive riding. However, Hartel participated in the Scandinavian championships in 1947. Next, by participating in the dressage, Hartel became one of the first women competing against men at the Olympics in an equestrian event.
And with that feat, she created her first record. Besides, she has earned her place in Denmark's Hall of Fame in 1992. In the year 2005, Hartel has earned her place among Denmark's top 10 athletes of all time.
3. Olivér Halassy (1909 – 1946)
Next on Athletes with Disabilities Who Competed in the Paralympics is Halassy. Halassy was a water polo player and freestyle swimmer from Hungary. He lost his left foot when he was 8-years-old.
Halassy competed in the 1928, 1932, and 1936 Summer Olympics as part of the water polo team and won two gold and one silver medal. He is also the first amputee swimmer to compete in the Olympics.
In 1931, he won the European champion in 1500 meters freestyle swimming. In his national career, he set 12 records and won 25 swimming titles. Besides, Halassy has earned his place in the International Swimming Hall of Fame in 1978.
2. Ildikó Újlaky-Rejtő (Birth – 1937)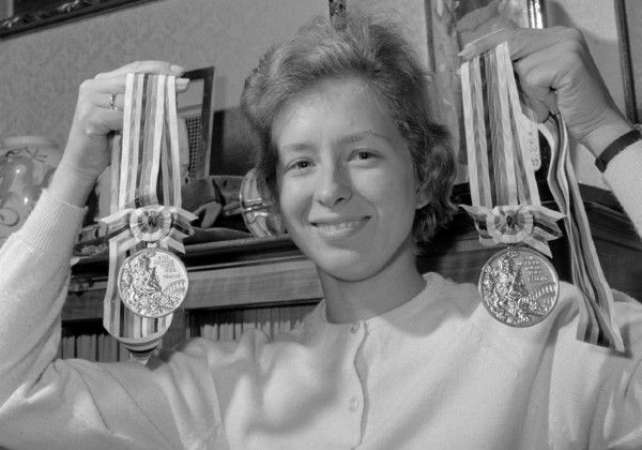 The next one on Athletes with Disabilities Who Competed in the Paralympics, Ildikó Újlaky-Rejtő, was a foil fencer from Hungary. Between 1960 and 1976, Rejtő won Olympic 7 medals (two gold, two bronze, and three silver).
Besides, at the 1999 World Veterans Championships, Rejtő won the women's foil competition.
Currently, she is a member of the International Jewish Sports Hall of Fame.
1. George Eyser (1870 – Unknown)
Gymnast George Eyser was one of the German-American Athletes with Disabilities Who Competed in the Paralympics who had a wooden prosthesis (left) leg, which didn't stop him from bagging 6 Olympics medals in a single day.
When he was young, Eyser legs were run over by a train. The wooden prosthesis allowed him to jump and run. As a keen sportsman, Eyser pursued his training as a gymnast and later entered the Olympics.
At the 1904 Summer Olympics, he won three gold and two silver medals. In one of the events where he participated, he had to jump over a long horse without the aid of a springboard.
Greatest Athletes In Paralympics | All-Time Infographics