Top 10 Angriest Coaches In Sports History
October 20, 2021 By Sourav
---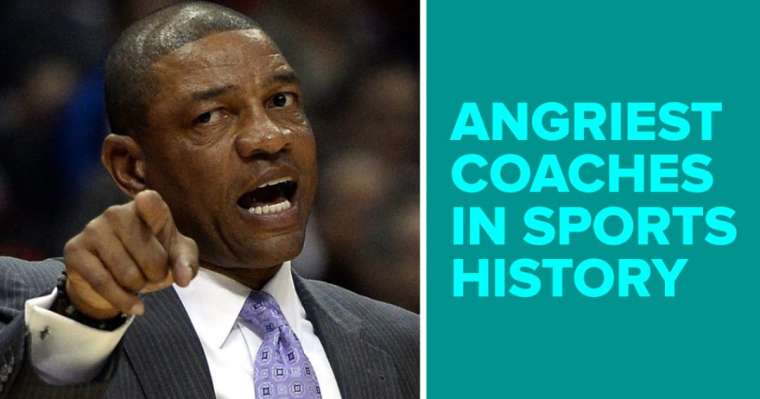 All in all, coaches are largely responsible for the status of the teams and players. They have the capability to make or break a team. Some of them do it with great calm and composure, while others are angry ones. So let us take a look at the top 10 angriest coaches in sports history.
Angriest Coaches In Sports History
In a sports team, one of the majorly responsible yet less appreciated persons is the coach. They have to do a lot of hard work, and from behind the scenes, they put in their sweat and worries. They understand the pulse of each and every player, and accordingly, they train the players. Based on the strengths and weaknesses of the team and the other teams, they decide upon the strategy.
10. Rob Ryan
Ryan is famously known as the angry football coach and also assistant coach, who is currently the coach of the Washington Redskins. His temper and attitude are crude. He has a brother who is rude, verbose and a sailor.
And their tempers are almost comparable. Rob has left his mark at various stages around the league. He has locked horns with the head coach Sean Payton over the defense of New Orleans in 2014.
In fact, he seems to have a penchant for making more foes than friends. While most coordinators are hardly ever noticed or seen, this man flaunts his locks and struts about, showing off his image as the angry man, thus stealing a lot of attention from everyone. He now holds the 10th place in our list of top 10 angriest coaches in sports history.
9. Gregg Popovich
Popovich is the coach of the basketball team of San Antonio Spurs in the National Basketball Association. He is the longest-tenured coach in NBA as well as all US major sports leagues and is a thorough professional. He also appears to be so.
Let alone coach a team; he has the capability to provide training on how to coach. Popovich now holds the ninth place in our list of top 10 angriest coaches in sports history.
He is experienced enough to gauge the weapons and weak points of opponents. But, he knows better than to use his best strategies against teams that he considers undeserving and has been criticized for that. However, he has responded with the same attitude as a knowledgeable but bitter old man, who thinks he knows best how to deal with his team.
8. Matt Williams
Williams is quite famous as the angry third-base coach for the Oakland Athletics. His mentality is quite apparently arrogant. His hard-nosed attitude was there when he was a player, and it was found to stick to his character when he became the manager of the Washington Nationals.
He surely deserves the eighth place in our list of top 10 angriest coaches in sports history. The Nationals, who are a group of highly talented players and are considered as the prima donna, is enough to make any leader proud.
However, they have hardly been challenged in their lives, and Williams is the perfect coach to bring some challenges to the baseball lives of these players. He is strict enough to use his rage to make sure that a player never becomes greater than the team.
7. Nick Saban
Saban is the head coach of the football team of the University of Alabama. But he is better known for his expression that almost seems permanent, and it looks like he is suffering from chronic migraines.
Thus, he is one of those famous and successful coaches who is also deeply unhappy. To top that, Saban also has a defiant and disrespectful air about him, and that oozes the dissatisfaction that he has in him.
He is dissatisfied, bitter, and surly on a perennial basis, which makes it look like he is just constantly mad. He has never seemed to give out hearty laughter or a warm smile.
In fact, at best, the only times that he has ever been recorded cracking is when he has at best smirked wryly. Saban now holds the seventh place in our list of top 10 angriest coaches in sports history.
6. Bill Belichick
Bill Belichick is the head coach of the football team of the New England Patriots in the National Football League. His authority over the team is extensive and has turned the franchise into a great success, building almost a dynasty, and yet, he is dissatisfied and grumpy.
Bill definitely deserves the sixth place in our list of top 10 angriest coaches in sports history.
Instead of taking pride in the fact that there was a huge success earned in the Super Bowl in the year 2002 with celebrated clutch kicker Adam Vinatieri, and owning the Greatest Show on Turf, with Tom Brady, who was still unproven at that time, he has taken his success as an excuse to act indignant if his greatness is ever questioned. All in all, he is definitely not famous as a jolly man in the world of sports for his ways.
5. Mike Gundy
Mike Gundy is the current coach of the football team of Oklahoma State University-Stillwater, where he himself was also a player once. More than as a coach, he is known among football followers for his famous rant during a post-game press conference, which was to defend one of the players of his team.
Gundy is short-tempered and has not even hesitated to reprimand the media. He has never presented any kind of excuse to evade being criticized and has not used his temper to deflect attention.
In fact, he has made every attempt to be at the center of all criticism. His irritable behavior towards the media and other angry moments have earned him the label of the angry coach. Gundy now holds the fifth place in our list of top 10 angriest coaches in sports history.
4. Jim Harbough
Jim Harbough is the coach of the football team at the University of Michigan. As the head coach of the 49ers San Francisco, he probably thought that three consecutive appearances in the NFC title games, along with a Super Bowl appearance, are good enough for anybody to deserve appreciation, and he is never satisfied.
Jim holds his place among the angriest coaches in sports history. His dissatisfaction is constantly apparent in his almost permanent scowl on the face. Despite having brought a rather mediocre franchise to a resurrection, he is just not happy.
There are widespread rumors about his persistent problems with the players and the management. It is likely that his string demands and abrasive manners are putting his career as a coach into jeopardy soon.
3. John Tortorella
John Tortorella is an Ice Hockey coach and currently working as the head coach of the Columbus Blue Jackets. He is known to rebuke and reprimand everyone who dares to cross his path. He has a highly aggressive approach in coaching, much in conformity to the general coaching style in ice hockey.
However, his approach, very often, crosses the thin line between a strict coach and a lunatic one. He lacks the power to motivate, especially because his anger takes over way too often.
Thus, he is not a very successful coach, which is why he was fired by the Vancouver Canucks after just one season. As a result, he is now working as a free agent, waiting to be hired b waiting to be hired by some team who might like the strange style. He surely deserves the third place in our list of top 10 angriest coaches in sports history.
2. Tom Coughlin
Tom Coughlin is a two-time Super-Bowl champion and is bound for the Hall of Fame as the coach of New York Giants in the National Football League, even though it is not generally visible from his mannerisms. Throughout his tie as a coach, he has always looked very exasperated and frustrated with both the referees and players.
Tom now holds the second place in our list of top 10 angriest coaches in sports history. He is easily remembered for his appearance where he stands with his hands on the hips and his expression slack-jawed, defiant, and disgruntled.
His exaggerated anger is almost comical because he is more of a grumpy grandfather than an intensely angry man. As a result, he has earned himself fame as almost an animated character in the list of angry coaches.
1. Rex Ryan
Rex Ryan last coached the Buffalo Bills in the National Football League. He started his career as a coach with the New York Jets team back in the year 2009, and he was one angry coach.
To be honest, it is not really fair to blame him for being so outraged all the time because he was the captain of a sinking ship, quite frankly. Even though Ryan led his team to two AFC title games, the Jets maintained a level of mediocrity.
Ryan has always dealt with the media through bold words and proclamations, targeting his upcoming opponents. The media has targeted him constantly, and he has spewed backfire. We are yet to see if his experience in New York City has changed him for good. Ryan surely deserves the top place in our list of top 10 angriest coaches in sports history.
Final Words
These coaches understandably have a lot of worries and responsibilities upon their shoulders, and it is not unnatural for them to be angry. For many of them, the anger comes from being a little conceited and proud of their achievements and prowess, while for many, it is a lingering feeling of dissatisfaction. For others, anger is an attitude problem, just a part of who they are.
Angriest Coaches In Sports | Infographics
FAQs Regarding Angriest Coaches In Sports
Q. Who is the angriest coach n sports history?
In sports history, Bill Cowher is known as the angriest coach ever. Cowher is a former American football linebacker, coach, and sports analyst who worked as a head coach. He played for 15 seasons with the Pittsburgh Steelers.
Q. What makes an angry coach in sports?
The angry coaches don't have positive things to say to their players; they constantly put them down with their toxic behavior. Professional players, as well as beginners, all become frustrated because of coaches' behaviors. Mostly, even the talented players quit the game because of constant put-downs from the coach.
Q. Who is the angriest NFL coach?
Mike Shanahan is a popular angriest NFL coach in sports. He is an American former football coach, 69 years old. Mike is also the head coach of the Denver Broncos of the National Football League and served from 1995 to 2008.
Q. How do you deal with an angry coach?
In order to make the coach satisfied with your game, deal with him patiently. Try to follow every instruction given by the coach and ask him if you are unsure. Don't take his behavior personally; just focus on controlling your own game.