Top 10 US Figure Skaters who Never Won Olympic Medals
August 3, 2021 By Sourav
---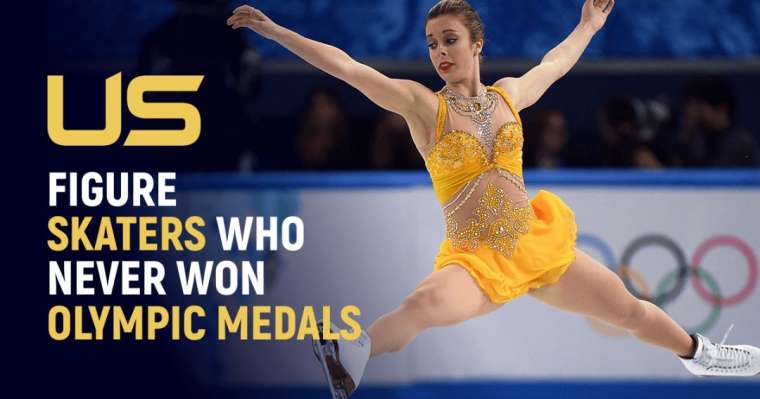 There are some excellent figure-skaters who have enthralled the world with their finesse, grace, and skills. However, it is said that many of the greatest figure skaters have not been able to win a medal at the Olympic Games, despite being great at what they do. But, they are still considered the legends of this tough sport. Let us look at the Top 10 US Figure Skaters who Never Won Olympic Medals.
US Figure Skaters who Never Won Olympic Medals
Figure-skating is one of the most beautiful sports. It is quite a feast for the eyes when the slender skaters glide around like the wind and the waves, all the while creating amazing shapes with their bodies, and dancing to melodious tunes. It requires a huge skill to be a figure skater. One not only has to have skating training but also dancing capabilities and an extremely flexible body which they can move according to their own free will.
1. Tonya Harding
This American figure-skater has been a two-time Skate America Champion and in 1991. She became a winner of the US Figure Skating Championships and a silver medallist in the World Championship.
Tonya started figure-skating at the age of 3 and had mastered some of the toughest moves at an early age. She began competing at the senior levels at 15. When her competitor, Nancy Kerrigan's knees got smashed at the '94 Nationals, it turned out that Tonya's husband was behind it.
Tonya admitted knowing it after the fact and aiding in covering up. She was stripped of her '94 Nationals Medal and faced a lifetime ban.
As for the Olympics, the closest she came to the podium was in the '92 Winter Olympics where she stood 4th. But, her speed, stamina, and athleticism remain unmatched.
2. Rudy Galindo
Val 'Rudy' Galindo is one of the most noted American figure skaters in singles and pairs categories. As a single skater, he has bagged the 1987 World Junior Championship, 1996 US National Championships, and World Bronze medal.
While as a pairs skater with Kristi Yamaguchi, he has emerged the 1998 World Junior Champion and the US National Champion in '89 and '90. Despite his many accolades, he does not have an Olympic medal.
He had to suffer witnessing a series of unfortunate deaths of his coach Jim Hulick, his father, his elder brother, and his other coach who had been training him after Hulick. Shockingly, apart from his father who died of a heart attack, all the others died of AIDS-related complications.
Rudy, himself, has AIDS. But, time and again, he battled personal tragedies and homophobia and risen to own the ice with his sheer talent.
3. Nicole Bobek
The world considered Nicole Bobek as the 'bad girl of figure skating' after the Olympic committee banned Tonya Harding. However, this former American figure skater was a champion in her domain. She won the 1995 US National Championships and was also the World Bronze medallist.
She competed in the 1998 Winter Olympics, but, unfortunately, only managed to make it to the 17th position, despite having won a bronze at the '98 US Championships. But, her trend of performance was always in the extreme.
She either took over the stage with her grace and charisma and captivated everyone, or she failed miserably. The loss of her coach and father figure Carlo Fassi had apparently devastated her.
She retired in 1999 and later, police arrested her for her association with a conspiracy to distribute meth in 2009. However, the world still remembers her as one of the greatest US Figure Skaters.
4. Elaine Zayak
This former American figure skater started off as a child prodigy, achieving the 1982 World Championships at the age of just 16. She was the youngest in 25 years to do so. Elaine also won the '81 US National Champion.
She did it despite having a part of her foot cut off by a lawnmower. She had to withdraw from the '83 World Championships after a stress fracture. After Elaine used 4 triple jumps in her '82 World routine, a new rule was also implemented, called the Zayak Rule, which stated that a skater could use the same jump twice only in a program.
Sports pundits often criticized her for her difficulty in figures and immaturity in skating. She competed in the 1984 Olympics and retired after finishing 6th, only to return and bag the fourth position in the '94 US Championships.
Even without having an Olympic medal, she definitely remembered as one of the best US Figure Skaters.
5. Christopher Bowman
This American figure skater was considered one of the best by his contenders, and he was a two-time World medalist, having achieved silver in '89 and bronze in '90. He won the '83 World Junior Championships.
He was a two-time US National Champion. But, he could never stand up on the podium at the Olympics. He competed at the Olympic Winter Games in 1988 and 1992 and obtained the 7th and 4th positions respectively.
He was, in fact, quite a black horse at the 1992 Olympics. Fans often referred to Bowman as 'Bowman the Showman'. He became a threat to his competitors like Kurt Browning and Brian Boitano who openly praised him.
But, his unreliability and cocaine addiction led him along a downhill path. Police found him dead in a motel in 2008, due to a drug overdose.
6. Jill Trenary
This American figure skater has shown incredible dexterity and finesse in figure skating, especially in the discipline of compulsory figures which required painstakingly long hours to practice and trace figures on the ice. Jill emerged as the World Champion in 1990.
She was also the US National Champion three times. However, like many of the jinxed women who have enthralled the world with their figure skating capabilities but still just finished just off the podium, Jill too was placed fourth in the 1988 Winter Olympics.
The queen of the ice had an ankle injury and took a few months off in the 90-91 season, and at the same time, her long-time coach Carlo Fassi left the country.
To top it, compulsory figures died in that season. She retired from figure skating in 1991. But still, her fans regard her as one of the best US Figure Skaters.
7. Surya Bonaly
She was one of the first persons of color to break racial and regional boundaries and leave a huge impact on the history of figure skating. Adopted and brought up by a French Buddhist couple, she donned a dazzling persona on the ice.
As a French-American figure-skater, she became World Silver medallist three times, the European champion five times, and the French National Championships, nine times. She was also the 1991 World Junior Champion.
Suriya was the first female to try a quadruple jump in competition, and perhaps the only skater, male or female to land on one foot after a backflip.
She was famous for openly expressing her discontent towards the judging process. At the Winter Olympics, she placed 5th in 1992, 4th in 1994, and 10th in 1998, after which she retired.
8. Tiffany Chin
This American figure skater won the World Juniors Championships in 1980 and the US Championships in 1984. She was also a two-time World Bronze medallist and grabbed silver and two bronze medals at the US Championships in '83, '82, and '85.
In the 1982 Winter Olympics, Tiffany finished 4th. She carved herself a niche at a time when the ice was dominated by Soviet athletes, and the idea of an American woman – or for that matter, an Asian-American woman – ruling the world of figure skating.
Fans often called Tiffany the 'China Doll', and her Chinese heritage seemed to be as much a cause for her popularity as her excellent skating.
She was the first non-white woman to achieve one National and two World wins. She retired in '87 and became a coach in '89.
9. Marval and Urbanski
Rocky Marval and Calla Urbanski formed one of the most well-known American figure-skating pairs. Fans often called them 'the waitress and the truck driver', owing to their former professions and their manner on the ice.
Together, they created the magic that was hard to let go unnoticed, at a time when the pairs segment, too, was predominantly under the Soviet skaters' rule. They won the US Nation Championships twice respectively, in 1991 and 1992.
They also grabbed silver at the US Championships in 1990. Together, they competed in a number of championships and appeared in the Winter Olympics in the 1991-92 season.
This was probably their last shot at the Olympics, anyway, with Marval at 25 and Urbanski at 31 years of age, and they finished 10th. However, the world still remembers them as one of the best US Figure Skaters.
10. Meno And Sand
Jenni Meno and Todd Sand were married in real life, and their chemistry was visible on the ice. They ended up as a skating pair after having successful careers with different partners. They fell in love during the Olympics 1992 and eventually began skating together.
Together, they won the US Figure Skating Championships three times from 1993-1995, and also won silver in 1992. Besides, they also obtained the World's Bronze medals twice.
Undoubtedly, they have earned their places as one of the best US Figure Skaters during their heydays. They competed in several other championships and emerged as the medallists in many of them.
Sand proposed to Meno during the '94 Olympics before their routine, and they placed 5th on that event. They grabbed the 8th position in the 1997-98 season of the Olympics.
Final Words
Be it as a solo or a pair, these amazing figure skaters have shown great athleticism and grace on the ice. They have battled and struggled to make a mark for themselves. Although these US Figure Skaters Never Won Medal, they certainly have put up excellent shows for the figure skating fans, and the one thing that they have is the love of their fans and the moments they have created.
Greatest US Figure Skaters who Never Won Olympic Medals | Infographics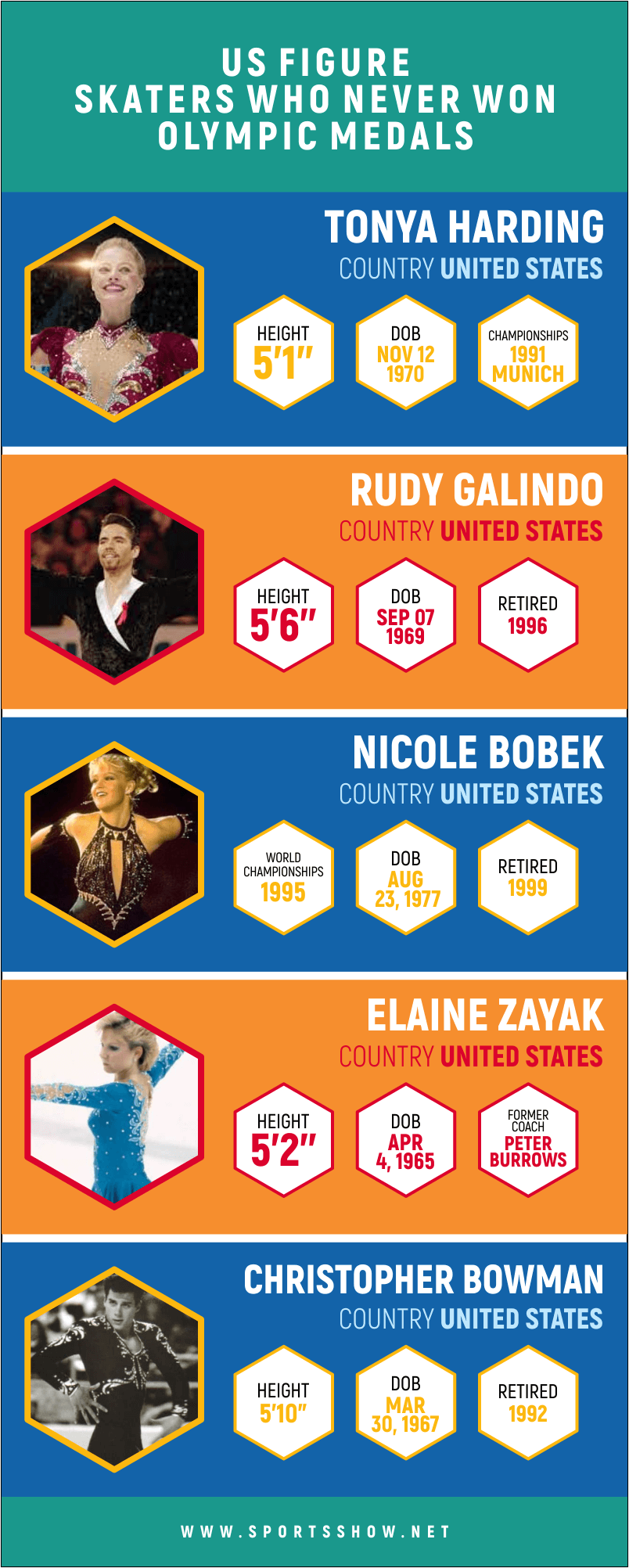 So, that's all for today, folks! Please don't forget to share and subscribe. And share your opinion by leaving a comment down below.