Top 10 Greatest Female Professional Wrestlers In WWE
July 29, 2021 By Sourav
---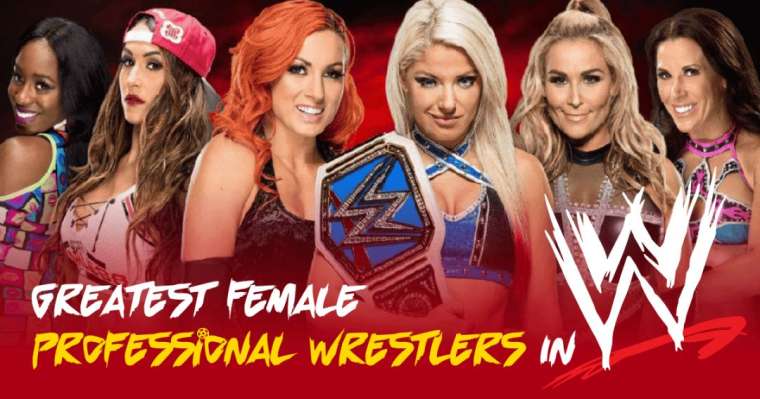 Wrestling might be considered men's domain but the fairer sex has also shown that apart from wits and beauty, they possess the brawn required for some serious physical contact sports. Here we count down the Top 10 Female Professional Wrestlers In WWE.
Greatest Female Professional Wrestlers | All-Time Updates
10. Jaguar Yokota
At number 10 in the Top 10 Best Female Professional Wrestlers is Jaguar Yokota. Yokota retired early at 24 due to her energy but is still remembered as one of the best female wrestlers of all time who dominated Japanese wrestling in the 80s.
She was one of the rare breeds of wrestlers who performed high-flying moves as well as submissions. The world would never see the likes of her again. Undoubtedly, she quite dominated the most dangerous sport in the world, wrestling.
9. Chyna
At number 9 is Chyna. For her, the term female wrestler didn't apply as she often wrestled famous male wrestlers like Triple H, Jericho, and Kurt Angle and defeated them.
She is also the only female wrestler to compete in Royal Rumble, King of the Ring, and become the number one contender for the World Championship. Her strength and toughness made these bouts really entertaining as well.
8. Sherri Martel
At number 8 in the Top 10 Best Female Professional Wrestlers is Sherri Martel. She is probably hands down the most entertaining female wrestler of all time who used her awesome mic skills to her advantage to become one of the most popular faces of WWE.
When in the ring, she didn't disappoint as well as she was a vicious fighter. No wonder she has earned her place in the Hall of Fame.
7. Kia Stevens
At number 7 is Kia Stevens. She is the only wrestler on the list who can give Aja Kong a run for her money when it comes to pure intimidation and power. Kis has been a powerhouse in WWE, TNA, NWA, and AWA.
She was also featured on Pro Wrestling Illustrated's Top 50 Females. Considering her stints in so many wrestling promotions worldwide, she is rightly considered the powerhouse of female wrestling.
6. Lita
At number 6 in the Top 10 Best Female Professional Wrestlers is Lita. Lita is probably the most daredevil female wrestler ever who was part of some of the most controversial and dangerous storylines of WWE and in the ring.
Besides, she was unstoppable as well. On many occasions, she even kicked some of the male wrestler's butt!
5. Mildred Burke
At number 5 is Mildred Burke. She can be credited for bringing female wrestling to the front as she dominated wrestling all throughout the '30s, '40s, and a part of the 50's when female wrestling was considered a mere sideshow for the male counterpart.
Her talent and strength convinced the world that female wrestling is also a force to be reckoned with.
4. Aja Kong
At number 4 in the Top 10 Best Female Professional Wrestlers is Aja Kong. She was a force of nature who dominated the Japanese female wrestling circuit for a long time.
She was also a solo and tag team champion multiple times throughout her career with the AJW.
3. Trish Stratus
At number 3 in the Top 10 Best Female Professional Wrestlers is Trish Stratus. She is the most successful WWE female wrestler ever who transformed the entire female wrestling and started a trend of models turning to wrestle divas.
Apart from her good mic skills and sex appeal, she was also seven times WWE Women's World Champion!
2. Fabulous Moolah
At number 2 is Fabulous Moolah. She was the gold standard for every female wrestler to come after her. Moolah dominated the wrestling scene from the '50s to the '70s and her technique was as impressive as her longevity.
Fans often consider her as one of the most iconic female wrestlers ever.
1. Manami Toyota
At number 1 in the Top 10 Female Professional Wrestlers In WWE is Manami Toyota. She might be not as popular as the other wrestlers on this list but she is one of the most talented wrestlers ever who had both strength and athleticism to jump from the top rope.
Despite her short stature, she has defeated many bigger wrestlers throughout her career.
Greatest Female Pro Wrestlers | All-Time Infographics