Justin Herbert Biography, Net Worth, Salary, Career, Personal Life, Family, and Other Interesting Facts
December 13, 2020 By Sourav
---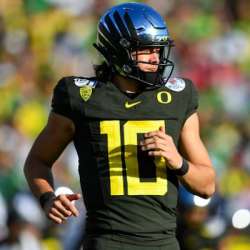 | | |
| --- | --- |
| Real Name | Justin Patrick Herbert |
| Nick Name | Hairbert |
| Profession | American Football Quarterback |
| Nationality | American |
| Height | 6 feet 6 inches (1.98 meters) |
| Weight | 237lbs (108 kg) |
| Birth Date | 10-03-1998 |
| Age | 22 |
| Gender | Male |
| Birth Place | Eugene, Oregon, United States |
| Zodiac Sign | Pisces |
| Religion | Christian |
| Address | 3333 Susan St. Costa Mesa, CA 92626 (Los Angeles Chargers) |
American football player Justin Patrick Herbert, famously known as just Justin Herbert, currently plays as a quarterback for the National Football League franchise Los Angeles Chargers. He had a brilliant stint with the Oregon Ducks Football Team of the University of Oregon in his college football career. He not only led his college team to achieve several victories against fellow universities but also helped them to secure the place in the 2020 Rose Bowl.
Justin Herbert Biography and Other Amazing Facts
Herbert showed brilliant performance in the 2020 Rose Bowl and achieved the MVP award. Right after that, he was speculated as one of the best NFL Quarterbacks in the coming days. Several NFL sides already showed interest on him during his college football days. He also became a favorite among the football pundits and coaches alike. However, he appeared in the 2020 NFL Draft and joined the Chargers.
Justin Herbert High School Career
Herbert started his high school education in the Sheldon High School in Oregon. During that time, he started playing American football besides baseball and basketball. However, he prospered in football and started playing for the school team. He had to take a pause after breaking his leg in his junior season. Herbert failed to get any major scholarships due to injury complications. He received offers from Montana State, Portland State, and Northern Arizona.
However, he displayed a brilliant performance in the following year and recorded a total of 3,130 yards with 37 touchdowns in his senior year. During that year, he not only achieved his place in the First-Team All-State but also became the Southwest Conference Offensive Player of the Year. Although he had several other offers, he announced his commitment towards the University of Oregon on 9th October 2015.
Justin Herbert College Career
As a true freshman, he made his debut as a quarterback against their arch-rival, Washington, on 8th October 2016. He completed 1936 yards with 19 touchdowns in total that season. Herbert then introduced a new playing pattern to adapt to the new Gulf Coast Offense by the new coach Mark Helfrich. However, he suffered a collarbone fracture against Cal on 30th September 2017. In that year, he helped the side to participate in the Las Vegas Bowl.
He recorded a total of 1,938 yards with 15 touchdowns that season. Besides, he was also named in the CoSIDA Academic All-American first team. In the following year, he has achieved his place in the Pac-12 All-Academic first-team. And in his senior year, he helped the side to win the Rose Bowl. Herbert achieved both the Offensive MVP award and the prestigious William V. Cambell Trophy in his senior year.
Justin Herbert NFL Career
After much speculation, one of the most successful NFL teams, Los Angeles Chargers, picked him as the sixth overall pick in the 2020 NFL Draft. He made quite a buzz among the fans as his jersey was the 12th highest-selling in the 2020 season. Herbert made his NFL debut against fellow side Kansas City Chiefs on 20th September 2020. He recorded 311 passing yards with a touchdown on that game.
He has achieved his place as the starting quarterback for the Chargers on 8th October 2020. Herbert then became the first rookie ever to throw four touchdown passes on the famous Monday Night Football in week 5. Shortly after, he became the first rookie in the NFL history to record multiple touchdowns in seven consecutive regular-season games. For his performance in November 2020, he achieved the Offensive Rookie of the Month award.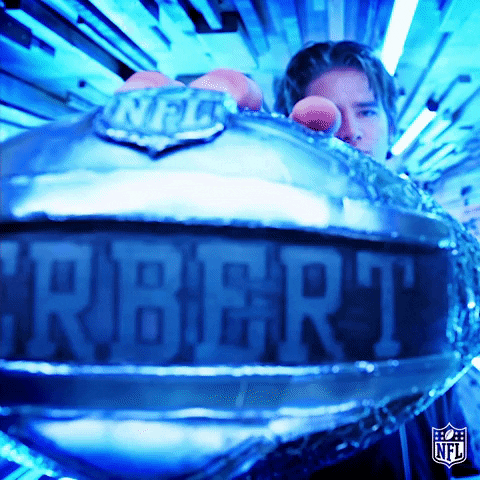 Justin Herbert Personal Life
Born on 10th March 1998, Justin Herbert is the first child of his father, Mark Herbert, and his mother, Holly Herbert. He grew up in the Eugene city of Oregon along with his younger brother, Patrick Herbert. He has a long lineage in American football as his grandfather, Rich Schwab, played as a wide receiver for the Oregon team during the 1960s. Besides, his brother, Patrick, now also plays as a tight end in the Oregon University team.
Besides his excellence in American football, Justin is also equally good at studies. He graduated with a 4.01 grade-point and has a bachelor's degree in biology. Justin is currently dating his long-time girlfriend, Los Angeles-based model Rylee Jean. Media spotted the couple together on several occasions.
Justin Herbert Net Worth
According to the recent financial reports, the current net worth of Justin Herbert is estimated to be around $5 million as of the 2020-21 NFL season. He signed a four-year fully-guaranteed rookie contract with the Chargers worth $26.58 million. Herbert now receives around $6.1 million yearly salaries from his current NFL side. Besides, he also earns from his sponsorships and endorsement deals.
Justin Herbert Awards
In October 2019, he became the Pac-12 Offensive Player of the Week. Besides, he also achieved both the Skeie's Award and Google Cloud Academic All-America 1st Team Member of the Year in 2018. In that same year, he also achieved his place in the Pac-12 All-Academic 1st team. Besides, he has several individual accolades under his name. Some of the most prestigious awards are as follows.
Academic All-American: 2017
William V. Campbell Trophy: 2019
Rose Bowl MVP: 2020