What can the Jets expect from the season?
September 24, 2021 By Shafeeq
---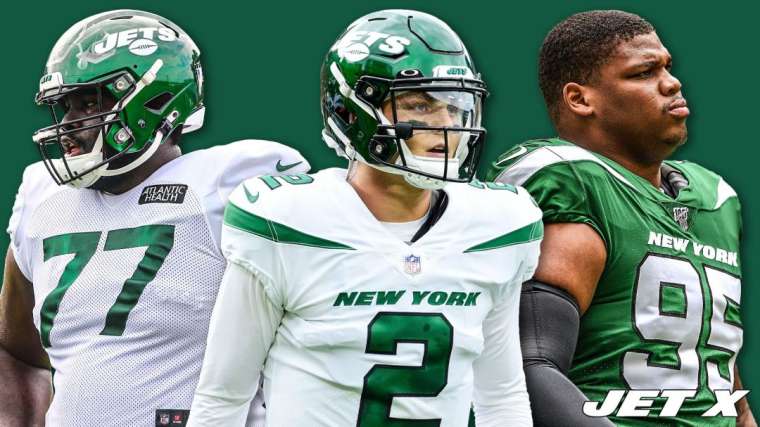 With no playoff appearances in over ten years, nearly two decades without a league championship and a grand total of zero conference championships to their name; it is fair to say that it is tough to be a Jets fan. Those who have been following long enough may remember their pre-merger Super Bowl III win but there are generations of fans who have never seen the Gotham green franchise reach the promised land. Their performances have been poor enough to see them finish last in the AFC East in four of the last five seasons and their 2020 campaign was no different. Finishing 2-14 after going on a 13-game losing streak to begin the season, their worst return in 25 years, the Jets fired head coach Adam Gase. With first time head-coach Robert Saleh at the helm, there was cautious optimism, however, 2 defeats from the first 2 games have quickly destroyed this.
The Jets are in the infancy of a rebuild and those who like to bet on the NFL will be aware that the odds indicate that their chances of competing for anything resembling a ring this year are extremely slim. Some early draft picks have filled out their roster in both offence and defense and they had a successful free agency period in which they added the likes of Shaq Lawson and Corey Davis. However, general manager Joe Douglas has been clear that splashing the cash on free agents isn't how he plans on rebuilding this franchise saying "I think our goal and our plan is to be, like I said earlier, a team that really builds this through the draft and hitting on draft picks, obviously using free agency to supplement our roster".
Even after a good draft, the Jets still have an inexperienced team. Don't be surprised to see a few offensive teething problems in the opening weeks after the exit of QB Sam Darnold, who was traded to the Carolina Panthers in April. The AFC East has been dominated by the Patriots for the best part of 20 years and it is now even tougher with the Buffalo Bills' stacked out roster, spearheaded by Josh Allen, looking to win back to back division championships. There will still of course be an expectancy from Jets fans to outperform their derisory 2020 season and there are a handful of key players they will be relying on to do so.
After securing the number two overall pick, the Jets drafted their new franchise quarterback Zach Wilson from BYU. The youngest freshman to ever start for the Cougars, Wilson played 30 career collegiate games going 566-837 for 7,652 yards passing yards with 56 touchdowns. He also added an impressive 212 rushing attempts, notching up 642 yards and 12 touchdowns. The Utah born signal caller impressed during pre-season, completing 15 of 20 passes for 191 yards over his two games. The Jets offense also never went three-and-out with him on the field and averaged 44 yards per drive. He was arguably the teams most impressive player during pre-season and Jets offensive coordinator Mike LaFleur will be hoping the rookie can bring that form into the new season.
Wide receiver Corey Davis had the best season of his professional career with the Titans in 2020, securing 65 receptions for 984 yards and five touchdowns before moving to the Jets in free agency during the off-season. He has settled in quickly and became Wilson's partner in crime on the field during pre-season with 10 targets over 14 passing plays, completing six for 88 yards overall. If Davis can build on his 2020 performance and form a great symbiotic relationship with his QB, which it seems he is capable of following their pre-season performance, the Jets can start putting together a very tricky offense. This is boosted by the arrival of running back Tevin Coleman on a one-year contract, who comes with a strong resume that Saleh will be aware of due to their time together at the 49ers last season.
Mekhi Becton was a standout player for the Jets in 2020 and has become one of the best young offensive linemen in the league. An important cog in the wheel of the "Jet Sweep", he bullied defenders in the run game and offered sound pass protection. He can be forgiven for some of his shortcomings last season, having to play beside Alex Lewis whose performances at left guard left a lot to be desired. Becton also played through injuries for a large portion of the 2020 season, before being sidelined with a foot injury early on in pre-season. His performances since returning, though limited, have been impressive and as long as he can stay fit he can feature massively in any success the Jets hope for in 2021.
By ironing out more than a few creases in their roster during the off-season, the Jets have at the very least given themselves a chance at redemption for their shocking performances in 2020. It is probably too early to expect a chance at the playoffs, especially with the Patriots making strides in the off-season following a mediocre 2020. Joe Douglas's draft-focused rebuild approach may mean that it will be a couple of years before we see the Jets reach their full potential, but 2021 will be an exciting look into what's to come under Saleh's tutelage.