10 Most Fatal Accidents In Cricket History
July 29, 2021 By Sourav
---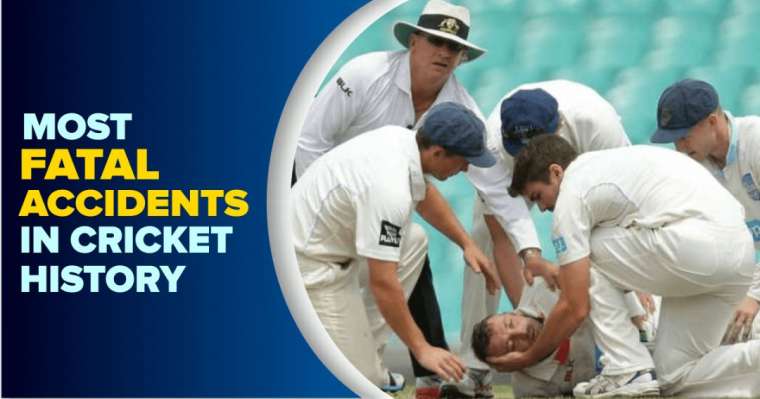 Unfortunately, no sport is without its share of accidents. Everyone remembers the greatest moments in sports, that moment of adrenaline rush that makes playing or watching the games so appealing. But for some players that adrenaline rush is short-lived. Here is the list of 10 Fatal Accidents in cricket.
Fatal Accidents In Cricket
Cricket, one of the most popular sports in the world, is called a gentleman's game. That's because there are fewer chances of players getting rough on each other or dying due to some enraged scuffle between two players. But even then, there were several incidents that happened that shook the world.
10. Jasper Vinall (c.1590 –1624)
Cause: Struck on the head by a bat
Jasper Vinall was a village cricket player from England. As far as the history of cricket goes, Vinall was the first player who died due to an injury during the game.
On 28 August 1624, a cricket match was being held at Horsted Keynes. Vinall was fielding when one of the batsmen Edward Tye, in order to avoid being caught swung the bat a second time but instead of hitting the ball, the bat struck Vinall's forehead.
He died thirteen days later. Interestingly, both Edward Tye and Jasper Vinall were players from another village, which just proves that back then cricket wasn't just a fun game but was also played like a competition. Without any doubt, he has suffered one of the most fatal accidents in cricket.
9. George Summers (1844 – 1870)
Cause: Struck on the head by a ball
In number 9 position of 10 fatal accidents in cricket is George Summers, an English cricketer who played domestic matches for Nottinghamshire. In 1870 there was a matching going on between Nottinghamshire and Marylebone Cricket Club at the Lord's.
During the match, a fast bowler named John Platts delivered a ball that struck Summers right on his head. He collapsed and was immediately carried off the field. He recovered and was sent back home.
But four days later, Summers' health began to fail and he suddenly died. The Marylebone Cricket Club paid for his gravestone. And a direct result of Summers' death was that efforts were made to improve the pitch of the Lord's which at the time was in horrible condition.
8. Andy Ducat (1886 –1942)
Cause: Heart failure
Andrew Ducat was a fantastic English cricketer and footballer. He was part of an elite group that represented the country in both sports. He was an excellent batsman who had made 52 centuries.
In 1919 he played 306 not out against Oxford University. Wisden named him the Cricketers of the Year in 1920. In his cricket career, Ducat has suffered a lot of injuries that caused him to miss out on a number of matches.
1942, Ducat was playing in a wartime cricket match at Lord's when suddenly due to a fatal heart attack, he expired. That incident definitely deserves its place among the most fatal accidents in cricket.
7. Abdul Aziz (1941 - 1959)
Cause: Struck over the heart by a ball
In number 7 position of 10 fatal accidents in cricket is Abdul Aziz, a Pakistani cricketer who played as a right-handed batsman and was also a wicket-keeper. Besides being a cricketer, Aziz studied at the S. M. College and worked for the Pakistan State Bank.
He played for Karachi and had appeared in 8 first-class matches. In 1959, during the Quaid-e-Azam final, a slow off-break delivered by Dildar Awan struck him over his heart.
He appeared to recover but when preparing to play the second ball, Aziz suddenly collapsed and never gained consciousness. He died while going to the hospital.
Doctors later said that hit over his chest had activated a dormant undiagnosed heart condition. It also proves that being hit with a ball in the chest region is one of the worst sports injuries to suffer.
6. Wilf Slack (1954 – 1989)
Cause: Collapsed while batting
Wilfred Norris Wilf Slack was an English cricketer who played county cricket for Middlesex (between 1977 and 1988) and Windward Islands (between 1981 and 1983).
He was also part of the national team as a left-handed opening batsman and had played in two One Day Internationals and three Test matches. During the 1988 English cricket season, Slack had been suffering from a mysterious illness that caused him sudden blackouts.
One moment when he was playing fine and the next moment he was on the ground unconscious. Doctors could not find out anything wrong with him.
Then one day while batting in the Republic of the Gambia, Slack blacked out and died of a heart attack. Know as one of the most dangerous hard hitters, Slack suffered one of the most fatal accidents in cricket that day.
5. Ian Folley (1963 – 1993)
Cause: Heart attack
In number 5 position of 10 fatal accidents in cricket is Ian Folley, an English cricketer who played for Lancashire (between 1982–1990) and Derbyshire in 1991.
He began his career at the Lancashire as a right-hand batsman, but after encouragement from Coach Jack Bond, Folley began bowling. As a left-arm seamer and spinner, in the next two seasons, he took 129 wickets.
Following an injury to his left arm, Folley left cricket. In 1991, he tried coming back to playing cricket but ended up performing miserably.
Two years later, he suffered an injury in the eye while playing cricket and was rushed to the hospital. The hospital's negligence caused Folley a heart attack and he died.
4. Raman Lamba (1960 – 1998)
Cause: Struck on the head by a ball
Raman Lamba was an Indian cricketer who played for Delhi (between 1980-1998), North Zone (1980-1991), Ireland (1990), and Abahani (between 1992-1998).
In unofficial One Day International matches he sometimes represented Ireland. He was a right-handed batsman and a right-arm medium bowler. In his entire career, he played in 87 matches where he scored 22 centuries.
His career highlight as a batsman was when in 1994-95 in a match against Himachal Pradesh, Lamba scored 312. Then in 1998, while fielding in Bangladesh's league cricket, he was hit on the temple by a ball that caused internal hemorrhage and he slipped into a coma.
Soon after, Lamba died. And, that accident has marked Cricket as one of the most dangerous sports.
3. Wasim Raja (1952 – 2006)
Cause: Heart attack
In number 3 position of 10 fatal accidents in cricket is Wasim Hasan Raja, a Pakistani cricketer. When he was studying at the Government College, Lahore, Raja became the captain of the Pakistan Under-19 side, and years later he also coached the team.
Between 1973 to 1985 he played in 54 ODIs and 57 Tests for the Pakistani national cricket team.
Between 2002 and 2004, Raja referred 15 Tests and 34 ODIs under the International Cricket Council. In 2006, while playing for the Surrey over-50s side in, England, Raja suffered a heart attack that caused his eventual death.
2. Darryn Randall (1980 – 2013)
Cause: Struck on the head by a ball
Darryn Randall was a South African first-class cricketer. While studying at Stirling Primary and Selborne College in East London, Randall represented various provincial youth teams.
He even coached a popular cricket academy at Stirling Primary School. Darryn was 32-years-old when during a Premier League match between Fort Hare University and Old Selbornians, Randall attempting to pull a short delivery and got stuck on the side of his head.
Officials immediately rushed him to the hospital but he died en route. That incident of Randall is still noted as one of the most fatal accidents in cricket.
1. Phillip Hughes (1988 – 2014)
Cause: Struck on the neck by a ball
In the top position of 10 fatal accidents in cricket is Phillip Joel Hughes, an Australian cricketer who has played for a number of teams throughout his long career. He is also one of the most popular cricketers who died during matches.
He was a left-handed opening batsman who holds a number of test match records including Australia's youngest Test centurion and youngest cricketer in the history of the game to score centuries in both innings of a Test match.
In 2014, during a match at the Sydney Cricket Ground, a bouncer hit him in the neck. In a very rare accident, Hughes never regained consciousness and died. He is undoubtedly one of the most famous cricketers who died during matches.
Final Words
Can you think of any other incident aside from these top 10 fatal accidents in cricket history? Let us know in the comments below.
Fatal Accidents In Cricket | All-Time Infographics