Edmond Tarverdyan Biography, Net Worth, Bankruptcy, Personal Life, and Other Interesting Facts
April 7, 2021 By Admin
---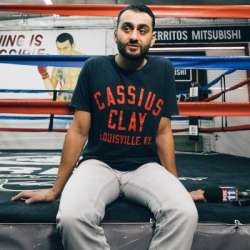 | | |
| --- | --- |
| Real Name | Edmond Tarverdyan |
| Nick Name | Diamond |
| Profession | Former MMA Fighter/Coach (Welterweight) |
| Nationality | United States Of America |
| Height | 5 Feet 11 Inches (1.81 Meters) |
| Weight | 155lbs (70 Kgs) |
| Birth Date | 15-12-1981 |
| Age | 39 |
| Gender | Male |
| Birth Place | Kirovakan, Armenia |
| Zodiac Sign | Sagittarius |
| Religion | Christian |
| Address | Glendale, California, United States of America |
Edmond Tarverdyan was raised in Kirovakan, Armenia. In order to open a shoe factory in Russia, his father moved the family there. They settled in Glendale, California, in 1990.
Edmond said about his native country during an interview, "Everyone is either fighting or practicing martial arts." It's the most popular form of sports there, he explained. When Tarverdyan was seven, he began training with Ken Arutyunyan in Glendale.
Edmond Tarverdyan Biography, Career, and Other Interesting Facts
Edmond is a former mixed martial artist who is currently a master striker coach. He is famous for being the trainer of one of the best female MMA fighters, Ronda Rousey. She was the first-ever UFC Women's Bantamweight Champion.
Besides being the World Boxing Council Muay Thai Welterweight Champion, Tarverdyan won over 300 fights with a victory rate of over 90 percent. Back in 2012, Edmond Tarverdyan started his career as a Mixed Martial Arts fighter, winning both of his fights in LOP.
Edmond Tarverdyan Record
A list of Edmond Tarverdyan's last 2 wins can be found below.
| | | | | | | |
| --- | --- | --- | --- | --- | --- | --- |
| Date | Fight | Event | Method | Round | Time | Result |
| December 22, 2012 | Dominic Guiterrez | LOP – Chaos at the Casino 2 | Unanimous Decision | 3 | 3:00 | Win |
| May 05, 2021 | Phil Nunez | LOP – Chaos at the Casino 1 | KO (Knee) | 1 | 2:18 | Win |
Edmond Tarverdyan Career as a Coach
Ronda Rousey is one of his best UFC fighters, yet Edmond seems to have very little success as a coach. His training for Rousey before both the Holly Holm fight and the Amanda Nunes fight earned him scathing criticism, owing to how he dismissed his tactics.
Generally, MMA fighters do not fit Edmond Tarverdyan's gym very well. Ronda Rousey's husband, Travis Browne, has lost four boxing matches and won two. Guida lost two fights while Shayna Baszler lost three. Shafir won one game and lost two.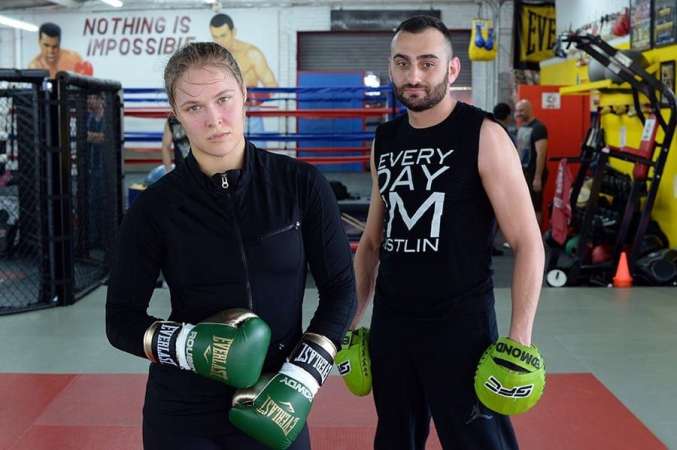 Edmond Tarverdyan and Ronda Rousey
She has been working with Edmond at Glendale Fight Club since 2010. The UFC Hall of Fame inducted Ronda in July 2018. She is the 1st women's bantamweight champion in UFC history.
Edmond described the first meeting with Rousey during an interview, saying that he didn't want to teach her because he was busy. After being at the gym for three, four months, Edmond gave her some tips.
Ronda's amateur MMA debut victory in 23 seconds led him to work with her more closely in August 2010. Moreover, he considered Ronda a real fighter, describing Ronda as an athlete with "strength and power" without top-level training.
Rousey vs. Holly Holm
Ronda lost the UFC 193 main event to Holly Holm in Melbourne, Australia, on November 15, 2015. "It's the most disappointing thing in my life," said Edmond after he was criticized for preparing Rousey.
Tarverdyan told Fox Sports that Rousey punches like a monster in 2015 before her match with Holly Holm, adding: he doesn't think people know what they're getting into until she stands in front.
Travis Browne, one of the best mixed martial artists, trained by Tarverdyan, married Ronda Rousey on August 26, 2017, in Hawaii.
Rousey began her professional wrestling career in 2018 after signing a contract with WWE. She quickly achieved her place as one of the hottest WWE divas and made her first Royal Rumble appearance was in 2018. Having debuted at WrestleMania 34, she claimed her first WWE title, the Raw Women's Championship, at Summer Slam.
The possibility of having a baby is one of Rousey's plans. Her family has always supported her and is currently on vacation, so she wants to spend all her time with them since she loved them so much.
Ann Maria De Mars vs. Edmond Tarverdyan
Ann Maria De Mars is the USA's first woman national champion in the World Judo Championships is Rousey's mother. In her opinion, Edmond is a horrible coach, and she is not afraid to say so publicly.
"Edmond hit the jackpot by bringing Ronda into his gym," she continued. I never speak negatively about anyone's mom and will never do so," Edmond responded.
Edmond Tarverdyan Head Movement
Ronda Rousey suffered a defeat at UFC 207 in the bantamweight division to reigning champion Amanda Nunes. While the match was going on, Rousey's head coach, Edmond Tarverdyan, advised the athlete.
During the match, he shouted to his fighter, "head movement". Social media was filled with trolls after UFC released a video showing Edmond's head movement. Since then, his advice has become somewhat of a joke among fans.
Edmond Tarverdyan And Edmen Shahbazyan
Edmen Shahbazyan is a student of Tarverdyan. As of September 2020, he is currently ranked 11th in the UFC's middleweight rankings. Rousey says the first time they met was at the age of 15 when Shahbazyan was still bigger than her.
At the age of 12, Shahbazyan began training at Glendale Fighting Club. Both Edmond and Ronda were Edmen's managers. They also negotiate his UFC contracts.
Edmond Tarverdyan Family
Eventually, Edmond Tarverdyan married Diana Avetisyan after two years. The couple has one daughter named Ella Tarverdyan and a son, Roman Tarverdyan, who is a soccer enthusiast.
Edmond Tarverdyan Tattoo
In his life so far, Edmond Tarverdyan has not had any tattoos. As far as ink arts go, he probably doesn't care.
Edmond Tarverdyan Car
His Instagram profile shows that he owns a luxurious car.
Edmond Tarverdyan Net Worth and Bankruptcy
Diana Avetisyan acquired the Glendale Fighting Club before Edmond declared bankruptcy on July 29, 2015. He allegedly owed over $700k to various banks. The question was posed to Tarverdyan as to how much money he earned from training Rousey in 2015. Tarverdyan responded: "It was in the six-figure mark."
A settlement for his bankruptcy case in 2017 settled for $160,000 saved him from losing his membership at Glendale Fight Club. Consequently, Edmond Tarverdyan has an estimated net worth of half a million dollars.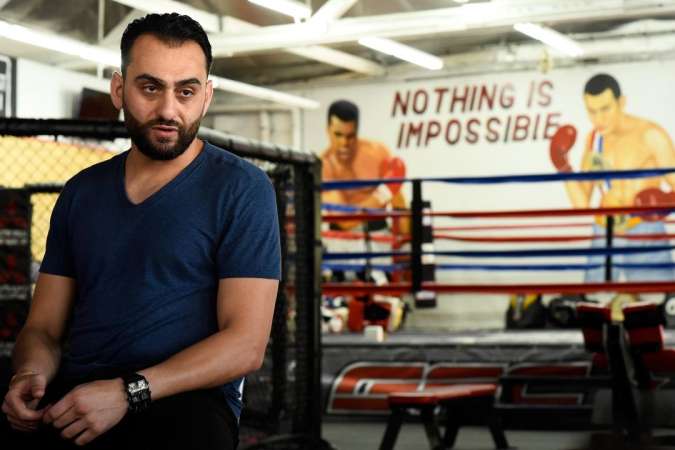 Q. Who is Edmond Tarverdyan?
Former MMA fighter Edmond Tarverdyan is one of the most controversial coaches in Mixed Martial Arts history. Despite bringing the first UFC women's bantamweight champion Ronda Rousey to prominence, he is also blamed for ending her career in an unfortunate manner.
Q. How rich is Edmond Tarverdyan?
Several reliable sources suggest that Edmond Tarverdyan's net worth is $500,000. After filing for bankruptcy on July 29, 2015, he settled his case for $160,000 to retain his membership at Glendale Fight Club.
Q. When is Edmond Tarverdyan's birthday?
Edmond is 39 years old, and he was born on December 15, 1981.
Q. When and how did Edmond Tarverdyan become famous?
The former mixed martial arts fighter Edmond is a master striking mentor. A lot of people know him as Ronda Rousey's coach. She was UFC's first women's bantamweight champion. He won more than 300 fights with a victory rate of over 90%. Tarverdyan was the World Boxing Council's Muay Thai Welterweight Champion. During his first fights in 2012, Edmond Tarverdyan won his two fights in LOP.

Q. How tall is Edmond Tarverdyan?
Edmond stands 5 ft. 11 In. tall, and he weighs 70.31 Kilograms (155 lb.).
Q. Who is Edmond Tarverdyan's girlfriend?
There was a rumor that Edmond was dating Ronda Rousey, but it turned out to be false when Edmond married Diana Avetisyan. It was unknown to the public that Diana and Edmond were dating before their marriage. Diana was his actual girlfriend before the wedding.
Q. List of Edmond Tarverdyan's family members?
After dating for over two years, this couple has been happily married. They have one daughter named Ella Tarverdyan and one son named Roman Tarverdyan. Roman is four years old and loves soccer, while his sister is seven years old.