Derrick Brown Biography, Net Worth, Salary, Career, Personal Life, Awards, and Other Interesting Facts
December 15, 2020 By Sourav
---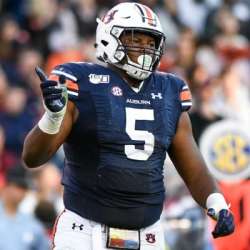 | | |
| --- | --- |
| Real Name | Derrick Brown |
| Nick Name | Baby Barack |
| Profession | American Football Defensive Tackle |
| Nationality | American |
| Height | 6 feet 5 inches (1.96 meters) |
| Weight | 325lbs (147 kg) |
| Birth Date | 15-04-1998 |
| Age | 22 |
| Gender | Male |
| Birth Place | Sugar Hill, Georgia, United States |
| Zodiac Sign | Aries |
| Religion | Christian |
| Address | 800 S Mint St, Charlotte, NC 28202, United States (Carolina Panthers) |
American football player Derrick Brown currently plays as a defensive tackle for the National Football League franchise Carolina Panthers. He had great speculation during the 2020 NFL draft as the Panthers picked him as the seventh overall selection. However, he was the prime target for several NFL franchises as he displayed great performances during his entire college football career.
Derrick Brown Biography and Other Amazing Facts
Brown played college football for the Auburn Tigers Football Team of the prestigious Auburn University. And during that time, he became one of the top prospects of college football. Besides, he also became the favorite for both the football pundits and coaches alike. And now, he is widely regarded as one of the best NFL defensive tackles in the current football season.
Derrick Brown High School Career
Brown started his high school education at the Lanier High School in Georgia. During his early childhood days, he showed an interest in American football. Shortly after, he became one of the best players of his school team and helped the side to achieve several consecutive victories. He was then widely regarded as one of the best high school defensive tackles in the United States.
During his high school career, he recorded 33.5 quarterback sacks and 270 tackles. Besides, he also recorded 5 forced fumbles and 3 interceptions during his high school career. For his impressive performance, he received several offers from reputed universities. The University of Georgia and the University of Alabama went after him, although he finally expressed his commitment to Auburn University on 3rd February 2016.
Derrick Brown College Career
Right after joining the Auburn Tigers, he started as a defensive tackle. In his freshman year, he recorded a total of 11 tackles with a fumble recovery and a sack. And in his sophomore year, he recorded 49 tackles with 8.5 tackles and 3.5 sacks in just 12 regular-season games. During his junior year, he recorded a total of 48 tackles with 4.5 sacks and 10.5 for a loss. For that performance, he has achieved his place in the All-SEC second-team honor.
Brown recorded a total of 55 tackles with 12.5 tackles for a loss in his senior year. Besides, he also recorded four sacks, four pass breakups, and four forced fumbles during that year. He then caught the eyes of several most successful teams in the NFL due to his impeccable footballing skills and unbeatable college records. The whole national media also covered his drafting story ahead of the actual draft.
Derrick Brown NFL Career
One of the best NFL sides, the Carolina Panthers, picked him as the seventh overall selection during the 2020 NFL Draft. He then signed a four-year rookie contract with the side on 13th May 2020. However, he failed to make frequent appearances due to the pandemic crisis. And recently on 7th December 2020, he was moved to the COVID reserve of the Carolina Panthers squad.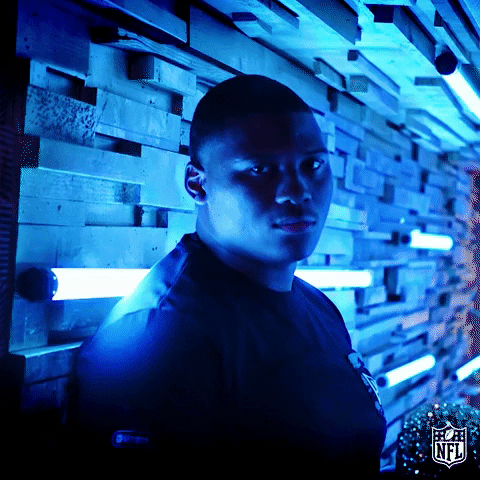 Derrick Brown Personal Life
Born on 15th April 1998, Derrick Brown is the child of his father, James Brown, and his mother, Martha Brown. He grew up in the Sugar Hill area of Georgia, United States. Brown is currently in a live-in relationship with his long-time girlfriend Tayla Main. The couple now has a son and a daughter together named Kai Brown and Kenzley Rae Brown.
Derrick Brown Net Worth
According to the recent financial reports, the current net worth of Derrick Brown is estimated to be around $5 million as of the 2020-21 NFL season. He signed a four-year fully-guaranteed rookie contract with the NFL franchise Carolina Panthers worth $23.62 million. Brown now gets around $6.1 million yearly salaries from his current national football side.
Derrick Brown Awards
For his remarkable performance in high school football, he received the prestigious Anthony Muñoz Award in 2015. In that same year, he also achieved his place in the USA Today All-American. He has several other personal accolades under his name. Some of the most notable awards are as follows.
Second-team All-SEC: 2018
SEC Defensive Player of the Year: 2019
Unanimous All-American: 2019
First-team All-SEC: 2019