Chase Young Biography, Net Worth, Salary, Career, Personal Life, Family, and Other Interesting Facts
December 7, 2020 By Sourav
---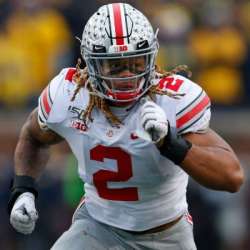 | | |
| --- | --- |
| Real Name | Chase Young |
| Nick Name | The Predator |
| Profession | American Football Defensive End |
| Nationality | American |
| Height | 6 feet 5 inches (1.96 meters) |
| Weight | 263lbs (119 Kgs) |
| Birth Date | 14-04-1999 |
| Age | 21 |
| Gender | Male |
| Birth Place | Upper Marlboro, Maryland, United States |
| Zodiac Sign | Aries |
| Religion | Christian |
| Address | 21300 Redskins Park Drive Ashburn, VA 20147 USA (Washington Football Team) |
American football player Chase Young currently plays as a defensive end of the National Football League franchise, the Washington Football Team. From 2017 to 2019 college football season, he played for the Ohio State Buckeyes of the Ohio State University. During his college career, he recorded 16.5 sacks in his final season. That feat is the all-time sack record by any defensive player at Ohio State University.
Chase Young Biography and Other Interesting Facts
For his final season's performance, he became the unanimous All-American. Besides, he also achieved the defensive player of the year award from several entities. Chase also achieved the Big Ten Male Athlete of the Year along with his nomination for the Heisman Trophy. He forgoes his final season for the Buckeyes to participate in the National Football League. And now, he is widely regarded as one of the best NFL defensive ends of all time.
Chase Young High School Career
During his early childhood, Young attended St. Columba School in Oxon Hill. However, he then took admission at St. Vincent Pallotti High School in Laurel and started playing football. In his sophomore year, he helped his school to become the Maryland Interscholastic Athletic Association C-conference champion. He then switched to the defensive end's position in his final year after playing as a quarterback and tight end.
Young took admission in the DeMatha Catholic High School in Hyattsville in 2015. He helped his school to become the Washington Catholic Athletic Conference champion. USA Today named him on the All-USA team in 2016. In that same year, The Washington Post named him as the all-metropolitan defensive football player. During his final year, he participated in both the All-American Bowl and the International Bowl.
Chase Young College Career
After receiving scholarship offers from 40 colleges across the states, he finally committed to the Ohio State University in July 2016. As a reserve player during his freshman year, he recorded 18 tackles and 3.5 sacks. And in his sophomore year, he became the regular starter and scored 10.5 sacks that year. He received his place in the All-Big Ten Second-Team for his performance that season. Young became the team captain in his junior year in 2019.
He recorded 4 sacks and 5 tackles in a game against Wisconsin, an Ohio State school record. Young then recorded three more sacks against Penn State. He finished his junior year with 16.5 sacks and 46 tackles in total. However, he faced a two-game ban by NCAA for allegedly lending money from a family friend to help his girlfriend to attend the Rose Bowl in 2019.
Chase Young College Football Awards
For his performance in junior year, he achieved the Bronko Nagurski Trophy, Chicago Tribune Silver Football trophy, Ted Hendricks Award, and Chuck Bednarik Award. Besides, he also became the Smith-Brown Defensive Lineman of the Year and Nagurski–Woodson Defensive Player of the Year. He achieved his place in both the All-America and All-Big Ten teams by unanimous decision.
Young received the Big Ten Jesse Owens Athlete of the Year award. He then achieved his place in the 2010s All-Decade Team by the Big Ten Network. Moreover, he also achieved his nomination in the prestigious Heisman Trophy. Besides, he also achieved his place in both the Maxwell Award and the Walter Camp Award.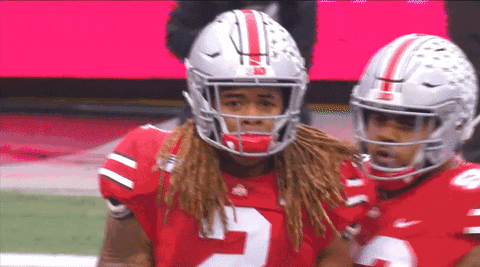 Chase Young NFL Career
To participate in the 2020 NFL Draft, Young forgo his senior year at Ohio State University. He attended the NFL Combine, although he never participated in any drill. Due to social distancing at the time of the pandemic, he became one of the 58 football prospects to get a virtual invitation to appear in the NFL Draft. One of the best NFL teams, the Washington Football Team, selected him as the second overall pick. For a record contract fee of $34.56 million, Young signed a four-year rookie contract on 23rd July 2020.
In his debut game against the Philadelphia Eagles, he recorded 1.5 sacks with 4 tackles. He then suffered a groin injury in a match against the Cleveland Browns. Young was called for wasting time for roughing the passer in the Week 10 game against the Detroit Lions. However, he is still considered as the main contender for the NFL Defensive Rookie of the Year award this season.
Chase Young Personal Life
Born on 14th April 199, Chase Young is the first child of his father, Greg Young, and his mother, Carla Young. Greg currently works as a police deputy in the Arlington County Sheriff's Office. He previously played college basketball for Bowie State University. His mother, Carla, now works in the Office of Investigations for the Department of Transportation. Chase grew up in the Upper Marlboro of Maryland along with his sister, Weslie Young.
Chase now has a tattoo of his late grandfather, the former US Air Force veteran Carl H. Robinson. He followed the tradition of his family and perused his academic career in law. He had a major in criminology. Chase is currently dating his long-time girlfriend, Sophie Piteo.
Chase Young Net Worth
According to the recent financial report, the current net worth of Chase Young is estimated to be around $23 million as of the 2020-21 NFL Season. He signed a $34 million contract with the Washington Football Team. From that contract, he earned the $23 signing bonus up front. He currently gets around $1.07 million in salaries per year.
Chase Young Awards
Young achieved his place in the USA Today All-USA Second-Team in 2016. And in the following year, he has achieved his place in the Second-team All-Big Ten. In 2019, he became a part of the First-team All-Big Ten and Unanimous All-American. Besides, he has several individual accolades under his name that are as follows.
Bronko Nagurski Trophy: 2019
Chuck Bednarik Award: 2019
Ted Hendricks Award: 2019
Chicago Tribune Silver Football: 2019
Nagurski–Woodson Defensive Player of the Year: 2019
Smith-Brown Defensive Lineman of the Year: 2019
Big Ten Male Athlete of the Year: 2020