C. J. Henderson Biography, Career, Net Worth, Salary, Family, Personal Life, Awards, and Other Interesting Facts
January 1, 2021 By Sourav
---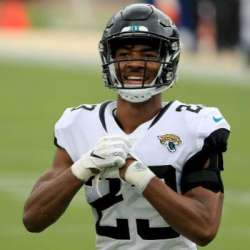 | | |
| --- | --- |
| Real Name | Christopher Henderson Jr. |
| Nick Name | C. J. Henderson |
| Profession | American Football Cornerback |
| Nationality | American |
| Height | 6 Feet 1 Inches (1.85 Meters) |
| Weight | 202lbs (92 Kgs) |
| Birth Date | 30-09-1998 |
| Age | 22 |
| Gender | Male |
| Birth Place | Miami, Florida, United States |
| Zodiac Sign | Virgo |
| Religion | Christian |
| Address | 1 TIAA Bank Field Dr, Jacksonville, FL 32202, United States (Jacksonville Jaguars) |
American football player Christopher Henderson Jr., famously known as C. J. Henderson, currently plays for the National Football League franchise Jacksonville Jaguars as a cornerback. Since his debut in the National League in 2020, he not only became one of the best players in the competition but also one of the talismans of the Jaguars. Besides, all the football pundits and critics now have high hope for his future career.
C. J. Henderson Biography And Other Amazing Facts
Before making his debut in the NFL, he played college football for the Florida Gators Football Team of the prestigious University of Florida. And since that time, he was widely regarded as one of the best cornerbacks. He helped his college team to achieve several brilliant wins during his active career. And during that time, he caught the attention of many professional American Football teams and coaches alike.
C. J. Henderson High School Career
He showed interest in American football after taking his admission to his native Christopher Columbus High School in Miami, Florida. Henderson started playing equally well in both the cornerback and running back position for the explorer team. And as a senior, he has earned his place in the prestigious All-America Bowl. During his high school senior year, he helped the school team to achieve several marvelous victories.
For his performance in the senior year, Henderson achieved the rank of a four-star prospect in American football. He started having scholarship offers from several colleges around the United States. However, he initially committed to the University of Miami. But after a few months, he changed his decision and finally joined the University of Florida.
C. J. Henderson College Football Career
He participated in 11 regular-season games with 5 starts in his freshman year. In that season, he achieved 22 tackles with 4 interceptions. Henderson becomes the regular starter during his sophomore year and recorded 38 tackles in total. He also achieved two forced fumbles and two sacks during that season. Besides, the coaches also named his team as the second-best in the All-Southeastern Conference.
In his junior season, he achieved his place in the first-team All-SEC selection in the preseason. And in the midseason, Associated Press named him in the second team midseason All-American. He completed a total of 33 tackles that year. Coaches named him among the first-team All-SEC. Besides, FWAA named him in the second-team All-American. However, he opted to forgo his final year to participate in the 2020 NFL Draft.
C. J. Henderson NFL Career
One of the most successful American football teams, Jacksonville Jaguars, picked him as the first round ninth overall selection in the 2020 NFL Draft. He then made his debut against Indianapolis Colts on 13th September 2020. He not only recorded five tackles but also the first interception of his professional career on that match. Henderson also defended three passes and helped the side to achieve a 27-20 win.
For his brilliant performance in the debut match, he received the Pepsi NFL Rookie of the Week award. He then had a forced fumble against Green Bay Packers in week 10 of NFL 2020. But, Myles Jack recovered it. He then suffered a minor groin injury on 19th November 2020. However, he was placed on the injured reserve of the Jaguars for that injury.
C. J. Henderson Personal Life
Born on 30th September 1998, C. J. Henderson is the first child of his father, C. J. Henderson Sr., and his mother, Debra C. J. Henderson. He grew up in Miami city in Florida along with his younger brother Xzavier Henderson. Xzavier is also an American football player and currently plays for the Miami Columbus High school as a wide receiver. As of 2021, he doesn't have any confirmed affairs.
C. J. Henderson Net Worth
According to the recent financial reports, the current net worth of C. J. Henderson is estimated to be around $5 million as of the 2020-21 NFL season. He signed a four-year gully-guaranteed contract with his current team Jacksonville Jaguars worth $20.5 million. He now gets a $6.1 million yearly salary from the Jaguars. Besides, he also received a $12.5 million signing bonus from that NFL contract.
C. J. Henderson Awards
Since his school days in Christopher Columbus High, he helped his teams to achieve grand success. And during his time with Florida, he led the team to achieve many wins. However, he also has several individual accolades under his name. Some of the most notable awards that he received till now are as follows.
First Team All-SEC: 2019
Second-team All-SEC: 2017 and 2018