10 Greatest Athletes Who Lost Their Olympic Medals
July 10, 2021 By Sourav
---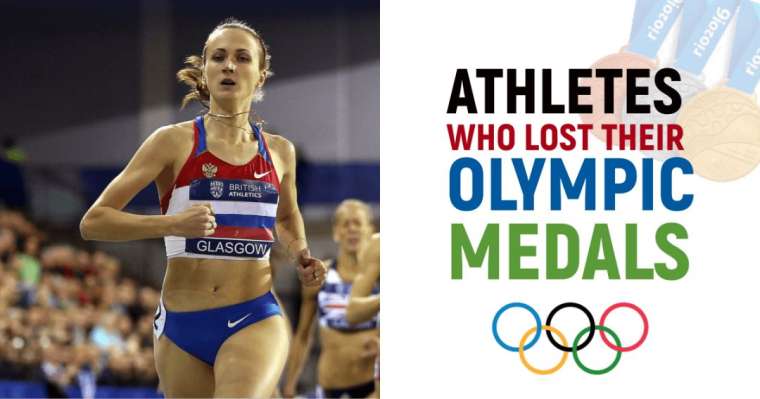 The Olympics Games is the greatest sporting event on the face of the earth. Consists of a number of summer and winter sports, and athletes who with such sports consider it one of their greatest achievements to be able to just participate in the Olympics. It may happen through no fault of his, but sometimes, the player may be actively involved in his own downfall. Let us look at 10 Athletes who Lost Their Olympic Medals.
Athletes Who Lost Their Olympic Medals
It is every athlete's aspiration to win a medal at the Olympics. Here we have compiled the list of Athletes Who Lost Their Olympic Medals due to doping retest or tarnishing the sportsman spirit. However, it has been seen that many of the athletes' Olympic medals have been taken away from them. These are the darkest moments in the sporting history of a country and the player.
10. Rashid Ramzi
This track and field athlete started competing for Morocco first in the 800m, 1500m, and 5000m races, and then joined the Bahraini Army in 2002, gaining citizenship.
This talented athlete's career escalated steeply as he won several medals at the most important sporting events, including the Asian Games. He was the first track and field athlete to win two gold medals at the same competition, which, in his case, was the World Championships.
He continued to perform extremely well in competitions. The 2008 Summer Olympics was his First Olympic appearance. He was most successful in the 1500m race in which he was able to achieve the gold medal.
But his glory was short-lived as, in 2009, The IOC in Bahrain found a blood-boosting drug known as CERA in his blood. Both his blood samples tested positive. Ramzi was stripped of his medal. He is yet to be seen competing again.
9. Ara Abrahamian
This Greco-Roman wrestler started at an early age and wrestled for the Armenian team, and then for the Swedish team. He won several medals in different sporting events. At the 2008 Olympics, he fought brilliantly, but only managed to come third, thus paving his way to winning a bronze medal.
But, Abrahamian and his coach disputed the scores, and claimed that the judges were unjust, and even called for a match review, only to be rejected.
Abrahamian attended the award ceremony, but when he was handed the bronze medal, he shook hands with the other players, and stepping off the podium, placed it on the wrestling match.
He left without the medal, thus choosing to voluntarily lose his Olympic medal. The IOC decided to suspend Abrahamian and his coach for 2 years, for violating the true spirit of fair play. However, his 2-year ban was overturned in 2009.
8. Lyudmyla Blonska
This athlete from Ukraine is considered one of the most talented and multi-faceted. From the age of five, she started getting training in several sports, and at 14 picked up athletics.
As a long jumper and pentathlete, she never had to look back, as she started excelling right from her college days. 2000 onwards, her career has several highs and lows when it came to different competitions.
After winning the 2002 National Championships, she places 13 at the European Championships, but was caught doping and was banned for 2 years.
She returned again to prove her talent again. She won a silver medal at the heptathlon section of the 2008 Olympics but was again caught doping. Not only was she stripped of her medal, but was also banned for life, since this was her second time.
7. Olga Medvedtseva
The Russian biathlete competed in several world championships and took home many gold and silver medals in important championships. She made her way to the 2002 Winter Olympics, she won the gold medal in the 10km pursuit and a bronze for the team 4x7.5km relay.
She then went on to win a silver at the 2006 Olympics for the women's 15km race. But, she failed the drug test that same year, as she tested positive for carphedon, a stimulant. Her medal was taken away, and she faced a 2-year ban.
But the Russian Anti-Doping Committee claimed that she had been given an over-the-counter drug to treat her ankle injury.
Though this was proven true, the Russian manufacturer was unable to produce a complete set of compounds, which was the cause of the catastrophic mistake. She waited out her suspension and returned to earn herself great achievements.
6. Alain Baxter
This skier from Scotland was selected for the British Alpine Ski Team at just 16, and with his skills, especially in slalom, he started setting his own records. After several achievements, he won a bronze at the 2002 Olympics.
For a nation that had never placed in this sport, this was definitely prized. Baxter's first controversy arose when he spray-painted his hair with the Scottish flag. IOC asked him to remove it, as he was representing Britain, but, the dye was still visible.
The bigger problem arose when small traces of meth were found in his system, and he was disqualified. He stated that he had used a Vicks inhaler, unaware of the ingredients of the US counterpart.
The IOC accepted the explanation, and his ban was reduced to 3 months. Baxter denies the claim that Raich, the original 4th place winner who had received his withdrawn medal, returned it to the rightful owner.
5. Marion Jones
This US track and field athlete is one of the best in her sport. But, just like she achieved a great reputation for her skills at an early age, she was also in several controversies.
Her career took off as early as college days but was accused of doping at just 17, though she got out of the charges and went on to win several prestigious events, including medals at World Championships. In the 2000 Summer Olympics, she was hugely successful. But, she was caught doping.
Though she denied the charges, her husband, CJ Hunter, admitted to using steroids which he said she had injected during the 2000 Olympics. A look at her past and coaches proved her guilty by association, and she lost her 6 gold medals.
She was later found guilty of other crimes like cheque forgery and perjury, and in 2008, she was sentenced to imprisonment for 6 months for her dubious activities.
4. Andreea Raducan
The Romanian gymnast had great talent and was a prodigy who embarked upon a successful career, winning accolades and medals. Starting from the age of just 12, she began enthralling everyone with her dance and presentation, as well as difficult stunts.
At the 2000 Sydney Olympics, where many gymnasts were hurt because of the improper setup of gymnastics equipment, she not only managed to remain unharmed but also won a silver and gold, as well as a gold for the team.
However, she tested positive for Sudafed, a stimulant, but also a decongestant. Her coach claimed that the drug was in Nurofen which she had been given for a cold. Despite the appeal, she lost her gold medal, though her doctor also faced a 2-year suspension.
But, she did not let the controversy pull her down, and returned to gain herself several achievements in her field. Without much doubt, he deserves her place among the athletes who lost their Olympic medals.
3. Ben Johnson
Born in Jamaica, this track and field athlete represented Canada since he had migrated there in the 70s. Under the guidance of Olympic coach Charlie Francis, he went on to achieve great things, including medals at prestigious events like Commonwealth Games.
In the 1982 Summer Olympics, he was able to obtain a bronze medal in his solo match, as well as a bronze for the win of the Canadian relay team in a 4x100m segment. Fans still dubbed him as one of the greatest athletes who lost their Olympic medals.
He won several medals, and broke many Canadian records, until, in the 1988 Olympic Games, he won gold in the 100m run, only to later give up the medal, because 3 days after the win, he failed his drug test.
An anabolic steroid was found in his urine, and he was suspended, with his medal being taken away from him. Johnson attempted to make a comeback in 1991 and won some races. However, he again tested positive for doping. And for that fact, he deserves his place among the athletes who lost their Olympic medals.
2. Hans-Gunnar Liljenwall
This Swedish pentathlete shone mostly in the team games, though he had also managed to win a bronze in the modern pentathlon segment of the 1964 Summer Olympics. In the 1968 Summer Olympics, he received a bronze medal owing to the team's achievement as they earned a spot on the podium.
But, the team eventually had to withdraw their medals because Liljenwall tested positive for alcohol. He admitted that he had had two beers to calm his nerves during the pistol shooting segment.
He was the first to be disqualified for drug use after IOC started the anti-doping regulations in 1967. As a quite curious and rather awful fact, Liljenwall received a disqualification for that. And his entire team had to take the fall for him, just because of two beers.
Whereas, 14 other athletes who had tested positive for tranquilizers, were allowed to walk without any form of punishment. Without any doubt, Liljenwall definitely deserves his place among the athletes who lost their Olympic medals.
1. Jim Thorpe
This versatile athlete was one of the best in his time and deserves his place among the athletes who lost their Olympic medals. In 1912, he participated in pentathlon and decathlon, somewhat new segments in the Olympics, alongside long jump and high jump, and won gold medals in both pentathlon and decathlon.
He also achieved challenge prizes from Nicholas II, Russia, and Gustav V, Sweden. But, in 1913, the International Olympic Association began the rule that any player with experience of teaching sports, competing against professionals, or earning cash from competitions could not be called an amateur, and hence, was not allowed to compete.
Thorpe played professional baseball for the Eastern Carolina League in 1909-10. He made money, albeit meager, had to give up his medals.
Although, the committee brought up 6 months after the end of the Olympics. However, the rule stated that it could be done if complaints came up within 30 days.
Athletes Who Lost Their Medals | Olympic Games Infographics
Final Words
One of the greatest moments in any athlete's life is to stand on the podium of the Olympic Games with the national flag unfurled in his honor. As a representative of his country, a medal-winning sportsperson has just made his country proud, and that athlete is a prized asset of the nation. But the glory of the moment is taken away when a player loses his medal.
As we have seen, sometimes it is the player's fault. At other times, he is just the victim of someone else's activities or some unlucky situation. At times, it is the athlete's sense of pride and self-confidence that becomes his own undoing, leading him to lose the prestigious Olympic medal.
What do you guys think that which of the athlete remained unfortunate in the list of Athletes Who Lost Their Olympic Medals? Let us know in the comments below.