Top 10 Athletes Who Are War Veterans
July 8, 2021 By Sourav
---
We all know that athletes have a huge passion for their profession. While we look at their personal records and achievements, and it would be foolish to say that they do not care about the same, they also dedicate themselves to the country, trying to play for the nation and proudly stand on the podium representing the nation they hail from. It's time for an interesting post that is about 10 Athletes who are War Veterans.
Athletes Who Are War Veterans - A Tribute To The Legends
It is an athlete's ultimate dream to represent the country and be a part of its national team. But, some athletes, at some point in their sporting careers, have thought that there is more than play for it.
And what more can a person do for his country than be ready to face the bullet for it? Here is a list of athletes who were brave enough to opt for a life on the borders, fighting for their nations. Take a look at 10 Athletes who are War Veterans.
10. David Robinson
Retired American professional basketball player David Maurice Robinson was born on August 6, 1965, and played his entire career as a center in the National Basketball Association for the San Antonio Spurs. He earned his nickname "The Admiral" as he served his duty in the United States Army.
Although his nickname is "The Admiral", but his actual rank was Lieutenant, Junior Grade, upon fulfilling his service commitment. Robinson graduated from the Naval Academy and commissioned as a civil engineering officer at the Naval Submarine Base, Kings Bay in Georgia.
Robinson is a two-time NBA Champion and 10-time NBA All-Star. He became the NBA Most Valuable Player in 1995 and achieved two gold medals in the Olympic Games as a member of the United States men's Olympic basketball team.
He earned his place the US Olympic Hall of Fame two times in 2008 and 2009. David Robinson surely deserves the tenth place in our list of athletes who are war veterans.
9. Bill Sharman
Former American professional basketball player and coach William Walton "Bill" Sharman participated in the NBA for the Boston Celtics in the 1950s.
Born on 25th May 1926, he achieved the NBA Championship 10 times and became the World Champion twelve times. One of the greatest NBA players of all time, Sharman retired in 1961 from active sports after spending 11 seasons with the team.
Sharman first earned his place in the Naismith Memorial Basketball Hall of Fame in 1976 as a player. He then earned his place again as a basketball coach in 2004. Sharman served his duty in the US Navy from 1944 to 1946 during World War II.
This legendary player died on October 25, 2013, after he had a stroke a week earlier, at his home in Redondo Beach, California at the age of 87. Without any doubt, Bill Sharman deserves the ninth place in our list of athletes who are war veterans.
8. Rocky Bleier
Former National Football League halfback Robert Patrick "Rocky" Bleier was born on March 5, 1946, and spent his career in two spells with the Pittsburgh Steelers from 1968 till 1980. He was the Steeler's fourth all-time leading rusher at the time of his retirement.
Bleier retired with 3,865 rushing yards, 136 receptions for 1,294 yards, and 25 touchdowns. He joined the US Army in December 1968 and then volunteered for duty in the Vietnam War.
Bleier served his duty in the army with the 196th Light Infantry Brigade. A rifle bullet wounded him in his left thigh during his patroling in Heip Duc on 20th August 1969. Rocky Bleier held the rank of a 'Specialist 4' during his army days.
He received the Purple Heart and the Bronze Star award for his duty in the American Army. Surely, he deserves his place in our list of athletes who are war veterans.
7. Pat Tillman
Born on 6th November 1976, former American football player Patrick Daniel "Pat" Tillman left his football career to join the United States Army in June 2002. He joined the army during the aftermath of the September 11 attacks.
Tillman served his duty in Iraq and Afghanistan as an American Army Officer. He is the first professional football player to be killed in combat after Bob Kalsu who died in the Vietnam War in 1970.
Tillman successfully completed the Ranger Indoctrination Program in late 2002 and then assigned to the 2nd Ranger Battalion in Fort Lewis, Washington. He participated in the initial invasion of Operation Iraqi Freedom and later deployed to Afghanistan.
He took part in an apparent ambush on the village of 'Sperah', about 25 miles of the Pakistan border. And sadly, Enemy combatants killed him on 22nd April 2004 on that ambush. Pat Tillman definitely deserves the seventh place in our list of athletes who are war veterans.
6. Melissa Stockwell
American para-triathlete and one of the best Paralympic athletes Melissa Stockwell was born on April 23, 1980, and also known for her duty as a .S. Army officer. She is the co-founder of a Chicago-based triathlon club specifically for disabled athletes called Dare2Tri and is also a Level 1 USAT Triathlon coach.
Stockwell was the first female soldier to lose a limb in the Iraq War as a first lieutenant. She lost her left leg during a roadside bomb explosion when she was leading a convoy in Baghdad.
She has received the Bronze Star and the Purple Heart for her service in Iraq. Stockwell subsequently became the first Iraq veteran chosen for the Paralympics and participated at the 2008 Summer Paralympics in three swimming events.
She also serves her duty on the board of directors of the Wounded Warrior Project since 2005. Melissa Stockwell surely deserves the sixth place in our list of athletes who are war veterans.
5. Joe DiMaggio
Born on 25th November 1914, former American professional baseball player Joseph Paul "Joe" DiMaggio played as a center fielder during his heydays. His fans often called him by his nicknames such as "Joltin' Joe" and "The Yankee Clipper". He spent his entire 13 seasons of his career with the New York Yankees.
DiMaggio was an All-Star in each of his 13 seasons, and also achieved the Most Valuable Player award three times. He also helped his club to win ten American League pennants and nine World Series championships.
DiMaggio has earned his place in the Baseball Hall of Fame in 1955. Before that, he joined the United States Army Air Forces on 17th February 1943. He held the rank of sergeant during his army days.
He also held the position of a physical education instructor at Santa Ana, California, Hawaii, and Atlantic City. DiMaggio suffered from chronic stomach ulcers and later discontinued his army service on medical condition in September 1945. But surely, he deserves his place in our list of athletes who are war veterans.
4. Bob Feller
Born on 3rd November 1918, Former American professional baseball player Robert William Andrew Feller played as a pitcher in the MLB. The baseball world knows him by several of his nicknames such as "The Heater from Van Meter", "Bullet Bob", and "Rapid Robert". He spent 18 seasons for the Cleveland Indians in Major League Baseball.
Feller achieved the 36th position on the list of the 100 Greatest Baseball Players by the Sporting News. Often dubbed as the "greatest pitcher of his time", he holds a final spot for the Major League Baseball All-Century Team in 1999.
Feller volunteered for the United States Navy two days after the United States entered World War II with the attack on Pearl Harbor on December 7, 1941. He was the first American professional athlete enlisted in the army and was assigned to the USS Alabama.
Feller held the position of a Chief Petty Officer and retired from the army service on 22nd August 1945, after the war ended. Without any doubt, he deserves the fourth spot in our list of athletes who are war veterans.
3. Jackie Robinson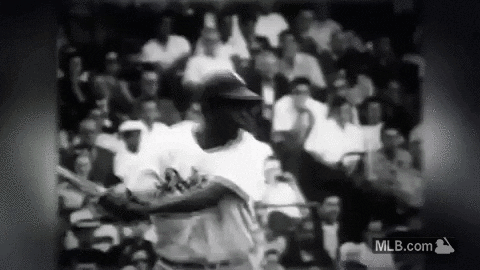 Former American professional baseball player Jack Roosevelt "Jackie" Robinson was born on January 31, 1919, and was the first African-American to play in Major League Baseball. He broke the baseball color line as he started at first base for the Brooklyn Dodgers on April 15, 1947.
MLB initiated a new annual tradition called "Jackie Robinson Day" for the first time on April 15, 2004, and since then every player wears #42 on that annual occasion.
Robinson joined the segregated Army cavalry unit in Fort Riley, Kansas, in 1942. Besides, he held the rank of a second lieutenant since January 1943. He served his duty as a member of the 761st "Black Panthers" Tank Battalion.
Robinson boarded an Army bus with a fellow officer's wife on July 6, 1944, where he was told to move to the back of the bus which he refused. He was court-martialed in August 1944. Jackie Robinson surely deserves the third place in our list of athletes who are war veterans.
2. Ted Williams
Former American professional baseball player and manager Theodore Samuel "Ted" Williams was born on August 30, 1918, and spent 19 seasons as the left fielder for the Boston Red Sox in Major League Baseball. He is known by many of his nicknames such as "The Kid", "The Splendid Splinter", "Teddy Ballgame" and "The Thumper", and regarded as "The Greatest Hitter Who Ever Lived".
Williams is a six-time batting champion, seventeen times All-Star, two-time Triple Crown winner, and achieved the American League Most Valuable Player award twice.
He joined the Navy Reserve during World War II on May 22, 1942. Williams was commissioned a second lieutenant in the United States Marine Corps on May 2, 1944, as a Naval Aviator.
He served his duty on the force for three years and was discharged by the Marine Corps on January 28, 1946. Ted Williams is inducted in second place in our list of athletes who are war veterans.
1. Ty Cobb
Former American Major League Baseball outfielder Tyrus Raymond "Ty" Cobb was born on December 18, 1886, and was nicknamed "The Georgia Peach". He spent 16 seasons with the Detroit Tigers as a player and 6 seasons as the team's player-manager.
Cobb was also a member of the Philadelphia Athletics. He earned the most votes of any player on the inaugural Baseball Hall of Fame ballot in 1936. Cobb himself once stated, "In legend, I am a sadistic, slashing, swashbuckling despot who waged war in the guise of sport."
He was enlisted in the Chemical Corps branch of the United States Army in October 1918. Shortly after, he was sent to the Allied Expeditionary Forces headquarters in France.
Cobb held the rank of captain underneath the command of the president of the St. Louis Cardinals. He was a member of the Gas and Flame Division of the American army. Ty Cobb is inducted in the top place in our list of athletes who are war veterans.
Athletes Who Are War Veterans - All-Time Infographics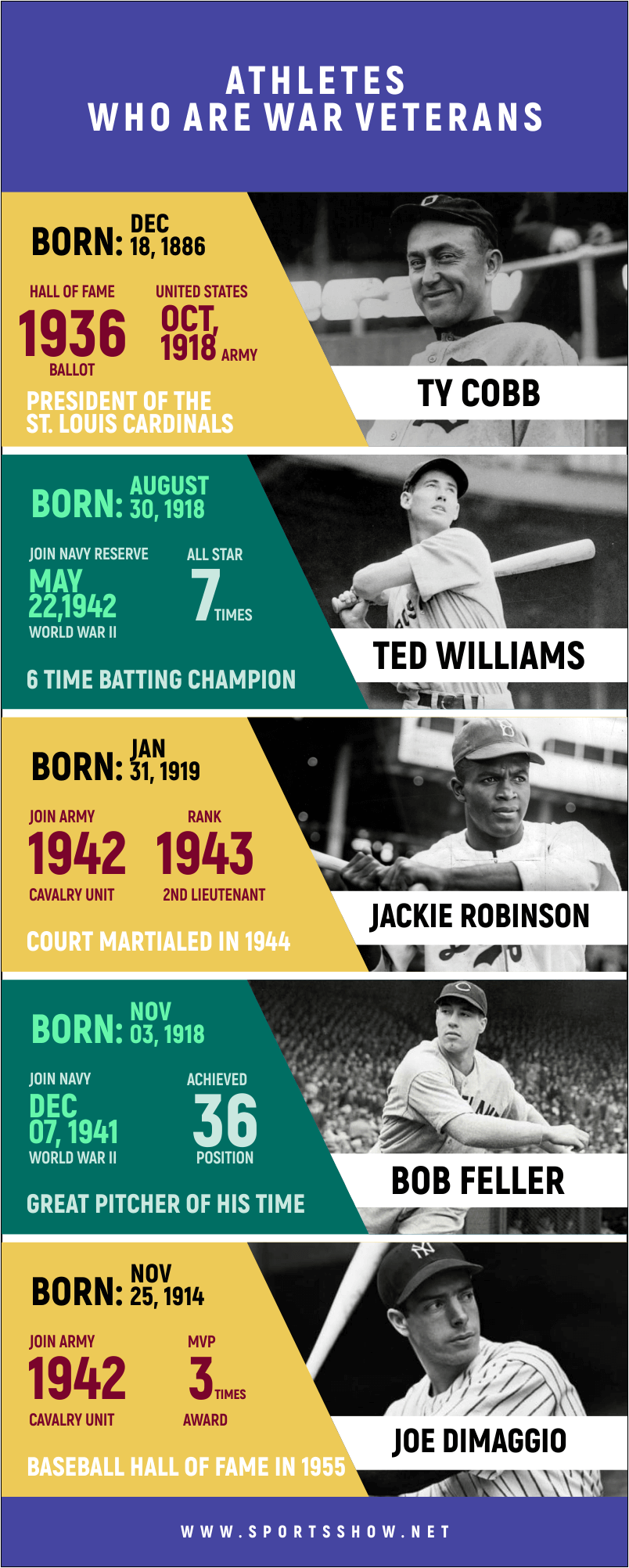 Final Words
Many athletes have thought of giving up on sports to join the army. As a result, they have chosen for themselves a life of injury and uncertainty and given up on sure-shot glamour, fame, and money. Besides, it shows their dedication to their nation. Can you think of more names to add to the list of Athletes who are War Veterans? Don't forget what you think in the comments below.