Top 10 Most Handsome NFL Players in 2021
September 18, 2021 By Sourav
---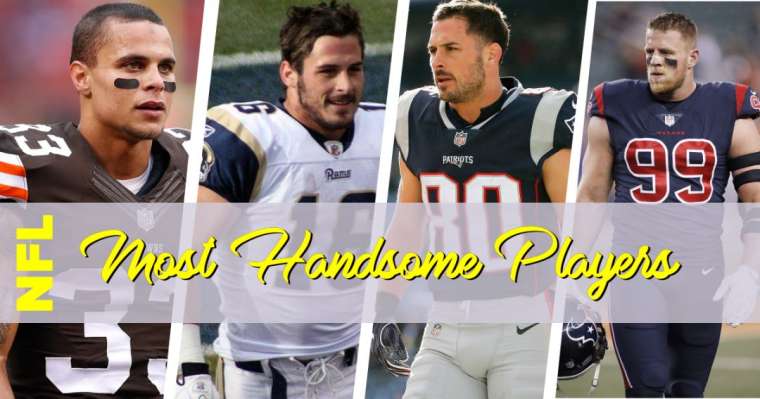 Goodlooking NFL Players are in abundance, and choosing only ten from them is not only cruel but is an impossible task. Nonetheless, these are the most handsome NFL players in 2021 who are not only known for their looks but are also known for their technique of playing.
Most Handsome NFL Players In 2021
If you want to know more about these guys, keep reading on.
10. Cam Newton
At number 10 in this list of most handsome NFL players in 2021, we have Cam Newton. In his rookie year, Newton had broken all-time NFL rookie records for passing and rushing yards.
He became the very first NFL quarterback to throw for 400 yards in his first game, breaking Peyton Manning's first-game record by 120 yards. In an NFL debut, he also broke Otto Graham's long 61-year-old record for passing yards by any quarterback.
Newton later went on to become the first rookie quarterback to throw for 4,000 yards in a season. He also ran for a total of 14 touchdowns, more in a single season than any quarterback in NFL history.
9. Eric Decker
At number 9 in this list of most handsome NFL players in 2021, we have Eric Decker. The Denver Broncos drafted decker in the third round. He was the 87th overall pick of the 2010 NFL Draft. He played college football and college baseball at the University of Minnesota, where he had earned a bachelor's degree in business and marketing.
In early spring 2009, Decker encountered Thomas Goudy, a wide-out coach in St. Louis, Missouri. Goudy immensely helped Decker with his ball-holding technique.
Decker spent three long weeks in his training camp before starting the summer conditioning camp. Decker started the season with the consistent play that had been a hallmark of his Gophers career.
8. Brock Osweiler
At number 8 in this list of most handsome NFL players, we have Brock Osweiler. He previously played for the Denver Broncos and also the Houston Texans.
Osweiler had played college football at Arizona State University and was drafted by the Broncos in the second round of the 2012 NFL Draft.
During his impressive four years with the Broncos, Osweiler was a member of the team that won Super Bowl 50.
7. Reggie Bush
At number 7 in this list of good-looking NFL players, we have Reggie Bush. Bush also won the 2005 Doak Walker and Walter Camp awards.
However, constant allegations that he received improper benefits were pivotal to an NCAA investigation of the USC football program that led to severe NCAA sanctions against USC.
It included a two-year postseason ban and the vacating of victories from the 2004 championship season. As a result, Bush voluntarily forfeited his Heisman Trophy.
6. Clay Matthews
At number 6 in this list of most handsome NFL players in 2021, we have Clay Matthews. He was the very first-round draft pick of the Cleveland Browns and played in a total of 278 games over 19 NFL seasons, the 17th most appearances in league history.
Matthews was rightfully named the AFC Defensive Player of the Week twice in his career with the Cleveland Browns (Week 12, 1984 and Week 9, 1991).
Clay and his son, Clay Matthews III, happen to be the only father-son tandem to be named a defensive player of the week in the NFL.
5. Miles Austin
At number 5 in this list of most handsome NFL players, we have Miles Austin. He spent the better part of his career with the Dallas Cowboys.
He also played for the Cleveland Browns and Philadelphia Eagles. Austin had played college football at Monmouth and held the school's prestigious record for receiving yards.
Austin joined the Cowboys as an undrafted free agent back in 2006 and was a member of the team for eight seasons. During his stint with the Cowboys, he was named to two Pro Bowls. He retired after playing for the Browns and then for the Eagles in one season each.
4. Colin Kaepernick
At number 4 in this list of most handsome NFL players this year, we have Colin Kaepernick. Colin Rand Kaepernick.
He played collegiate football at the University of Nevada, where he twice was announced the Western Athletic Offensive Player of the Year and the Most Valuable Player of the 2008 Humanitarian Bowl.
Kaepernick was once selected by the San Francisco 49ers in the second round of the 2011 NFL Draft.
3. Tom Brady
At number 3 in this list of most handsome NFL players in 2021, we have Tom Brady. He is one of the only two players to win five Super Bowls (the other being Charles Haley), the only quarterback to have won five, and the only player to win them all playing for one team.
Tom Brady was also familiar as a great baseball player in high school.
He was a left-handed hitting catcher with prolific power. His skill set impressed MLB scouts, and he was soon drafted in the 18th round of the 1995 MLB Draft by the Montreal Expos. Besides his immense popularity, he also made his name the hottest quarterback.
2. Russell Wilson
At number 2 in this list of most handsome NFL players, we have Russell Wilson. On July 31, 2015, Wilson signed a satisfying four-year, $87.6 million contract extension with the Seahawks, making him, at that time, the second-highest-paid player in the NFL.
As a senior in 2006, he had thrown for 3,009 yards, 34 touchdowns, and seven interceptions.
Wilson also rushed for 1,132 yards and an impressive18 touchdowns. That year, he was named an all-conference and all-state player as well as the conference player of the year.
1. Jimmy Garoppolo
At number 1 in this list of most handsome NFL players in 2021, we have Jimmy Garoppolo. He played football for the Eastern Illinois Panthers between 2010 and 2013. In his freshman year, he started eight games, passing for a stunning 1,639 yards and 14 touchdowns and earning All-Ohio Valley Conference Newcomer Team honors playing under his head coach Bob Spoo.
He went on to start every game in his time at Eastern Illinois, passing for 2,644 yards and 20 touchdowns in 2011, 3,823 yards and 31 touchdowns in 2012, and then 5,050 yards and 53 touchdowns in 2013.
He ended up breaking the school record for career pass completions previously held by Dallas Cowboys quarterback Tony Romo.
Conclusion
Do you know more of the Most Handsome NFL Players? If yes, we'd love to hear from you in the comments below.
Most Handsome NFL Players | Infographics