Top 10 Shortest NBA players of All Time
September 22, 2021 By Sourav
---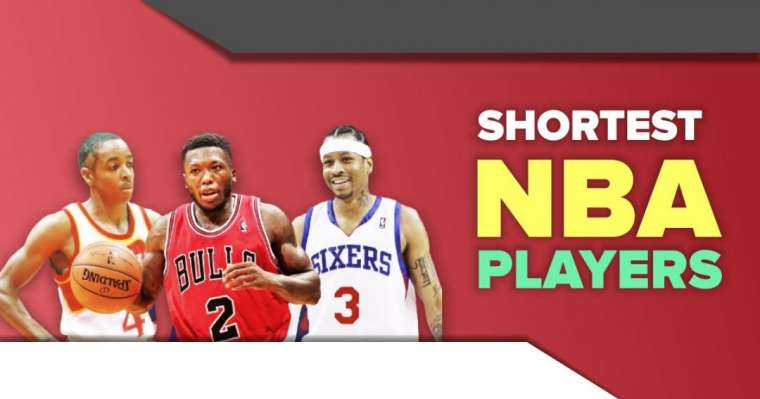 The following list contains the names of the top 10 shortest basketball players who pushed themselves beyond the NBA limits and lived up their dreams. Although they were significantly disadvantaged by their height, still, they played professional Basketball at the international level.
Even after retirement, a few of them became coaches and training managers. The stories of these ten players will motivate and energizes your soul to liven up your dreams. Let's have a look at the shortest NBA players in 2021.
Shortest NBA Players of All Time | 2021 Updates
As we have always seen and heard, Basketball is played mainly by tall players. In fact, height is the key factor considered in the selection of basketball players. The average height of the basketball players used to be 6'7" from the era between 1985 and 2006.
The two of the tallest NBA players to appear in Basketball belonged to Romania's team Gheorghe Muresan and Sudan's Manute Bol, who both towered at 7'7". Still, there are rule breakers who played Basketball despite being the shortest NBA player of all time.
25 Shortest NBA Players Ever - Updated Table
| PLAYER | HEIGHT | TEAM |
| --- | --- | --- |
| Muggsy Bogues | 5'3" | Bullets, Hornets, Warriors, Raptors |
| Earl Boykins | 5'5" | Nets, Cavaliers, Magic, Clippers, Warriors, Nuggets, Bucks, Bobcats, Wizards, Rockets |
| Mel Hirsch | 5'6" | Celtics |
| Greg Grant | 5'7" | Suns, Knicks, Hornets, 76ers, Bullets, Nuggets |
| Keith Jennings | 5'7" | Warriors |
| Herm Klotz | 5'7" | Bullets |
| Wataru Misaka | 5'7" | Knicks |
| Monte Towe | 5'7" | Nuggets |
| Spud Webb | 5'7" | Hawks, Kings, Timberwolves, Magic |
| Charlie Criss | 5'8" | Hawks, Clippers, Bucks |
| Dino Martin | 5'8" | Providence Steamrollers |
| Willie Somerset | 5'8" | Bullets |
| Howie Carl | 5'9" | Chicago Packers |
| Charlie Hoefer | 5'9" | Toronto Huskies, Celtics |
| Lionel Malamed | 5'9" | Indianapolis Jets, Rochester Royals |
| Ed Melvin | 5'9" | Pittsburgh Ironmen |
| Calvin Murphy | 5'9" | Rockets |
| Angelo Musi | 5'9" | Philadelphia Warriors |
| Ralph O'Brien | 5'9" | Indianapolis Olympians, Bullets |
| Nate Robinson | 5'9" | Knicks, Celtics, Thunder, Warriors, Bulls, Nuggets, Clippers, Pelicans |
| Gene Rock | 5'9" | Chicago Stags |
| Yuta Tabuse | 5'9" | Suns |
| Isaiah Thomas | 5'9" | Kings, Suns, Celtics, Cavaliers, Lakers |
| Kay Felder | 5'9" | Cavaliers, Bulls, Piston |
Tyrone "Muggsy" Bogues - 5'3"
Tyrone was called "Muggsy" by his fellow mates due to his birthplace Maryland. Plus, he was exceptionally good at defending, so they always said that he was "mugging" them.
He is the shortest basketball player ever to play in the National Basketball Association. From 1983 to 1987, Muggsy played at Wake Forest University. He then played for Charlotte Hornets.
Currently, he is serving as the head coach of the United Faith Christian Academy Basketball Team. And without a doubt, Muggsy is still the shortest NBA player ever to participate.
Earl Boykins - 5'5"
Boykins was the youngest player to set foot on the basketball court. He joined Eastern Michigan University and played for the Eagles team. He soon joined NBA and played for Washington Wizards, Milwaukee Bucks, and Houston Rockets.
With 5.5 feet in height, he is on the list of shortest NBA players ever. He became the MAC Tournament MVP in 1998 and achieved the Frances Pomeroy Naismith Award the same year.
Boykins was named the EuroChallenge champion in 2009 and is still considered one of the greatest basketball players in the United States.
Melvin Hirsch - 5'6"
Hirsch is one of the shortest players in the history of the NBA. He went to Brooklyn College and became a part of the basketball team there. He completed his graduation in 1943 and became a navigator in the US Army Air Corps.
Besides his professional career in NBA, he also played for the squadron's officer's basketball team.
In 1946, he joined the NBA (which was the Basketball Association of America at that time) and played for Boston Celtics. Hirsch suffered a lot during his last days and died from leukemia at the age of just 47 in December 1968.
Anthony "Spud" Webb - 5'7"
Spudd Webb played a total of 814 games in the NBA and put his mark in the sports through his talent. Like other players on the list, Webb did not let his height get in the way and made his mark.
Webb played for several teams throughout his career, like Atlanta Hawks, Sacramento Kings, the Minnesota Timberwolves, and the Orlando Magic.
He improved his skills through intense training and became the NBA Slam Dunk Contest champion in 1986. Spud is the current President of Basketball Operations for the Texas Legends, which is the minor league affiliate of the Dallas Mavericks.
Gregory Alan "Greg" Grant - 5'7"
Like his other mates with short stature, Grant proved his skill through the practical approach. Phoenix Suns chose him as the 52nd overall pick in the 1989 NBA Draft.
Jim Lynam, the manager of the Philadelphia 76ers, spoke very highly of him. Grant played for the Philadelphia 76ers as a point guard from 1991-1993.
After retiring, he went to Trenton, New Jersey, to run a sports academy. In 2009, he published a book called '94 Feet and Rising: The Journey of Greg Grant to the NBA and Beyond.'
Louis "Red" Klotz - 5'7"
Former basketball player Louis "Red" was known for his eye-catching red hair and his short stature in NBA. Klotz first played with NBA's Baltimore Bullets in 1947.
After five years, Klotz became the owner of the American Basketball League Philadelphia Sphas and called the Washington Generals. In 1953, his team went to compete with Globetrotters.
His team didn't do well, so he changed their name to New York Nationals, which were again renamed back to Washington Generals. He became the ambassador for spreading love in the game. Klotz was the oldest living NBA world champion and died on 12th July 2014.
Wataru "Wat" Misaka - 5'7"
This boy from Japanese ancestry had a tough life and living throughout. Despite his short stature, he helped his fellow players from Utah Utes at the University of Utah win the 1944 NCAA Championship. He spent two years in the Army after college and did his duty for the nation.
After serving for two years in the Army, he returned to the University of Utah and made his team win National Invitation Tournament Championship.
From 1947 to 1948, Misaka joined New York Knicks as a point guard. He is also the first Asian-American player who participated in the NBA contest and succeeded. He was a part of the Utah Sports Hall of Fame in 1999.
Monte Towe - 5'7"
Towe was underestimated for his height, but his exceptional performance in the court proved everyone wrong. He registered at the North Carolina State University for graduation but ended up joining the NC State Wolfpack team. Norm Sloan, the team's head coach, had fears regarding Monte Towe, but he proved them wrong with his brilliance and excellence on the court.
Towe was soon made the team lead and managed to bring a national championship win for his university. His teammate, David Thompson, admitted that Towe got a never-dying and never-give-up attitude to the team. Towe was never taken aback by his height and is also the shortest NBA player to dunk.
As a matter of fact, he was always confident in his skills. Towe played for Denver Nuggets from 1976 to 1977. He served as a coach and consultant for many institutions after his playing career. For his immense success and achievements, the Indiana Basketball Hall of Fame inducted him in 2002.
Keith "Mister" Jennings - 5'7"
With a height of 5'7", Jennings did wonders with Basketball. Although he did face immense criticism, he still didn't lose hope, and his perseverance led him to the NBA. In 1991, this star graduated from East Tennessee State University.
From 1992 to 1995, he played for California's Golden State Warriors as a point guard and is still one of the shortest NBA players today. However, he also played for renowned teams like Germany, Turkey, Spain, Russia, and France.
After he got retirement, he served as a coach for various schools in Tennessee and Virginia. Recently he has been serving at Bluefield College in Bluefield, Virginia as an assistant coach. East Tennessee State University inducted him into their Athletics Hall of Fame in 2013.
Charlie Criss - 5'8"
Criss is not the only player to have played in the NBA with a height of 5'8". There are others as well, like Don Dino Martin and Willie Somerset, who gave power-packed performances in their tenure with the same height. Criss, however, faced many challenges in his basketball career.
He played in the Continental Basketball Association after graduating from New Mexico State University. He always wanted to move up and play in the NBA after becoming the Most Valuable Player twice in the association. Seven years after Criss graduated from college, in 1977, his long-awaited dream came true, and he was just 28 when he joined Atlanta Hawks as a guard.
He achieved the title of NBA's smallest player and the oldest rookie. He earned his selection in the NBA because of his sharpshooting and passing skills. Criss was always very quick with the ball, and his coach Hubie Brown was very proud of him.
Shortest NBA Players - Infographics
Conclusion
These players might be short, but that has not messed with their ability to play well. Do you think height matters for a basketball player? Who are your favorites among the top 10 Shortest NBA Players? Let us know in the comments below!