Ousmane Dembele Biography, Age, Career, Net Worth, Personal Life, Awards, and Many More
March 8, 2021 By Sourav
---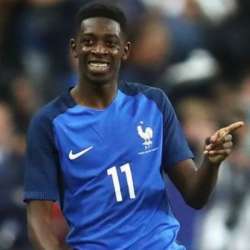 | | |
| --- | --- |
| Real Name | Masour Ousmane Dembélé |
| Nick Name | Ousmane Dembélé |
| Profession | Football Forward |
| Nationality | French |
| Height | 5 feet 10 inches (1.78 meters) |
| Weight | 149lbs (67 Kgs) |
| Birth Date | 15-05-1997 |
| Age | 24 |
| Gender | Male |
| Birth Place | Vernon, France |
| Zodiac Sign | Taurus |
| Religion | Islam |
French youngster Ousmane Dembele currently plays as a forward for the La Liga side Barcelona besides regularly appearing for the France national football team. He started his senior footballing career with Rennes. After playing two seasons there, he joined the Bundesliga side Borussia Dortmund in 2016. Dembele scored the winning goal in the final and helped Dortmund to lift the DFB-Pokal trophy in the 2016-17 football season. The next year, he took his transfer to Barcelona for a record transfer fee of €105 million.
Ousmane Dembele Biography And Other Interesting Facts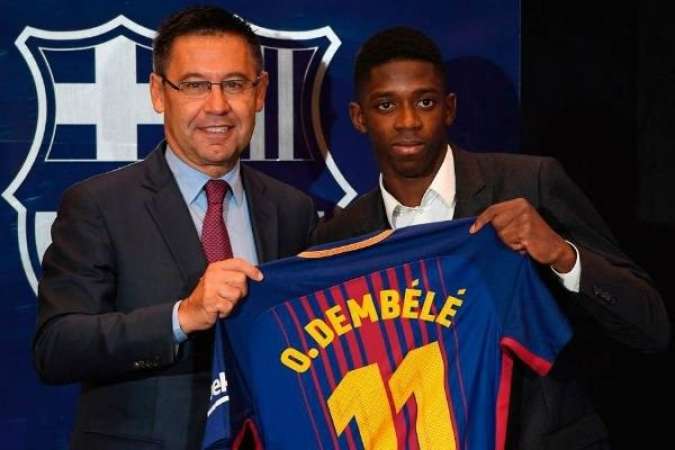 With his transfer, he became the joint-second most expensive player along with his international teammate Paul Pogba. Shortly after, he helped Barcelona to win both the La Liga and Copa del Rey trophy in his debut season. Besides his club performances, he also made his name on the international circuit. He scored five goals in 20 youth appearances that he made at the youth level. Dembele then made his senior debut for France in 2016 and quickly became one of the main forwards. This year, he helped France to lift the 2018 FIFA World Cup trophy in Russia.
Ousmane Dembele Early career
Dembele started his footballing journey with his local club Madeleine Évreux at the very tender age of just seven. He spent five seasons there from 2004 to 2009 while sharpening his skills. Dembele then joined another club, Évreux FC 27, in his nearby Évreux locality, in 2009. He spent one season there between the ages of 12 and 13. Dembele has earned his first big break in his youth career when he joined the youth academy system of the French Ligue 1 club Rennes in 2010. He joined the academy at the age of just 13 and went through a rigorous training season for five years.
Ousmane Dembele Rennes Career
Dembélé made his senior debut with the reserve side of Rennes as a substitute in the Championnat de France Amateur on 6th September 2014. He then scored his first senior goal against the reserves of Laval at the Stade de la Piverdière on 9th November 2014. Shortly after, he scored his first senior hat-trick in a game against Hérouville on 16th May 2015. He finished his debut season while scoring 13 goals in 18 games for the reserve side of Rennes.
Dembélé made his professional debut for the Rennes first-squad in a Ligue 1 game against Angers on 6th September 2015. He then scored his first senior professional goal against Bordeaux at Roazhon Park on 22nd November 2015. Shortly after, he scored his first hat-trick for the first-team in the 'Derby Breton' against Nantes on 6th March 2016. While witnessing his marvelous performance, Rennes' sporting director Mikaël Silvestre compared him to Cristiano Ronaldo.
Ousmane Dembele Borussia Dortmund Career
Dembélé signed a five-year deal with German Bundesliga club Borussia Dortmund on 12th May 2016. He made his debut for Dortmund in the DFL-Supercup match against Bayern Munich on 14th August 2016. He then scored his first goal for the club in a Bundesliga match against VfL Wolfsburg on 20th September 2016. Shortly after, Dembélé scored his first-ever UEFA Champions League goal in a group-stage match against Legia Warsaw on 22nd November 2016.
He received praises after scoring the decisive goal at the 2017 DFB-Pokal Final against Eintracht Frankfurt on 27th May 2017. And while scoring it, he helped the club to achieve their first major title in the last five years. Besides, he also received the 'Man of the Match' award for his brilliant display of gameplay on that match. Without any surprises, he received the Rookie of the Season award and also earned his place in the Bundesliga Team of the Season.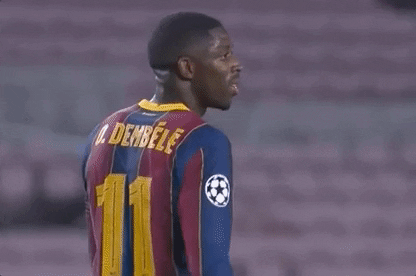 Ousmane Dembele Barcelona Career
One of the richest football clubs, Barcelona, announced their success for reaching a deal with Dortmund to sign Dembele for a record transfer fee of €105 million on 25th August 2017. Besides, he also has the provision of €40 million add-ons and €400 million buyout clause in his contract. Dembele soon joined the La Liga side on a five-year contract on 28th August 2018. Besides Dortmund, Rennes also reportedly received €20 million for Dembele's transfer. He received the prestigious 'Number 11' shirt previously worn by Neymar upon his arrival at the club.
Dembele made his debut for Barcelona against Camp Nou as a substitute for Gerard Deulofeu on 9th September 2017. Sadly, he injured his hamstring in his first La Liga match against Getafe eight days after his debut, on 18th September 2017. He was ruled out from the ground for four-month due to that injury and got his medical all-clear on 2nd January 2018. Tragically, he again injured himself in a match against Real Sociedad on 15th January 2018 and ruled out for four weeks. Upon his comeback, he scored his first goal for Barcelona in the UEFA Champions League Round-of-16 match against Chelsea on 14th March 2018.
Shortly after, he scored his first La Liga goal against Celta Vigo on 17th April 2018. He then scored his first brace for Barcelona against Villarreal on 9th May 2018. Dembele scored four goals in 24 appearances in his debut season and helped the club to win both the La Liga and Copa del Rey. He also helped Barcelona to win their 13th Supercopa de España title while scoring against Sevilla on 12th August 2018.
Ousmane Dembele International Career
Dembélé has earned his first call-up for the French senior side in August 2016, to play against Italy and Belarus. He has had his chance due to the injury of Nabil Fekir and Alexandre Lacazette. He then made his debut against Italy at the Stadio San Nicola on 1st September 2016. Dembele scored his first senior international goal in a match against England on 13th June 2017. He then received his call-up for the 23-man French squad on 17th May 2018, to participate in the 2018 FIFA World Cup in Russia, but remained as an unused substitute.
Ousmane Dembele Personal Life
Born in Vernon, Eure, in Normandy, Ousmane Dembele is of mixed descent. His mother, Fatimata Dembélé, is of French Mauritanian and Senegalese descent. And his father, Ousmane Snr, is from Mali but also has a Senegalese connection. Ousmane Dembele's current agent, Badou Sambague, is also from his family and is his uncle.
Ousmane Dembele Net Worth
As of the ongoing football season of 2021-22, Dembele's current net worth now stands at €15 million. His recent market value also reached €80 million as of 2021. He gets nearly €10 million yearly wages from his current La Liga side Barcelona. Besides his footballing earning, he also made his wealth with several personal endorsement deals. He is currently associated with famous sports-manufacturing company Nike and wears their Nike Mercurial Vapor 360 boots on the ground.
Ousmane Dembele Individual Awards
With Borussia Dortmund, Dembele won the DFB-Pokal in the 2016-17 season. With Barcelona, he won all the La Liga, Copa del Rey, and Supercopa de España in the 2017-18 season. And with France, he recently received the 2018 FIFA World Cup trophy. Besides his team success, he also has several accolades under his name. Some of the most notable awards that Dembele received till now are as follows:
UNFP Ligue 1 Young Player of the Year: 2016
UEFA Champions League Breakthrough XI: 2016
Bundesliga Rookie of the Season: 2016–17
Bundesliga Team of the Season: 2016–17
Knight of the Legion of Honour: 2018