Lacey Evans Biography, Net Worth, Career, Personal Life, Husband, and Other Interesting Facts
February 2, 2021 By Sourav
---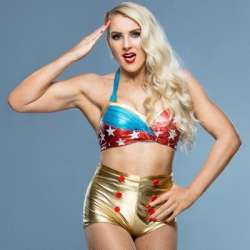 | | |
| --- | --- |
| Real Name | Macey Estrella-Kadlec |
| Nick Name | Lacey Evans |
| Profession | WWE Diva |
| Nationality | American |
| Height | 5 Feet 8 Inches (1.73 Meters) |
| Weight | 130lbs (59 Kgs) |
| Birth Date | 24-03-1990 |
| Age | 31 |
| Gender | Female |
| Birth Place | Parris Island, South Carolina, United States |
| Zodiac Sign | Aries |
| Religion | Christian |
American wrestler Macey Estrella-Kadlec, famously known by her ring name Lacey Evans, currently performs in WWE (World Wrestling Entertainment). She is mainly associated with the SmackDown segment of the WWE franchise. She was serving as a military police officer in the US Marines when she was introduced to the sport of Wrestling. Evans then started her professional wrestling career in the independent circuit.
She started working with NXT, a development territory of WWE, in 2016. Shortly after, she participated in the inaugural edition of WWE's Mae Young Classic. She found immense success during her time with NXT and started to create a buzz all over the wrestling circuit. And in no time, she made her debut in the main segment of WWE, Raw, in December 2018. She faced Becky Lynch during her feuds that also landed her on the 'Extreme Rules' main event.
Recently on 24th April 2020, she faced Banks during the Friday Night SmackDown. She competed in that match and won the Money in the Bank Qualifying. With that feat, she became one of the contenders for the Women's Money in the Bank PPV event of 10th May 2020. Due to her immense successes in WWE, Pro Wrestling Illustrated named her in their 'PWI Female 100' list in 2019.
Lacey Evans Biography and Stats
Lacey Evans Marines Career
Before joining the wrestling circuit, Lacey Evans worked as a military police officer of the Special Reaction Team in the US Marines. She joined the force when she was just 19 years old. She served in the Marines for five years. During that time, she also completed her bachelor's degree and started her own construction business. She was also the highest-ranking shooter of her troop at the time she completed her graduation from the boot camp.
Due to her capability and immense courage, she received her promotion as a sergeant. One of her colleagues, a staff sergeant, then introduced her to professional wrestling. That staff sergeant was also promoting independent wrestling at that time. And with his inspiration, Evans started participating in the independent wrestling circuit. Within a short period, she became attached to professional wrestling.
Lacey Evans WWE Career
Evans started training at the training facility of APW (American Premier Wrestling) under veteran wrestler Tom Caiazzo. She then made her debut in the professional circuit in 2014 and achieved the World Heavyweight Championship title of APW. Shortly after, she signed a contract with WWE on 12th April 2016. After that, she made her debut in the 'Battle Royal' match against Ember Moon on 20th October 2016.
She then made her debut in NXT as a tag team partner of one of the hottest WWE divas, Sarah Bridges, in January 2017. In that same year, she adopted her ring name 'Lacey Evans', identical to the middle name of her sister. She then participated in the inaugural Mae Young Classic in July 2017. Despite winning the first round against Taynara Conti, she failed to win the final round against Toni Storm.
Evans first appeared as a villainous character in NXT on 17th January 2018 and attacked NXT General Manager William Regal. Later that year, she indulged in a feud with Sane that continued for several weeks in April. She then participated in a four-way match that would eventually lead to NXT Women's Championship in December 2018. However, she failed to win the match against Bianca Belair.
Lacey Evans Recent Wrestling Career
NXT advertised on 17th December 2018 that Evans, along with five other wrestlers, will soon make their debuts in the main roster of WWE. She then made her debut in WWE in a dark match against Natalya on 7th January 2019. Shortly after, she made her debut in Royal Rumble on 27th January 2019. She then became quite a regular face in not just Raw or SmackDown but also in several PPV events.
Raw finally drafted her in the 2019 WWE Superstar Shake-up right after WrestleMania 35. And since her debut in Raw, she went on to have her feud with then- SmackDown Women's Champion, Becky Lynch. Evans also chased for the Raw Women's Championship while continuing her feud with Lynch for several months. She then formed a mixed tag team with Corbin and challenged Lynch in a 'Last Chance - Winner Takes All' event.
SmackDown then drafted her during the 2019 WWE Draft on 11th October 2019. Evans, along with Natalya, then became the first female WWE wrestler to get featured in Saudi Arabia at the Crown Jewel event. She then challenged Bayley at the Royal Rumble but failed to win the SmackDown Women's Title. Shortly after, she also took part in the 5-way elimination match at WrestleMania 36.
Lacey Evans Childhood and Family
Born on 24th March 1990, Evans has very little interest in wrestling during her childhood days. She grew up in the Marietta area of Georgia with lots of siblings in a big household. However, she was exposed to drug and alcohol abuse since her childhood as both of her parents are addicts. Evans felt depressed due to her parents' behavior and substance dependence. Besides, she often had to live in tents due to the legal issues of her parents.
She spent her childhood days in pretty bad condition but still completed her high school education in Georgia. Shortly after, she joined drug and alcohol abuse to complete her graduation. And at the age of just 19, she joined the Marines academy. Right before her debut in WWE tryout, her father died because of a drug overdose.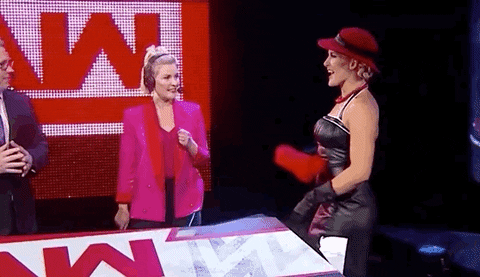 Lacey Evans Husband | Lacey Evans Daughter
Evans started dating her now-husband Alfonso Estrella when she was just 15 years old. Soon, the couple got married and started living together. Her husband is a general contractor for their construction company. And since her early wrestling career, Alfonso provided huge support to her from behind the curtain. The couple now has a daughter together named Summer Estrella-Kadlec. They now lived in Parris Island in South Carolina.
Lacey Evans Net Worth
According to the recent financial reports of 2020, the current net worth of Lacey Evans is estimated to be around $500k. She now makes around $200k per year as her salary from WWE. However, she previously made around $80k per year during her association with NXT. Besides her wrestling career, she also now makes money for her public appearances.
FAQ Regarding Lacey Evans
Q. Who is Lacey Evans?
Lacey Evans is an American wrestler who now performs in WWE (World Wrestling Entertainment). She predominantly appears in the SmackDown segment of WWE. She previously made her appearances in NXT. Besides being a wrestler, she is also a US Marine.
Q. Where is Lacey Evans from?
She was born and brought up in the Marietta area of Georgia during her childhood days. She grew up in a big household along with many of her siblings throughout her early days. However, she now lives in Parris Island in South Carolina with her husband and daughter.
Q. Who is Lacey Evans married to?
Lacey Evans is married to her long-time boyfriend Alfonso Estrella-Kadlec. She started dating him during her high school days when she was just 15 years old. Soon after, the couple tied their knots. They now have a beautiful daughter named Summer Estrella-Kadlec.
Q. How old is Lacey Evans?
Lacey Evans is 30 years old as of 2020. She was born on 24th March 1990 in the Marietta area of Georgia. However, she now lives in South Carolina with her family. She is now considered as one of the most gorgeous WWE divas ever to grace the ring due to her dazzling look and amazing figure.