Trolling motors for a kayak is one of the major parts of a boat while having the best fishing experience. How? Because they provide a controlling impact to the rider for managing the variation and directions of the boat on the water. The design structure matters here, which the manufacturers professionally handle.
Moreover, we're introducing the top-ranked trolling motors featuring versatile operating tools for kayak riders. Speed variation options have been given here, comprising the forward and reverse directions as well. In the meantime, you can operate the whole boat speed just with the adjustability options with torque impact.
The propellers are also designed with 3 blades divider in all motors that resist the low water surroundings and other tough situations. Alongside, the shafts are made with sturdy materialization to withstand the challenging modes during the fishing and riding scenarios.
You'll also get LED light indicators on the motors that will inform the electrical storage capacity of batteries. The handling grips are also flexible, with overall quick assembling and installation process to experience.
On the other, you can ride on all kinds of surfaces without feeling a change in quality with our ultimate detail guide. Yes, it is surely among the best inflatable kayaks as well.
Top 3 Best Trolling Motors for kayak
TOP CHOICE
Newport Vessels NV-Series Trolling Electric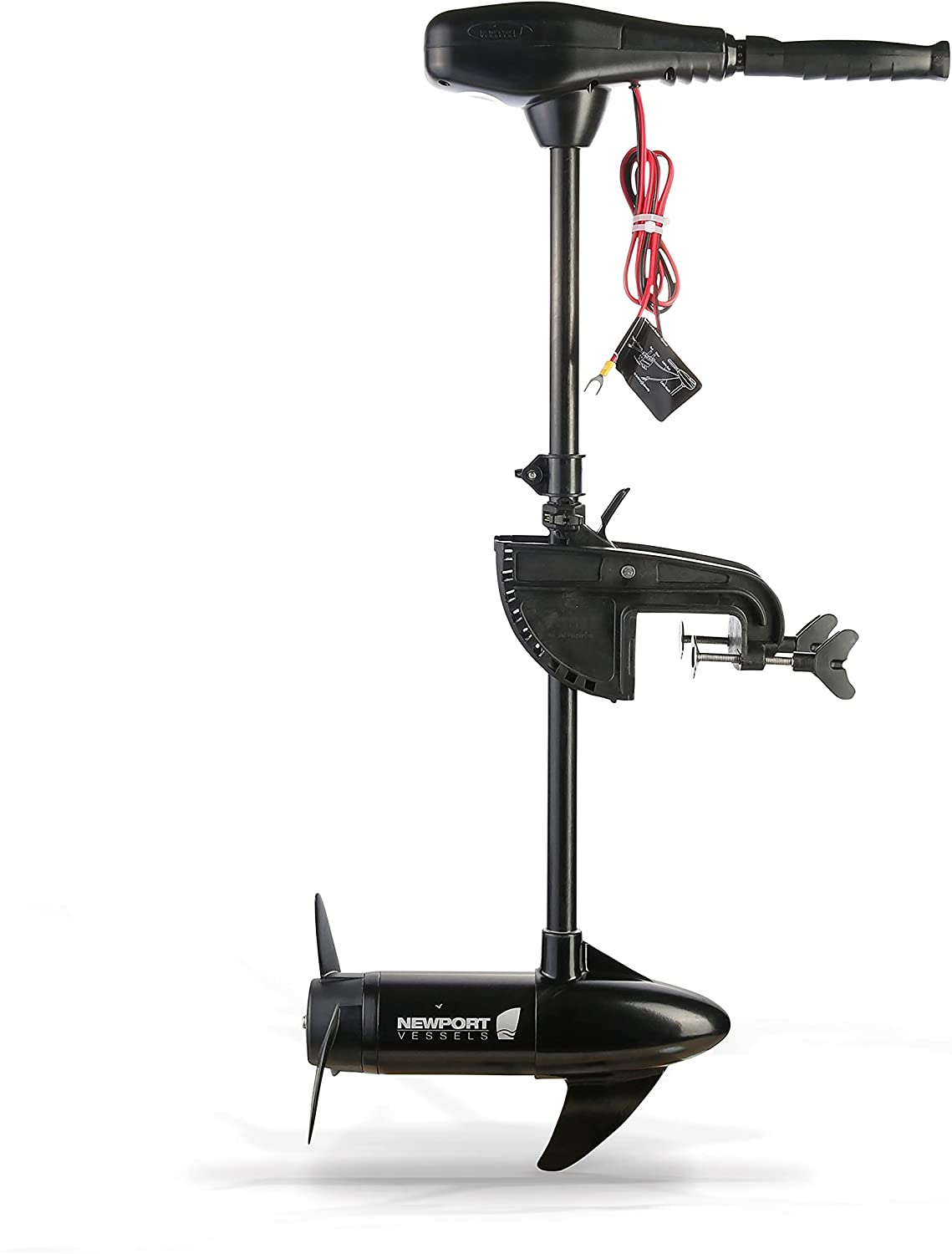 Dimensions: 18 × 5 × 34 inches
Power capacity: 46lb thrust
Weight: 20lbs
Shaft length: 30 inches
Max Ampere draw: 40 amps
Height: 42 inches
TOP PICK
AQUOS HaswingCaymanB Mount Electric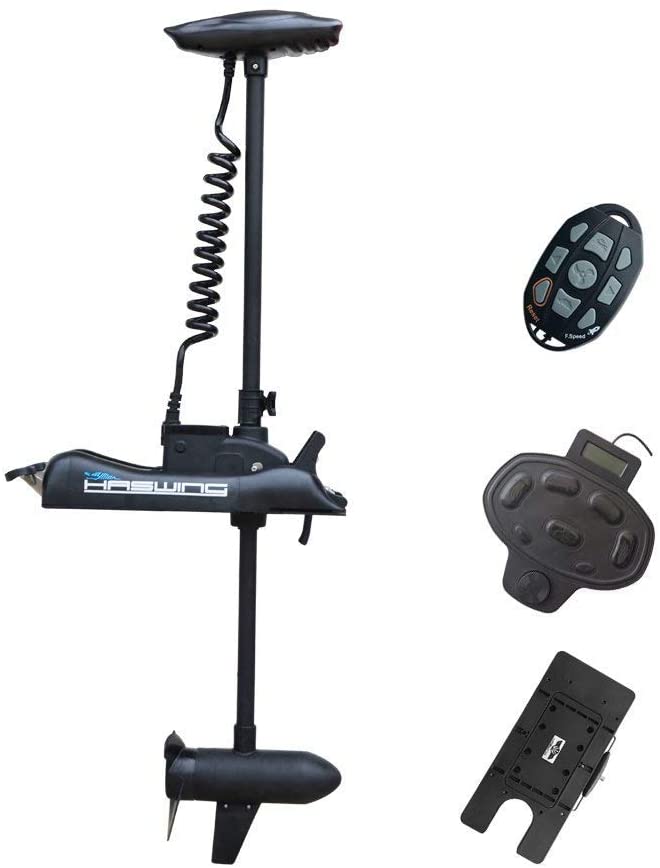 Dimensions: 58.2 × 15.74 × 11.8 inches
Max. thrust: 55 lbs
Steering: 360 degrees electric control
Shaft length: 48 inches
Control Type: Wireless remote control
Boat length: 18 ft
TOP PICK
Watersnake – ASP Saltwater Trolling Motor;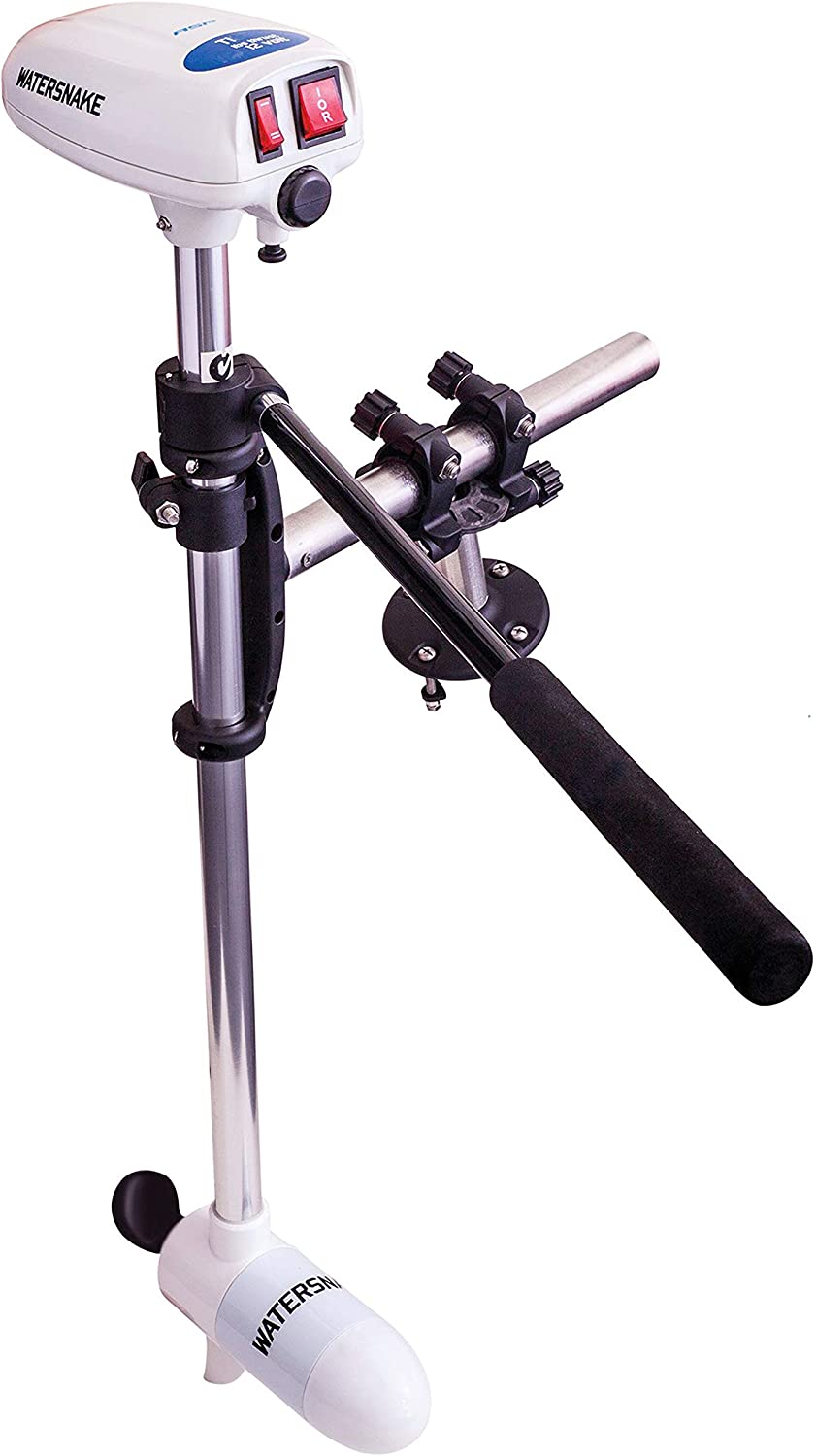 Dimensions: 34.25 ×5 × 6.5 inches
Weight: 4.85lbs
Shaft length: 24 inches
Propeller: stainless steel 2 Blades
Motor: 12 volt
---
Newport Vessels NV-Series Trolling Electric Trolling Motor
Enhance your fishing experience with the NV-series trolling motor that can be installed on boats and kayaks with ease. It comes with the 46 pounds thrust power that carries without making noise to the fish. The 8 cleverly installed trolling motors make it one of the top trolling motors for kayak. Moreover, this trolling motor comes with a 30 inches shaft along with the 5 LED meters to keep track of the crucial performance.
Our Top Pick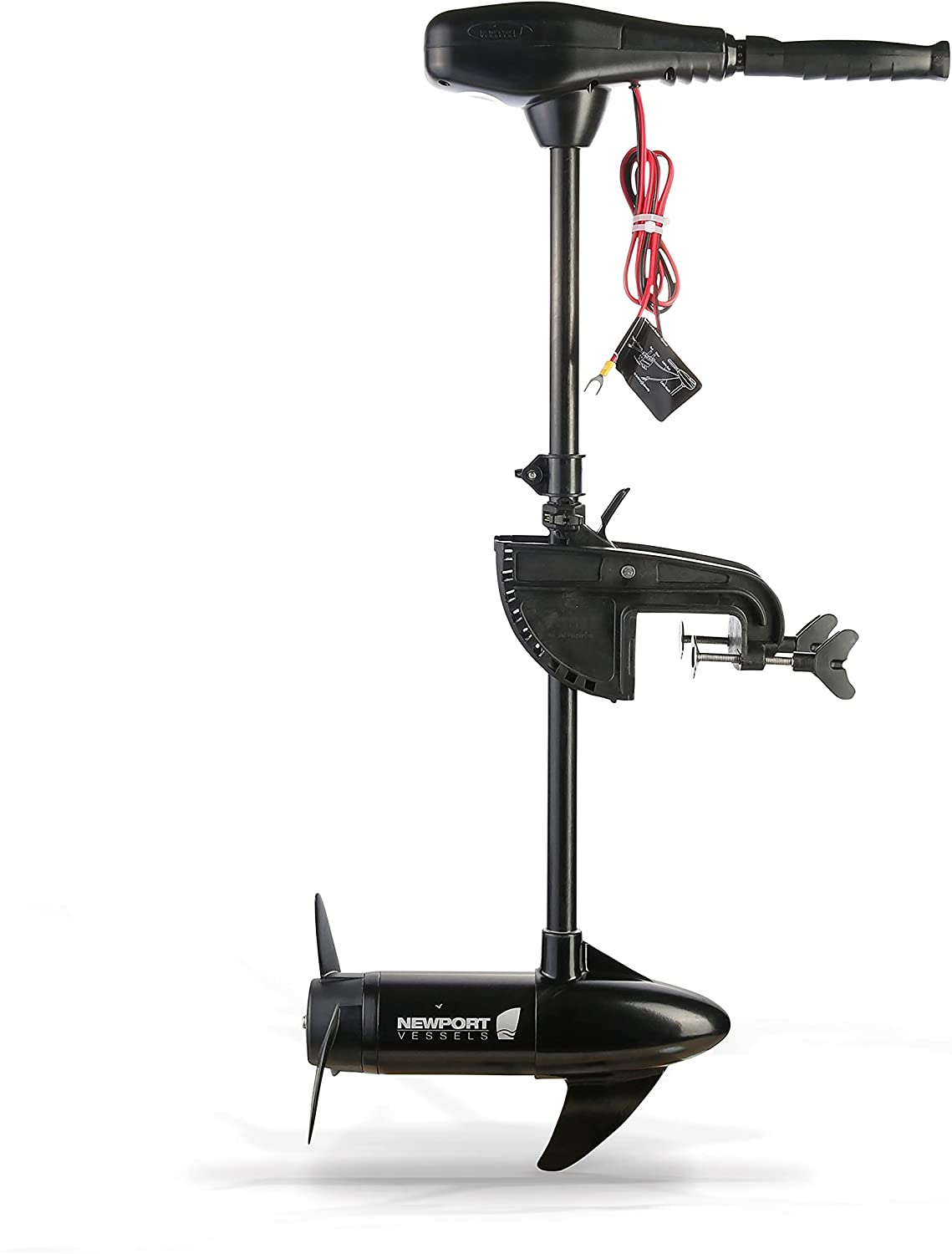 Newport Vessels NV-Series Trolling Electric Trolling Motor
Specifications:
Dimensions: 18 × 5 × 34 inches
Power capacity: 46lb thrust
Weight: 20lbs
Shaft length: 30 inches
Max Ampere draw: 40 amps
Height: 42 inches
Main Features:
It comes with the efficient 12v electric trolling motor offering 46 pounds power thrust offering silent yet impactful performance
It offers an adjustable 30 inches shaft made from fiberglass composite having a 1.15″ diameter
You're getting a 5 LED battery meter along with a 6-inch telescoping tiller handle for added convenience
A true definition of performance and precision with 8-speed motors with 3.5mph speed
Keep the battery voltage gush in check with the 40amp circuit breaker with a max Amp draw of 40A
The motor works best with the lead-Acid, AGM, or Gel 12-volt deep cycle battery ( not included )
Long-term performing motor built with corrosion-resistant saltwater materials like fiberglass and sacrificial zinc anode
This motor also includes 3 blade propellers with 8.9 diameters for a superior performance
Remarkable thrust:
A boater can be confident with this trolling motor by neatly offering a 46 pounds thrust. Its silent operational function impresses every boater for its capacity to catch more fishes. You can expect a power-efficient performance from this trolling motor enhancing its working capacity.
It can operate for the whole day without getting heated or exhausted with its smart power consumption technology. Moreover, its functioning is super silent, so fishes won't know your intentions until they are caught.
Suitable battery:
This trolling motor needs a 12V lead-Acid deep cycle or lithium deep cycle battery for suitable performance. This recommended battery is not included in the package, so you'll have to buy it for the best performance. Furthermore, the trolling motor also includes a 40amp circuit breaker for keeping the voltages in check.
Therefore, it's highly recommended for boaters to use this circuit breaker to avoid performance disasters.
Promising built:
The motor is built with high-quality materials ensuring excellent performance under all circumstances. It is specially built with saltwater corrosion-resistant materials accompanied by stainless steel and sacrificial zinc anode.
It also includes a 30-inch shaft for superior performance. Moreover, the propeller's durability is enhanced with fiberglass nylon construction so it can stand against all odds.
Battery meter:
Your trolling motor comes with a 5 LED battery meter for a clear take on reading. These readings keep the boaters informed about the motor's maximum capacity so they can access the right time for fishing.
8-speed motor:
NV-Series 46 pounds trolling motor comes with 8-speed motor functionality having 5 ahead and 3 reverse. This motor's prime focus is on trolling with substantial speed. It tops the speed limit of 3.5 mph, while the exact speed depends upon the size of a boat under consideration.
Handling:
The motor boasts a 6-inch telescoping tiller handle for excellent gripping. So it's no longer a problem carrying your motor to the boat with its comfortable grip.
Pros
Offers substantial 46lb thrust
Easily handled with 6″ telescoping tiller handle
Tops speed with the 8-speed motors
Saltwater corrosion-resistant materials construction
Read with precision through 5 points LED meter
Circuit breaker keeps voltages surge under controlled
High-materials construction offers incredible durability
Cons
Bolts and nuts are not compatible
The customer complained about its inactivity in saltwater
Conclusion:
This Newport Vessels trolling motor is equipped with a powerful 12v electric motor that offers 46 pounds power thrust, offering silent yet impactful performance. Further, it operates silently.
AQUOS Haswing CaymanB Mount Electric Trolling Motor
The Hauswing CaymanB 12V gives you the desired fishing experience and works under your full command. Its shaft bow trolling motor makes it one of the best trolling motors for kayak. It has power adjustment controls with power-saving functionality. You can easily command the trolling motor with a controller that can fit in the palm of your hands.
Moreover, the motor is compatible with both fresh and salt waters.
Our Top Pick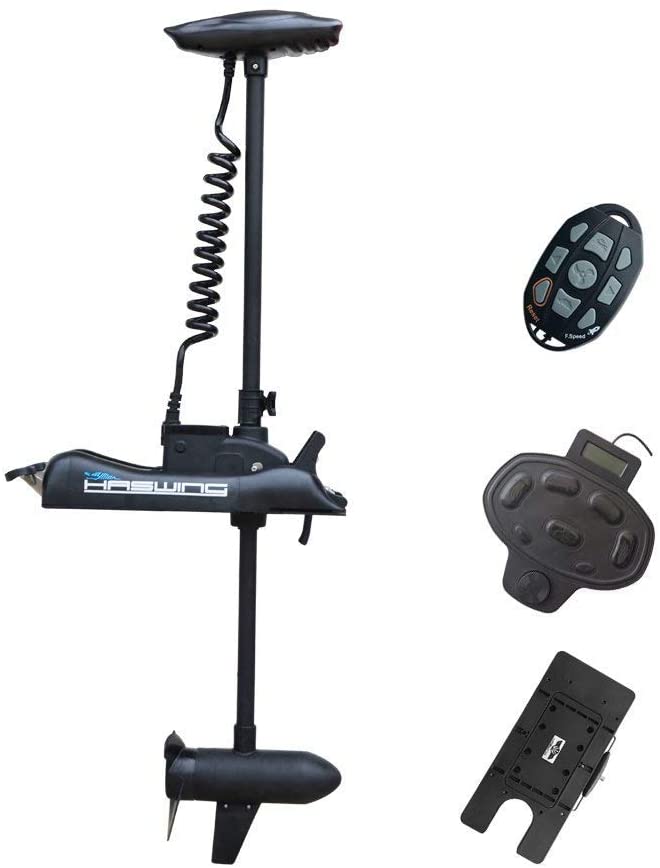 AQUOS HaswingCaymanB Mount Electric Trolling Motor
Specifications:
Dimensions: 58.2 × 15.74 × 11.8 inches
Max. thrust: 55 lbs
Steering: 360 degrees electric control
Shaft length: 48 inches
Control Type: Wireless remote control
Boat length: 18 ft
Main Features:
It comes with a 38.4 inches aluminum alloy shaft that is compatible with most boats
The trolling motor also includes (9.3 inches) 3 blade propeller made out of high-quality plastic materials
Unique motor fin design offers prime safety to the propeller installed on the motor
You can easily adjust the depth collar more precise approach underwater
It has comfortable lifting handles offering easy carrying functionality every time
Includes a power display that offers 3 display levels of the battery (100%, 50%, 20% ) for added convenience
Control the motor functioning with the wireless remote control that can be controlled from over 164 ft distance
Wireless remote:
Be more consistent and precise in the boat operations with this wireless remote for trolling motor. You can easily navigate and control your trolling motor from as far as 164 feet distance. The wireless remote adds a certain flow in all the operations you carry out with the motor.
Easy remove and install:
Your premium trolling motor is quick to install and even quicker to remove with the quick release bracket.
Power display:
Find a good idea about the ideal fishing time with the power display of this magical motor. It can display 3 stages of battery power to ensure the exact scenario of power backup. Boaters find the stages in 100%, 50%, and 20% in the reading of this display power.
Easy carry:
Carrying trolling motors can be a worrying point for most boaters but not anymore. Because of this motor's comfortable handles offer a stern grip that is easier on your grip. Therefore, you won't find yourself drainer after carrying this motor for some time
Deploy pedal:
The paddle activates when a person presses it with a foot or a hand. This simple process deploys the motor in utter convenience.
Speed functioning:
Its worthy speed adjustment feature allows boaters to plummet or add speed in the operations. You can dial in your required speed, and that's how you change the speed to your need. Moreover, the speed decrease also prolongs battery life as a result of less voltage influx.
Depth collar:
Discover your required depths in water with this secure depth collar option. Just make changes in the depths of the water to figure out your required depth and then lock.
3 blade propeller:
A 9.3 inch 3 blade propeller can go through all types of rough and tough conditions. It is made out of shock-bearing engineered plastic that adds to its safety and durability profile. The motor operations remain fluent throughout.
Tough shaft:
Your priceless shaft comes in 38.4 inches aluminum shaft, offering unbeatable strength. It is specially designed to comply with as many boats as possible.
Cable wire foot control:
A 14.7 ft cable wire control allows you to release your hand during fishing to get simple and accurate operations.
Pros
Shafts can be used with most boats
Conveniently deploy motor with the paddle
It comes with a wireless remote control
Offers tough 3-blade propeller
The precision with table wire foot control
Adjust the speed with just a dial
Cons
Working problems with the remote
Complains about motor's noises and vibrations
Conclusion:
This kayak motor comes with a 38.4 inches aluminum alloy shaft that is compatible with most boats that makes it perfect. Further, it has an unbeatable 3-blade propeller and wireless remote controls that let you control it all from your fist.
Watersnake – ASP Saltwater Trolling Motor
Are you going on a leisure journey or hunting for a fish? Then the 12V saltwater trolling motor works best for you. Its lightweight and portable electric trolling motor feature make them one of the best trolling motors for kayak. You can go forward and reverse for all types of water conditions by using the high and the low modes of motors. This motor takes you wherever you want to go with ease.
Our Top Pick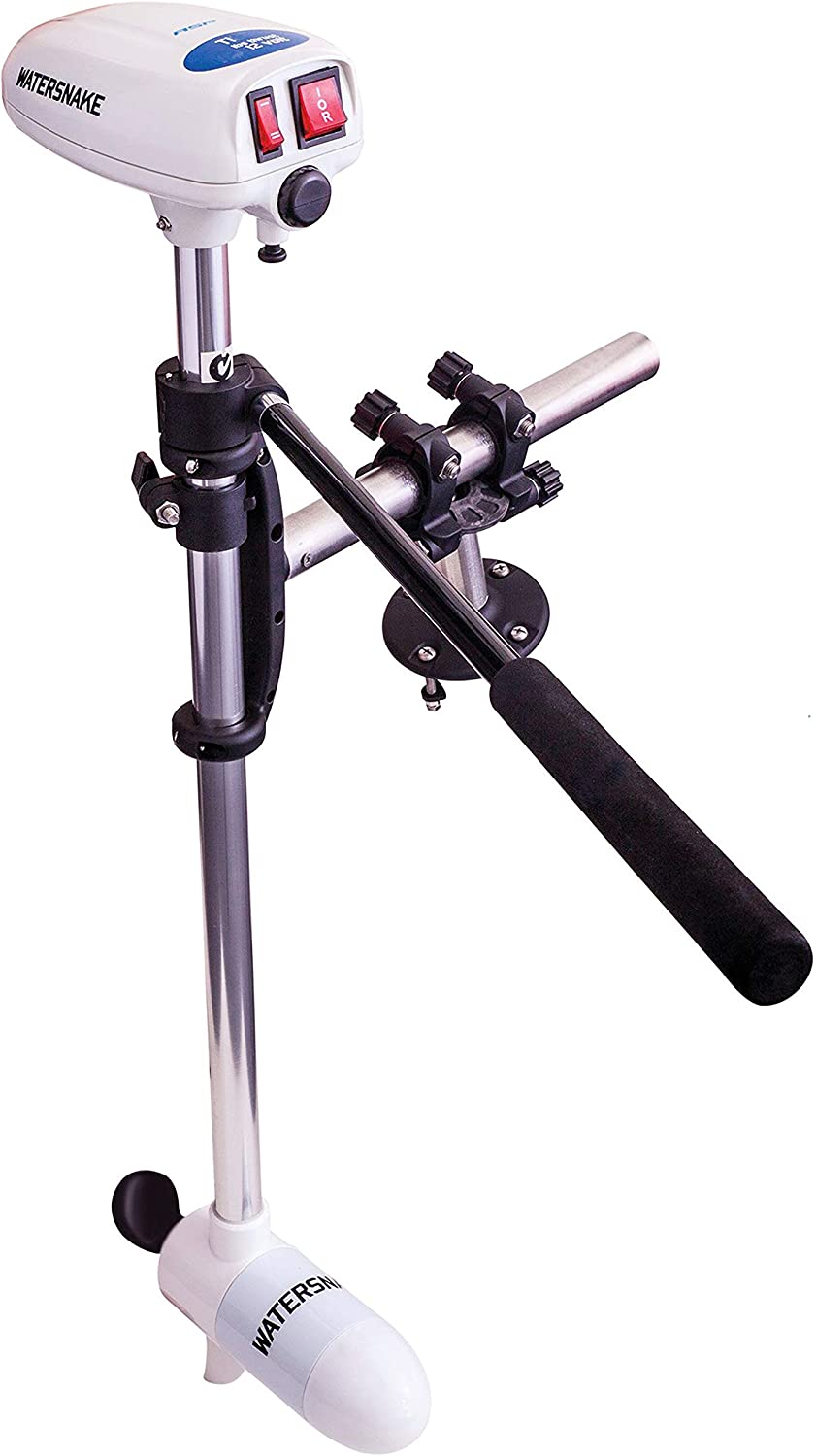 Watersnake – ASP Saltwater Trolling Motor
Specifications:
Dimensions: 34.25 ×5 × 6.5 inches
Weight: 4.85lbs
Shaft length: 24 inches
Propeller: stainless steel 2 Blades
Motor: 12 volt
Main Features:
Saltwater electric outboard motor is lightweight, about 2.2 kg
This trolling motor is used in kayaks, canoes, and boats of most kinds
You can easily control the speed pressure with the added speed adjustment feature
It comes with two blades weedless propeller design
An electric motor with an 18 lbs thrust does include a kayak bracket mount
Have rubber handles for easy handling
Possesses 24 inches easily adjustable shaft with anti-impact system
Comprise of adjustable height color
Major applications:
This motor comes lightweight and is extremely portable. It weighs only 4.85lbs (2.2 kg). So you can easily carry and eventually install it on your watercraft.
Compatibility of motor:
Your saltwater trolling motor is ready to be installed on kayaks, small dinghies, canoes, and inflatable boats. Hence, this trolling motor becomes a choice of most watercraft.
Cruise Control system:
We are offering you a trolling motor with flexible controlling and speed adjustment functionality. It contains a hand tiller and a handle by which you can navigate your kayaks. The handle of the motor is easily extendable.
It also contains two switches to reverse and forward the kayak.
Cutting edge technology
Boaters can boast about the technology they'll get in this trolling motor. It includes a bow mounting bracket that's a high-end scissor mount. Moreover, the weedless propeller can confront all sorts of conditions in the water with its 3-blade prop technology.
No more troubles:
It's now easy to progress silently in the water with the e-blade weedless propeller feature. It glorifies your boating experience with its smooth and effortless performance overall. Furtherly, the potted circuit board comes with maximum protection as its waterproof sealed.
Therefore, your fishing journey can become sublime with this trolling motor's brilliance that provides protection.
Weight of motor:
Your motor comes with the ideal weight of 18lbs thrust. Kayak brackets come in a box, and you have to set up and organize it to a shaft. Moreover, the motor is light in weight because the manufacturers focus that the motor should be low in weight which is the plus point for you.
The best composition of handles:
Having a ride full of fun needs the handle of your motor to be soft and smooth. Soft handles are the best, so you can have a wonderful riding experience with them. You are getting a handle that is made of rubber for easy and smooth handling so that you can trust this fantastic motor.
Durable shaft:
The watersnake saltwater trolling motor comes with a durable 24 inches alloy shaft. You can adjust or navigate it according to your need. Also, the height can be easily adjusted by this promising shaft.
Pros
Using this motor makes the ride easier other than using a paddle
Super light motor to carry
You can change the speed of your kayak using this outstanding motor
The height of the color is easily adjustable
The motor doesn't use too much power
Didn't consume excessive battery even after several hours of ride
Cons
The customer complains about the propeller, its weak and breaks after a few rides
The motor is not able to move a heavy kayak
Conclusion:
A versatile bow mounting bracket with flexible performance controls promise unique performance credibility to the boaters. Plus, it has rubber handles that offer easy and comfortable handling.
Watersnake Venom Swet 12V Electric Trolling Motor
Experience your voyage with this watersnake venom SXW electric motor that is built for the saltwater marine environment. You can take this motor for your tough adventures because of its promising telescopic tiller handles. Its 34 pounds motor and 2-blade propeller make it one of the best trolling motors for kayak. The motor of 54 pounds can run a 3-blade propeller as well. By using this impressive trolling motor, you can have a memorable and uninterrupted voyage.
Our Top Pick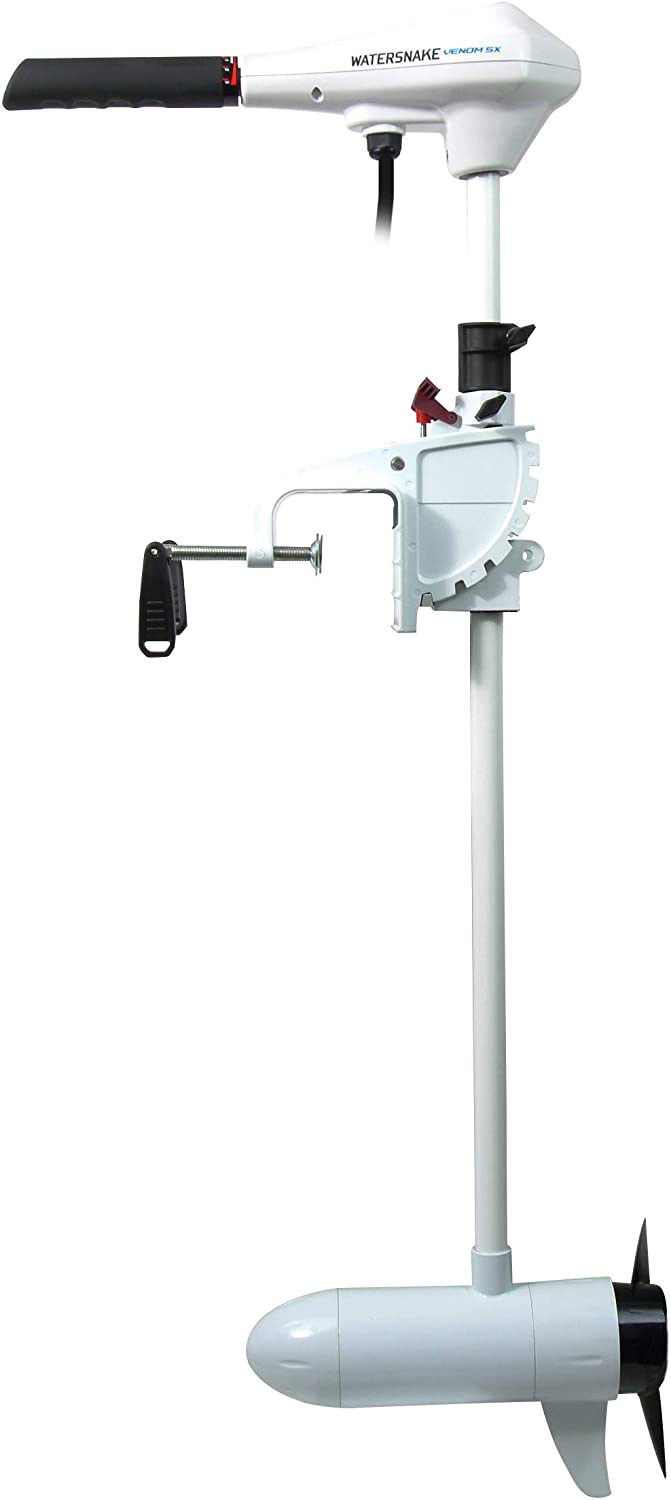 Watersnake Venom Swet 12V Electric Trolling Motor
Specifications:
Propeller: 2-blade and 3-blade
Power: 12 Volts
Speed: 5 for forward and 3 for reverse
Thrust capacity: 34 pounds
Length: 42 inches
Main Features:
Elegant and yet sturdy construction with corrosion-resistant materials
The 34 lb motor comes with a 2-blade propeller for excellent performance
Its 54 lb motor thrust offers a 3-blade propeller for maximum strength
Motor operates with 12V power influx for achieving a great power-saving impact
You can handle the shaft speed by tiller handle throttle
The head also comes with a voltage meter display for superior reading functionality
It comes with a strong grip on transom mount for a comfortable carrying advantage
Sturdy & simple design:
Buying this motor is now more interesting due to its simple and elegant design. This motor comes with a design that can be easy to operate. You can easily operate this motor in the saltwater marine environment. The motor has telescopic tiller handles, which allows the operator more room to move.
The motor of 34lb:
This 34lbs motor contains a 2-blade propeller that operates underwater. It lowers the water pressure to carry out swift operations overall. In the meantime, the 2-blades propeller helps in reducing water pressure in the easiest possible way.
54lb thrust:
Its powerful two-way thrust offers a high-performance margin underwater. The motor works in two modes with varying ampere coverage. A 54lbs thrust with a 12-volt motor offers 13 to 54 Amps, while the 34 pounds thrust with 12 volt offers 7.5 to 34 Amps coverage overall.
Your promising motor operates with a 3-blade propeller for maximum performance brilliance. All the shafts of the propeller are made out of stainless steel, while the propellers of the motor have a unique weedless design.
Efficient Motor:
Here, the motor comes with a battery capacity of 12V power, and it operates with speeds of 5 for forward and 3 for the reverse. While its speed can be controlled with the help of the tiller handle throttle. Moreover, you can conveniently navigate your kayak using this handle.
Voltage meter display:
You are getting a voltage meter display in this package, so you can easily keep an eye on the condition of the battery. Furthermore, the current-voltage also displays on the screen of the voltage meter to keep you updated on all available dimensions.
Strong grip of transom mount:
Transom mount is used by the people fond of fishing and for the small and lightweight kayaks. This motor provides a strong grip to the transom mount, which provides the steadfast horsepower to the kayak while trolling or traveling from one fishing spot to another fishing spot.
Corrosion-resistant shaft:
Watersnake electric trolling motor has 54 inches or 48 inches stainless steel corrosion-resistant shaft. This shaft has a sharp resilience that can go through all rough and tough circumstances. You can expect a long-term performance from this magical shaft without a second thought.
Pros
Easy to manage with its compact size
The Digital voltmeter has a neat digital readout
Have tough zinc anode composite shaft
Endurance with stainless steel propeller shaft
Easily adjustable tilt allot transom bracket
It comes with a directional lock
Its height color is adjustable
Have a telescopic tiller control
Cons
Complain about the head of the motor filled with water
After 2 to 3 fishing trips speed of the motor plummeted from 5 to only 2
Conclusion:
The venom SXV electric motors deliver incredible performance in all situations. While the sturdy shafts offer maximum hold in saltwater environments.
PEXMOR Electric Trolling Motor
Get this trolling motor for fast and exciting riding on the water. This motor will definitely increase the speed of your kayak to an extreme level with maintaining stability and direction pointing. This motor has a height-adjustable feature that can be set according to every kayak.
This motor is made of premium-quality material, providing an everlasting heavy-duty with enhanced durability offering you a lifetime performance.
Our Top Pick
PEXMOR Electric Trolling Motor
Specifications:
Weight: 25lbs
Speed levels: 8 controlling factors
Handle: 6-inches
Propeller: 3-Blades
Material: plastic
Main Features:
Five forward and 3 reverse speed panel provide you to control the speed according to your desire
The handle is made with soft plastic, which proffers a comfortable feel while touching or carrying
Adjust the depth in the deep water to get better performance from this motor
It can be adjustable to 90 degrees for the better floating of your kayak
The three-blade propeller enhance the efficiency and movement
Also, this three-blade propeller deflect the sea plants and stones, keeping your kayak secure from collision
The company provide a hundred percent product guarantee for costumer's satisfaction
1 to 3 red lights panel gives you warning against low power or battery
Speed controller:
Control the speed of your kayak according to your choice with this pace controlling motor. Eights point of speed controlling are built on this motor handle five points works to increase the pace and the other three works to low it.
Protective coating:
This is the most durable and resilient motor in which a PVC secure layer is coated for increasing its life. This surface protects it against any type of marks and scratches. Furthermore, it is sealed from all corners, making it a water-resistant motor.
Adjustable depth:
The adjustable depth feature allows you a fast glide through the water and navigates the direction with ease. This is made removable for the best compact fold in the bag for comfortable traveling.
Aluminum shaft:
The most durable and everlasting shaft is helping you making your ride fast and smooth. This is also adjustable with height helps to slide in the water for better flow of the ride.
Prevents from water stones:
These trolling motors for the kayak have a three-bladed propeller that provides a bunch of features preventing the stones from colliding. In addition, this propeller helps to keep the movement of your kayak smooth.
Weight capacity:
This motor supports a weight of up to a hundred kilograms without losing its accuracy. It won't let you worry about the stability of your boat because it has a high power system that works for a long time.
Less weight:
It comes with very little weight provided relaxed handling for the carrying person. Also, it makes the traveling and outside going very relieving.
Complete set:
Buy this motor and get the complete assembly accessories quick setup which includes a triple-blade propeller and an adjusting shaft angle. Moreover, an LED light indicator and a telescoping adjusting handle are provided with this supreme-class motor.
Guarantee:
The manufacturers have brought you the best everlasting with a 100% guarantee. In case of smoothing has happened with your motor, they can fix it with a single call for free.
Pros
All the assembly accessories are given with the package
Digital voltage meter helps you decide your track
Telescope digital handle can adjustable up to 6 inches
Adjust the thickness of the motor screw for a smooth flow
Change the height of the motor observing the nature of water
Cons
The throttle part is very sensitive
LED light has working issues
The operating motor isn't much powerful
Conclusion:
This trolling motor is covering all standard features in a small structure, including smoothness in the ride, accuracy in direction navigation, and many more.
Haswing White Shaft Bow Mount Electric
Enhance the motivation and efficiency of your kayak in the water with this smooth working motor. This motor helps to increase the pace of the floating boat in the water by adding flow and accuracy. It is made electronically so the riders can get the work done according to their desire.
The lightest weight of the motor proffers easy and cozy transportation.
Our Top Pick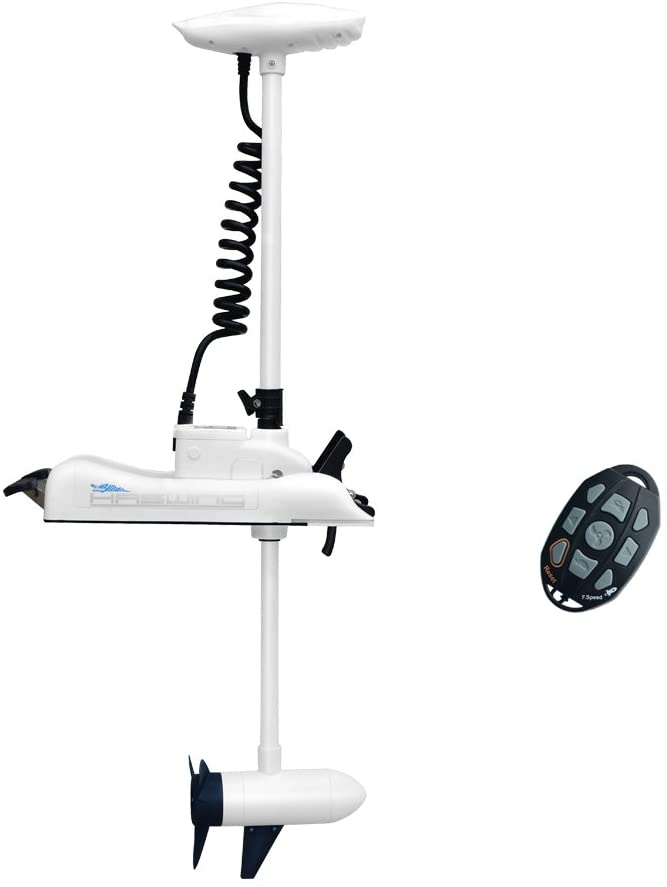 Haswing White Shaft Bow Mount Electric
Specifications:
Dimensions: 58.25 ×25 × 12.6 inches
Weight: 55lbs
Shaft length: 48inches
Material:Aluminum
Main Features:
Depth collar to change the depth of your motor for tension-free fishing
This motor is suitable for a boat or kayak weighing up to 2750 pounds at a time
A wireless remote is provided for free controlling of your kayak with this electronic motor
This wireless remote can be attached around the neck or on the belt with a lanyard
The variation in the speed increase the battery life of your motor at any speed
Cruise control helps to keep your kayak at the desired speed you want
This motor is compatible with 180 degrees of rotation for rotating the boat to reverse direction
An ergonomic shape handle provides you relaxed handling of the motor
Battery indicator:
There is a one to ten Led light display that shows you the data of your battery. This screen indicates the decrease in the battery, giving you a chance to make a quick decision about your track.
Water compatibility:
Now enjoy the ride of the kayak in all sorts of waters because this motor is compatible with salty water, freshwater, shallow water, etc. It gives the same best performance in this water as it gives in the normal. Moreover, this motor prevents the water weeds from collisions keeping your voyage smooth.
Stand freely:
While riding on your kayak with this motor mounted on, it gives a smooth float so you can stand freely. This offers you free-standing without any chances of losing your place or stability.
Wireless remote:
Control your kayak with this motor from up to 164 feet that come with wireless remote control. This remote controls the speed, directions, and accuracy of your kayak to an extreme level.
Carrying handles:
The inforced ergonomic shape handles are providing a better and cozy feel while carrying this motor. These ergonomically shaped handles give a firm grip during transportation. This firm grip results in safe and secure handling.
Relaxed transportation:
This trolling motor for kayak has a very feathery weight that proffers easy and reliable traveling. The weight of this motor is just 55 pounds that provide the buyer easy handling while traveling. You can also buy a bag to keep all your motor accessories in it to make carrying more simple.
Weight loading:
This motor is constructed very powerfully that can lift tons of weight at a time. So you can load luggage on your boat without the tension of getting drowned in water because this motor helps keep moving the boat to the destination.
Pros
48 inches high aluminum shaft that is suitable for different height of transoms
It has made lightweight for easy traveling and carrying purpose
You can control the motor from up to 164 feet of distance
The speed of the motor can be increase or decrease by the control
It gives the best performance even in deep and shallow water
Cons
It can tip-off during the high speed
Remote has pairing issues with motor
Conclusion:
This Haswing White motor comes with an accelerated pace creating feature, giving a speed up to five points with wireless remote control for the ride's ease.
Fullwatt Trolling Motor 46/55 LBS Thrust Transom Mounted
A set of professionally designed thrust transom-mounted trolling water with the quick installation procedure. Moreover, the saltwater compatibility allows this trolling motor to resist the anti-wind and corrosion factors according to your desires.
Alongside, the dimensional stability of the trolling motors features versatile controlling factors to move the kayak boat in various directions. The speed rating impacts are also included in the machinery system to boost up the riding scenario accordingly.
Our Top Pick
Fullwatt Trolling Motor 46/55 LBS Thrust Transom Mounted
Specifications:
Dimensions: 46.1× 19.3 × 6.7 inches
Weight: 25.501 pounds
Motor length: 13.8 inches
of speed levels: 8 adjustability speed factors
Maximum controllable speed: 7KM/H
Main Features:
Reverse and forward speed factors are also featured in the trolling kayak system
The water divider on the trolling motor is a streamlined design with impact resistant feature
Nylon bracket comes suspension adjustability that control the kayak from getting tilt
The propeller includes 3 blade structure that optimizes the movement of the boat even under the water
13.8 inches of motor length has been measured here with a 3.6 shell diameter
Trolling motor has a maximum speed factor of around 7KM/H with level adjustability
Hand lever part along with carbon sheath is also included in the package of trolling motor
Water divider propeller:
The sturdy design water divider has been structured with streamlined construction for resisting tough, challenging situations. Even if the boat is on small-density water, the trolling motor keeps the kayak on the spot.
Abrasion resistance technology let the shaft move with proper torque and rotation given by the rider. The anti-winding property structure in the streamlined water divider is also one of the prime tools given here.
LED light design:
The electricity compatibility factor of this trolling motor comprised LED light function including 10 lights mainly that let you direct with the remaining electrical power you have in the batteries before going fishing. Moreover, the motor package doesn't include a battery for the electricity adjustment.
You have to buy it separately with the given instructions, and we recommend you buy a 12V battery output system for proper compatibility.
Versatile construction:
You'll get 13.8 inches of nylon bracket materialization on the given structure of the trolling motor. The force bar is also exposed with a 29.7 inches size factor along with reinforced bracket style. The strength ratings are also improved due to the reinforced design, even with the optimization of ablative resistance.
The shaft is made of glass fiber composite construction to enhance the dimensional and tensile strength. Moreover, the corrosion resistance factor is also maintained due to the composite shaft design.
Speed controlling aspect:
There are 5 points of forwarding speed controls giving on the trolling motor shaft. Plus, 3 backward speed points are featured on the shaft controller.
Dimensional aspects :
The holder of the trolling motor has been featured with a reversible design that makes it convenient for the riders to make swift cuts. Furthermore, you can get up to 7KM/H if the maximum speed factor by leveling the shaft controller.
The line length of AWM, which is 50.6 inches, enhances the kayak boat's stable positioning while on the water. Plus, 8.3-inches of wind leaf length is also enough to make the related mechanical factors compatible.
All the stuff you'll get:
The assembling is easy with quick installation tips given in the manual. You'll get a blade, motor bolt, and main trolling motor machine.
Withal, there's a hand lever part along with a set of nuts for making the machine in actual format. A multi-functional wrench, yellow warning label, and carton sheath are also included in the package as well.
Pros
Quiet working trolling motor design help you fishing without any noise
Sturdy design 3 blade propeller with anti-winding property
LED light indication system for updating the electrical power capacity
The suspension bracket also possesses an adjustability factor
8 level speed controlling machinery with forward and reverse directions
Cons
The motor vibrates on increasing the speed level
Battery consuming factor is not stable
Not much compatible for large size kayak boats
Conclusion:
Fullwatt offers an 8-speed controlling factor along with a nylon bracket, 10 LED light indications, and a reversible holder for enhancing the kayak boat experience.
Goplus Electric Trolling Motor
Get ready for the smoothest kayak riding on the water because this trolling motor is just a masterpiece providing many quality features. This motor is made adjustable with height to simplify the rider's difficulty of fixation. You can control the speed of your kayak as you want to.
This has very feathery and lightweight, offering you effortless carrying. Fixing can be done in five minutes with an easy assembly setup.
Our Top Pick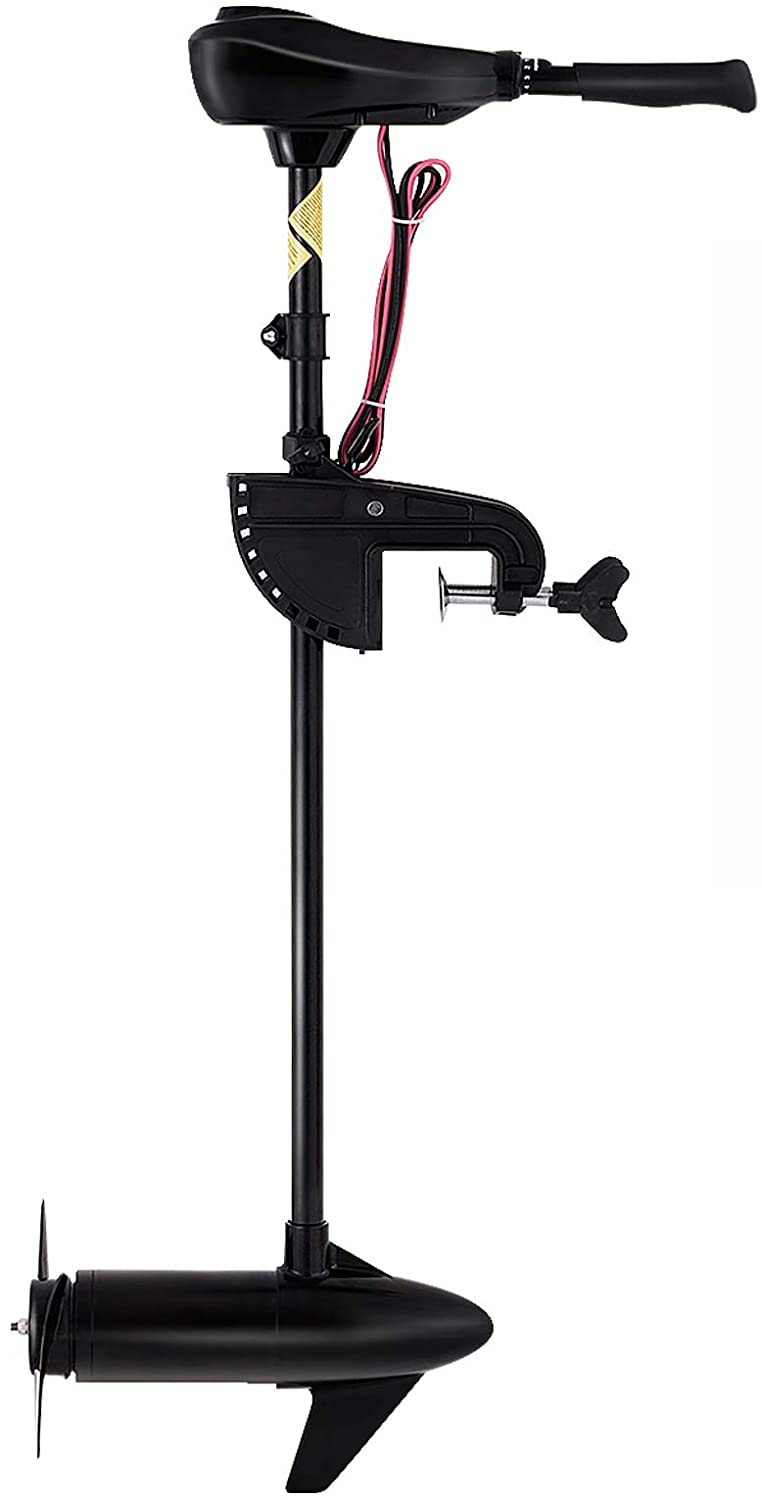 Goplus Electric Trolling Motor
Specifications:
Weight: 46 lbs
Speed levels: 8 controlling factors
Handle: telescopic design
Propeller: 3-Blades
Material: plastic
Main Features:
Three-blade propeller motor prevents water weeds from entanglement
One to ten led light screen indicates you abut your battery timing to make your decision about your track
The telescoping handle has an adjustable length of up to four inches for better carrying from a distance
It has an eight-speed control system which has five forward and three reverse speed points
It gives the same smooth performance even in salty and fresh water without losing stability
Adjust the shaft according to the condition of the water
The carrying handle makes it a portable design motor, including the feathery weight
It has an enhanced battery that gives duty for hours without getting low
Propeller as a shield:
The sharpest propeller of this motor has three blades for the security of the riders. If accidentally your kayak got a clash with a big water stone, this propeller collides first, keeping the player safe. Also, this propeller prevents from being tangled by the water weeds and aquatic plants.
Great comfort:
This motor is known worldwide for its all-time best features, including accuracy, stability, flow, and better direction navigation. The technology speed controlling system increases the stability to double. You can adjust the speed according to your desire and adjust the shafts to add extra facilities.
Accessories of motor:
These best trolling motors for kayak comes with a three-blade propeller, adjustable shaft, and speed adjusting handle. Furthermore, a high-quality LED display, telescope handling, and an adjustable position mounting bracket.
Smooth ride prevents from falling:
Get on the boat with confidence because this motor allows the most smooth ride you have ever had. You can also stand on the boat to get the proper view, and this motor makes you keep the balance and prevents you from accidentally falling.
Water resistance:
This motor gives the heavy-duty for a lifetime because the main reason is that it is made waterproof. Additionally, the motor has a protective coating layered on it doubles the durability by protecting it against scratches, marks, and cracks.
Boat compatibility:
This motor performs with all boats, including kayak, wooden, and metallic boats. However, the boat or kayak is heavily weighted; just fix this motor beyond for a fast, accurate, and smooth water ride.
Best for fishing:
Use the speed controller to keep the speed to the fishing mode for exciting fishing. While slowing the speed of this motor, peoples have questions about stability and accuracy. Don't worry and slow the speed for ultimate real fishing.
See your battery data:
A led display is fitted in the front of this motor panel, showing you the numbers of your battery timing. This will helps you to make a better decision about your ride.
Pros
The most suitable motor for fishing purpose
Designed for kayak, metal, wooden boats
Adjustable position mounting bracket to handle moving
The solid ring can also be adjusted according to the boat clamp
The led indicator is made electrically with powerful cells
Conclusion:
Get the promising trolling motor fixed on your kayak or boat for the most smooth float ever that comes with a lifetime guarantee.
Haswing Black Shaft Bow Mount Electric Trolling Motor
Challenge your friends on water for a race competition by fixing this reliable motor to your kayak. This motor comes with a long battery timing that won't embarrass you and take you toward your goal. The world recognizes this motor for its pace-creating feature with maintaining the stability of the kayak.
It comes with a very simple assembling method that can be done within minutes, providing you a quick setup.
Our Top Pick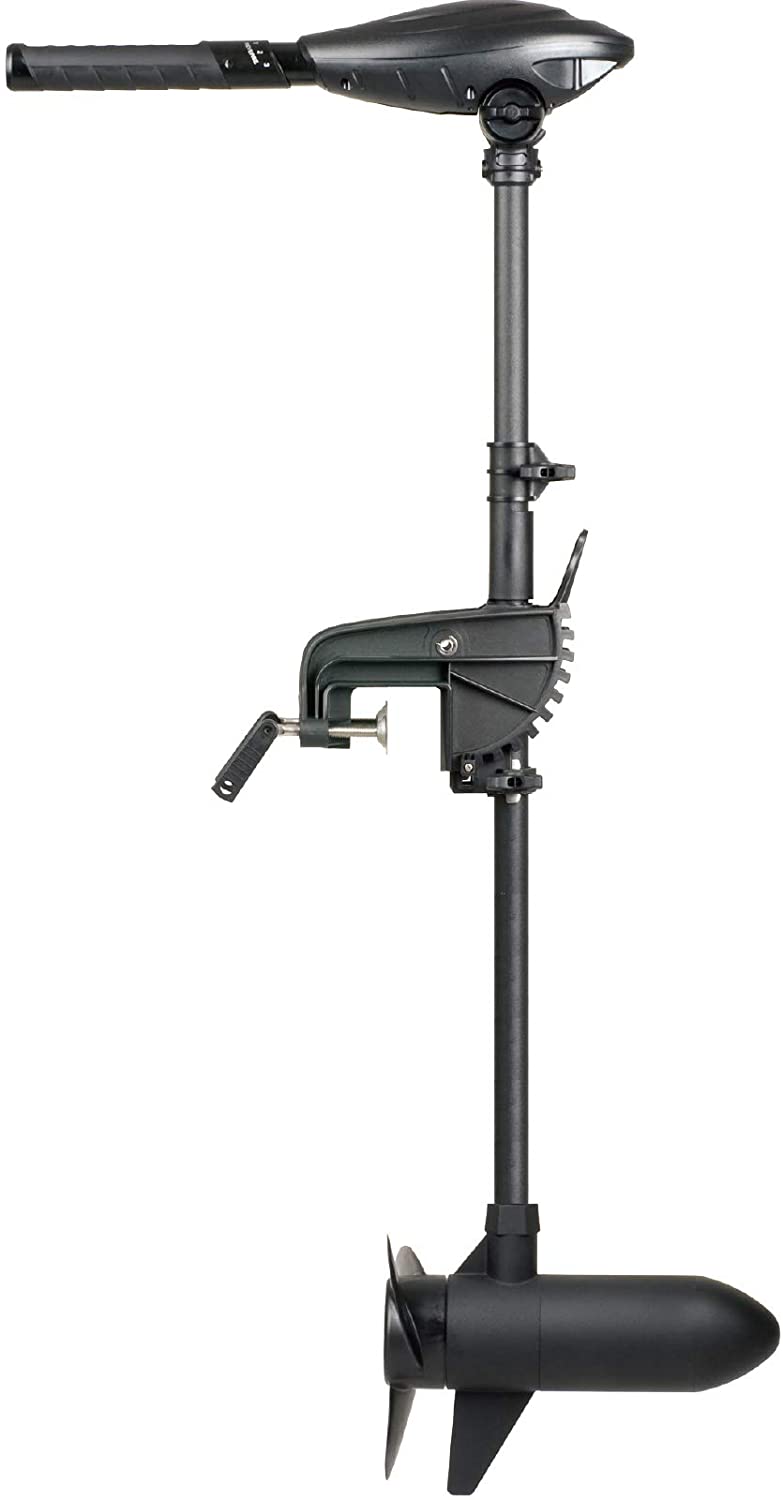 Haswing Black Shaft Bow Mount Electric Trolling Motor
Specifications:
Dimensions: 37 ×5 × 9 inches
Weight: 35.5 pounds
Handle length: 13.7-inches ergonomic design
Speed levels: 8 controlling factors
Material:plastic
Main Features:
The motor can be tilted to ten different positions according to the present scenario
A three-blade propeller motor helps to increase the speed of your kayak
The handle is 0 to 110 degrees foldable for the ease of rider
Five forward and three reverse speed control offers you a speed according to your preference
The length of the shaft is 24.4 inches that is adjustable suitable for different boats
An everlasting, durable motor that helps to enhance the direction navigation of kayak with double accuracy
It gives the same duty even on heavy weighed kayak or boats
The handle is extendable up to 13.7 inches for relaxed handling or carrying
Versatile Trolling motor:
The ultimate best trolling motor for a kayakhas a propeller, speed controller, foldable handle, tilting brackets, and a battery power reader. Also, bungees, cooler tie-downs, Rac receiver, bucket Rac, and a traveling bag are all included in this outermost package.
Traveling:
The company offers an easy-handling lightweight motor with attached accessories. All the accessories are made removable to ask for less storage place. You can even store them in a bag for more tension-free going.
All water compatible:
Get this motor fixed with our kayak to ride on any type of water with the same stability. This motor is compatible with salt and fresh water and helps to floats perfectly without drowning or getting distracted. Even in the deep water, the navigation of tracks is outrageous.
Grip handles:
To have the securest handling and keep the rider secure from falling, grab handles have a sticky nature. These grab handles provide a strong grip to the rider to double the security. While riding, you may lose your position, but this handle won't make you regain your position.
Further, this handle has length adjustment for more easy grabbing while standing at some distance.
Same floating even with luggage:
Riding with heavyweight luggage for transportation purposes on a kayak or boat is no more issue. Because the weight of 2750 lbs is bearable by this powerful and sturdy trolling motor, 2 person and luggage of tons can be manageable by this motor with maintaining other features. This motor can also be used as a weight lifting helping motor.
Also, loading that much weight wouldn't affect the stability or direction of your boat, where ever you tend to.
Handle's extendability:
The motor handle is extendable for up to 13.7 inches that proffers the rider's relaxed grip to the handle when it is extended; you can control the speed by this handle while sitting on the seat.
Pros
Compatible for salty, fresh, shallow, and deep water
It can be filled with power by a single 12-volt deep cycle battery
A very lightweight trolling motor made with the top-notch material
Best for fishing and race loving riders
The battery of the motor is very strong that works even for a full day
Conclusion:
This motor can easily and flexibly tilt to the 10 different positions that make it versatile. Enjoy the ride of water with this pace creating motor with enhancing the stability, accuracy, directions, and sharpness.
Homevibes Electric Trolling Motor for Kayak
Control the speed and directions of your kayak with a high-quality electronic trolling motor. You can ride on the water for hours because this motor has a long-lasting battery. This motor is very accurate in navigating directions keeping the floating of the kayak smooth and inflow.
It gives the best performance in deep water, and the main motor is sealed to protect it from water damage.
Our Top Pick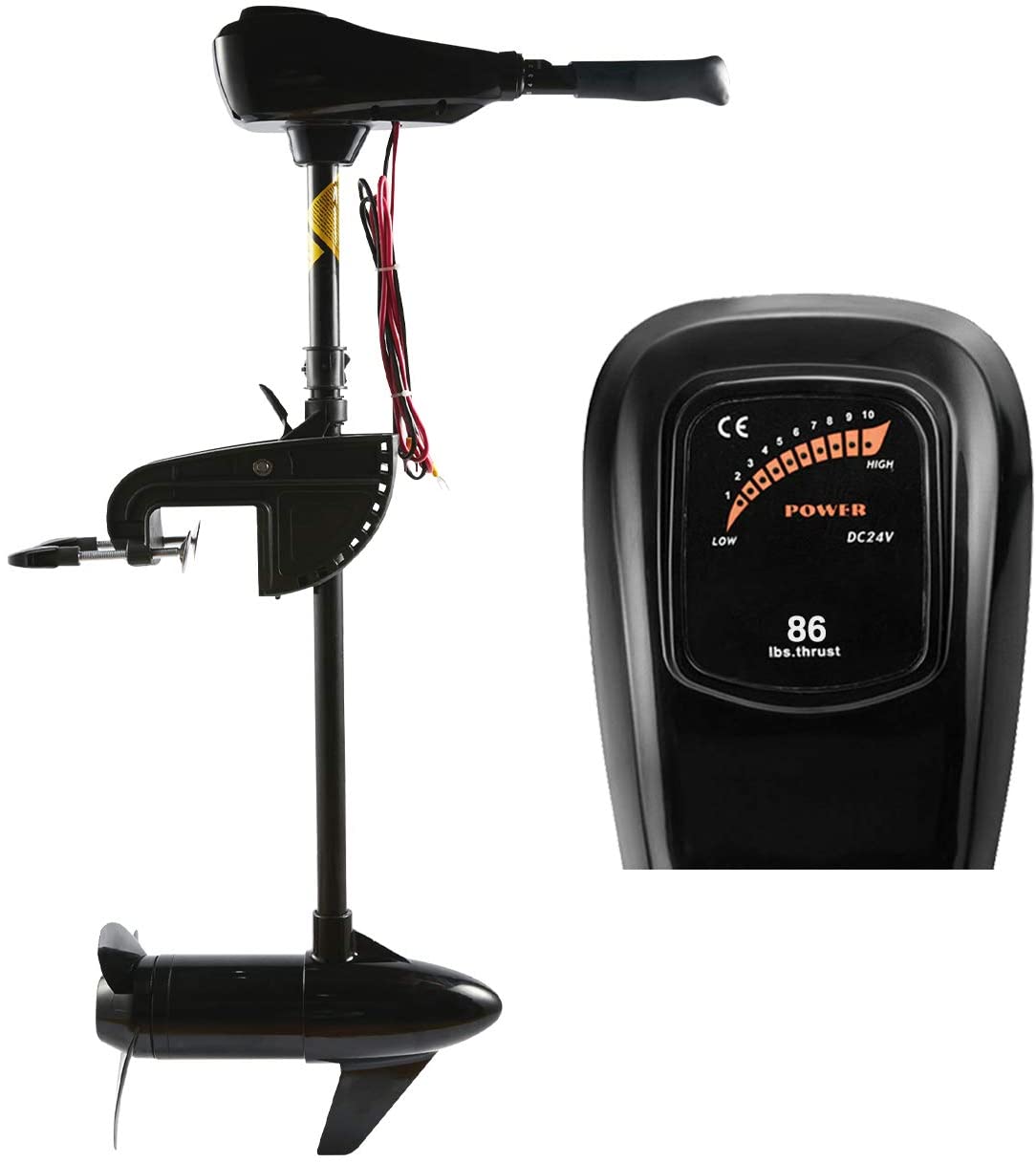 Homevibes Electric Trolling Motor for Kayak
Specifications:
Propeller: 3-Blades
Handle length: 6-inches telescopic design
Speed levels: 8 controlling factors
Weight: 22.3 pounds
Material:plastic
Main Features:
Angle adjuster helps you in deep water, and the full reversion results in reverse moving
The adjustable hanging bracket allows you to have a proper depth placement in all type of waters
A knob is fixed in the bottom to adjust the shaft angles for different purposes
You can adjust the thickness to have the best smoothest float
The propeller wound the weeds in the water so you can use it without any tension of getting a collision
Led battery indicator work simply with showing you the decrease in battery numbers
The motor is made of water resistance and is sealed to protect it from water damage
A 22.3 pounds motor that offers you effortless carrying
Brackets adjustable:
These brackets fixed with the rod of the motor give you a wide option for choosing the best adjustments. They are rotatable up to 90degrees providing various options following the type of water.
Increase the speed up to 5 grades:
The speed controller is a small panel fitted on the handle of the motor that shows some grades of speed. These speed grades are increasing to five points and decreasing to three. So you can have the fastest ride ever on the kayak with speed creating feature.
Long timing battery:
Enjoy water riding for a complete day because this motor won't embarrass you because of its high voltage battery. This motor supports a single battery of 24volts and two of 12 volts.
Foremost motor:
Get in the water with this one of the best trolling motors for kayak that come with an anti-winding propeller and speed controlling point system. A shaft, angle adjuster, thickness adjuster, and a height adjusting device are also provided with the motor. All the high durable accessories and assembly products make this more appealing among other ordinary motors.
Carrying handle:
A carrying handle is attached in the front of the motor for handling while assembling or riding. It makes your transportability more convenient and effortless. This handle can also be used to carry the motor into a safe storage spot on the flip side.
Water-resistant cover:
Nothing can affect the durability of your boat because this trolling motor for a kayak has a PVC layer coating over them. This cover is fully layered on the front and back, preventing the water from entertaining in it. This motor is also sealed for reducing the water damage chances to zero.
Tension less traveling:
Travel with no issues of portability or carrying because Homevibes is bringing a lightweight ergonomically shaped carrying handle motor.
Pros
The manufacturers have provided a guarantee for better service
It comes with a guide bookmaking the assembly easy
The motor needs a 24 low volts battery
A three-blade propeller keeps the kayak safe from stones
Mount this motor on your kayak for the stable and fastest ride ever
Conclusion:
This premium trolling motor for the kayak comes with adjustable shafts and brackets. These features give the rider a great water gliding experience and a smooth ride.
Buying Guide:
It's easy to get confused with so many trolling motors for kayak in the market. Therefore, we have devised a set of important rules and aspects so you can lock the best purchase. These aspects will guide you to the trolling motor you've always been looking for.
Thrust variations:
Motor power plays a crucial part in increasing or decreasing the thrust strength overall. A powerful trolling motor with more price certainly provides better thrust than a lower price tag. So if a professional boater and this matters the most to you, then go with more powerful motors.
Speed controls:
It's not always simple to perfectly tune the trolling motors' speed; therefore, some motors do offer convenient speed management with extra price. Therefore, if you wish to see more progression with your motor practice, then you can spend extra money for sure.
Built quality/construction guide:
The building of a trolling motor is as important as its feasibility. Like some trolling motors on our list, they differ in terms of their durability standard based on the price disparities. It's important to understand the waterproof reading and easy handling-like features play a vital part in a motor's overall efficacy.
So a buyer must understand what type of activity he performs through the product. This eventually helps you find the most suitable motor for your watercraft.
Propeller guide:
Propeller is a major part of trolling motor's overall job. Therefore, it is important to buy motors with tough materials construction so they can stay upright. As discussed in our above list, the propellers come with different races based on different motor types.
Some of them are extra tough, and some are made mentioned tough but aren't as tough as compared to the pricey ones. Therefore, a promising propeller must be considered as n important part of the purchase.
Battery guide:
Most of the motors don't include batteries in the package. That's why manufacturers often guide about the exact/suitable batteries to buy for the concerned motors. It is very important to use the mentioned or tested batteries in the trolling motor you're going to purchase.
The faulty or incompatible battery might result in damaging the performance of the engine. So the exact batteries must be considered.
Control guide:
Trolling motors are controlled based on their respective systems. Some motors come with conventional controls, and some even offer wireless remote to carry the exact operations. Wireless functionality is pricey, but it is definitely worth the spend if you prefer this option or everything.
We hope our detailed buying guide helps you in choosing the perfect trolling motors for your kayaks.
Frequently asked questions about Trolling Motors for kayak
How many blades do we get on the propeller side of the trolling motors?
All of the mentioned trolling motors come with 3 blades structure design having a balanced positioning on each divider. That also helps the kayak to evenly flow on the water even if the density is low with proper torque controlling impact.
What type of material has been used in the body construction of these motors?
The material of products varies with the part of components that took part in the structure of trolling motors. Most of the trolling motors are designed with aluminum, composite substance, and metal materialization.
However, the related components, including the shaft, levelers, and other basic tools, can vary in the manufacturing material due to the usage of every component.
Which are the most demanding trolling motor on the list?
The Newport Vessels NV-Series Trolling Electric Trolling Motor comes at the top of our list, having a professional working design. It comes with 8-speed controlling factors, including forwarding and revers as well. Alongside, the 30-inches shaft length is made of sturdy material to give the premium output while on the water.
Do we also get batteries with the motor packages?
No the batteries for operating the trolling motors are not included in the package. You have to buy them separately; however, the manufacturers have mentioned the battery storage compatible with each motor in the description.
Can we get a pocket-friendly trolling motor for kayak?
Yes, you can get The PEXMOR Electric Trolling Motor has the most accessible and budget-friendly price tag. The features are versatile here with speed factor adjustability and sturdy torque controlling factor as well. LED light indicators are also featured in the motor.
Can the rider also adjust the speed levels of kayak motors?
Of course, all of the trolling motors have been featured with advanced design speed adjustment levelers. You can easily maintain the speed factor comprising levels in the forward direction and also in the backward (reverse) side. Most of the motors contain 8-speed adjustment levels in the machinery.
How can we know the remaining power storage of the batteries?
All of the mentioned trolling motors have been designed with LED light indicators to show the storage capacity of power remaining in batteries. That will let the rider manage the time frame of riding and fishing on water according to the power storage system.
Our Recommendations
Our 1st recommendation is AQUOS Haswing CaymanB Mount Electric Trolling Motor as the most advanced trolling motor. The design is sturdy comes with a 3 blade propeller and variable speed adjustment levels as well.
Moreover, our 2nd recommendation is PEXMOR Electric Trolling Motor as the best budget-friendly kayak trolling motor. It has a bow mount structure along with a quick assembling design and speed adjustment options for you to control the boat.
Final Words
At last, we can confidently conclude that these are the most durable and best design trolling motors for a kayak. The structure of shafts and handles are professionally designed with versatile gripping control for the riders. You can also control the speed levels here.
Including the reverse and forward speed direction adjustment compatibility featured on the motor. The LED lights indicators are also there for you to informing the battery storage capacity. Moreover, the controlling impact is improved here with enhanced motor length surface to notice.