Over the years, Asian countries like Japan, South Korea, China, Australia have come up with big guns in World Football. In the last decade, many Asian footballers gained fame in European leagues like Premier League, Serie A, Bundesliga, and many more. For their extraordinary performances, they get paid handsomely too. Let's take a look at the list of Top 10 Highest Paid Asian Footballers in 2020.
Highest Paid Asian Footballers in 2020
10. Ali Al Habsi
We start our list of Top 10 Highest Paid Asian Footballers 2020 with Omani captain Ali Al Habsi. Starting off his career on a bad note, there was no looking back for Ali Al-Habsi after he made the switch to Wigan.
A former Omani captain, Ali represented his country around 116 times since 2002 as well in the AFC tournaments. At his club Wigan Athletic, he has about 150 appearances in the premier league.
9. Omar Abdul Rahman
The next in our list of Top 10 Highest Paid Asian Footballers 2020 is Omar Abdul Rahman. The world came to know about this classy Arab winger from the 2012 London Olympics where Omar showed class against heavy opponents. Abdul Rahman, unfettered by expectation or fear, sought to drive forward at every opportunity; caring not for reputation or heritage.
Many clubs such as Manchester City, Arsenal, and Al Ain already know the reputation of Abdul Rahman.
8. Park Joo Ho
The first South Korean to appear in our list of Top 10 Highest Paid Asian Footballers 2020 is Park Joo Hoo. A known left-back in the Bundesliga, he signed for Borussia Dortmund in 2016.
He has many goals and assists in his name in the European circuit with his defensive stats also being impressive.
7. Shunsuke Nakamura
Also known as the "CR7 of Asian Football", Shunsuke Nakamura had the extraordinary talent of hitting the back of the net from 40 yards. Along with his amazing free-kick capabilities, he has a great vision and touch.
Due to these fantabulous skills, he was termed as the Andrea Pirlo of his nation. His best reign was in Celtic from 2005-09. He also received the Most Valuable Player award in Asia Cup 2004.
6. Shinji Okazaki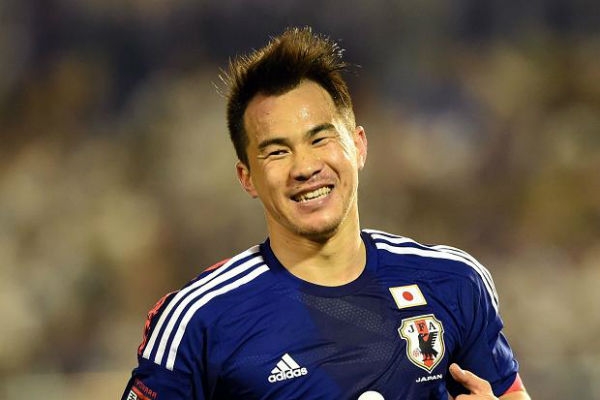 One of the important members of the Leicester City's fairy tale season is this attacking midfielder, Shinji Okazaki. While many of his Japanese counterparts have suffered from patchy form over the past year, Okazaki has been a model of consistency. A regular known face in the Bundesliga, Okazaki signed for Leicester City around the region of £7m.
He made an immediate impact scoring on his debut. With 50 goals to his national tally, he is being foresighted as the successor of Keisuke Honda.
5. Tim Cahill
The only Australian star to feature on our list of Top 10 Highest Paid Asian Footballers 2020 is Tim Cahill. Having spent 8 years with Premier League club, Everton, he has gained a lot of fame from Everton supporters who call him, "Lil Tim". Though age has curbed his abilities, he is still dangerous inside the 18-yard box.
His volley against the Netherlands was one of the goals of the World Cup but there was also a strike against Chile that threatened to turn the game on its head. Currently, he plays for the Indian Super League club Jamshedpur.
4. Hidetoshi Nakata
Another Japanese in our list of Top 10 Highest Paid Asian Footballers 2020 is Hidetoshi Nakata. The dynamic central midfielder had an amazing stint on the national side, with his prime performance being in the 1998 World Cup Qualifiers.
He was quickly snapped by Roma where he scored some key goals. He scored many goals in Serie A which includes top-flight clubs like Roma, Florentina, Parma, and Bologna.
3. Keisuke Honda
Often termed as "The Emperor" by the Samurai Blue fans, Keisuke Honda is considered as a legend in the Japanese Football Team. His performances for Milan was outstanding during Milan's most disappointing seasons. Under Flippo Inzaghi, Honda became one of the main striker's forefront.
His national records are impressive too scoring 37 goals in 98 appearances. Honda currently plays for the Melbourne Victory club and also manages the Cambodian football team.
2. Shinji Kagawa
The second Japanese in our list of Top 10 Highest Paid Asian Footballers 2020 after Park-Ji Sung is Shinji Kagawa. His love and passion towards his ex-club Borussia Dortmund have led the owners to re-buying him for a reported fee of $6.3 million after a brief stint with Manchester United did not work out well.
He has 44 goals for Borussia Dortmund and 31 goals for his national team. He is always considered as a faithful soldier of the"Blue Samurai" and "BVB 09". Kagawa currently plays for the Turkish club Besiktas on a loan move from Dortmund.
1. Park-Ji Sung
The winner in our list of Top 10 Highest Paid Asian Footballers 2020 is Japanese Medio, Park Ji Sung. Park has a brilliantly crafted career which includes 8 years at Manchester United making 143 appearances scoring 27goals.
He also succeeded in the National level for South Korea scoring 13 goals in 100 appearances. Park also appointed as the Asian ambassador of Manchester United.
So, these were the Highest Paid Asian Footballers. Feel free to share your thoughts in the comments down below.