Top 10 Greatest Sports Movies Of All Time
October 20, 2021 By Sourav
---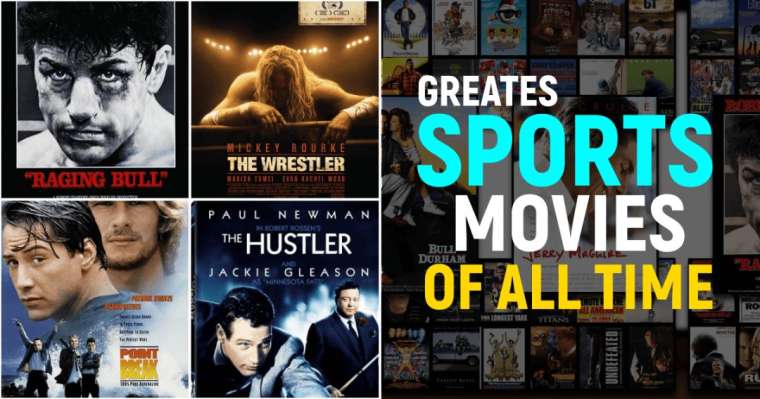 Who doesn't love movies? And many sports movies are available out there. Here we are going to try to list the top 10 greatest sports movies of all time that is a must-see for all sports fans as well as people-who-are-not-into-sports.
Greatest Sports Movies Of All Time
10. This Sporting Life (1963)
Adapted from the novel of the same name, this film tells the story of Frank Machin following a stream-of-consciousness style. Frank is a miner who turns into a big rugby star but is aware of his disposable position in the team.
Even his landlady slash lover considers him as "a great ape on a football field". This one surely deserves its place among the top 10 greatest sports movies of all time.
Upon its release, this British film was hailed as a benchmark in the filming industry. Employing large instances of flashbacks, director Lindsay Anderson marvelously recounts a man's story that is vulnerable to the ravages of time and injuries. The film stars Richard Harris.
9. Olympia (1938)
Upon its release 75 years ago, Leni Riefenstahl's document named Olympia (1938) was enveloped in controversies that exist to date. It was a government-sponsored film based on the 1936 Berlin Olympics. Though entrenched in Nazi ideology, the film has made its place in Time magazine's 'All-time 100 movies'.
Divides into two parts, the documentary feature film had made use of advanced motion picture techniques that were groundbreaking at the time. Olympia definitely deserves its place among the top 10 greatest sports movies of all time.
Apparently, Olympia was re-edited and re-released several times, therefore there exist multiple versions of each language version (those are German, French & English) of the film.
Notably, Riefenstahl has represented Adolf Hitler in almost a deity figure but has also treated Jesse Owens (an African-American track & field athlete) in the most admiring manner. Jesse Owens, an African-American had "single-handedly crush[ed] Hitler's myth of Aryan supremacy" by winning four gold medals in the Berlin Olympics.
8. Slap Shot (1977)
Many film critics consider this comedy film as one of the best movies ever made on ice hockey. Directed by George Roy Hill, the film is about a minor league hockey team that resorts to violent play in order to become popular in a factory town on its last leg.
Slap Shot's extensive use of swear words made things hard for the television networks and they ended up employing the fake swear word 'fricking' (possibly for the first time).
Though initially shunned as 'foul-mouthed and unabashedly vulgar', later Slap Shot was recognized as one of the greatest American comedy movies of all time.
Among many late-accolades, the film ranked 31st on the list of 'Top 50 Cult Films' and in 1998 was also heralded as the 'Best Guy Movie of All Time.' Without any doubt, this movie deserves its place among the top 10 greatest sports movies of all time.
7. Bull Durham (1988)
Back in the 80s, making a baseball movie was considered risky for they were commercially non-prospective. Even then, many cast members of Bull Durham had accepted salaries lower than their usual, owing to their enthusiasm for the material.
Starring Kevin Costner, the story revolves around Davis, an experienced player who is brought on board to train the unruly but talented Ebby LaLoosh. And later, with the entree of a baseball fan Annie Savoy, their lives became intertwined into a love triangle.
This romantic comedy sports film was a critical success. The Newsweek Magazine praised saying that the film "works equally as a love story, a baseball fable, and a comedy while ignoring the clichés of each genre." Bull Durham surely deserves its mention among the top 10 greatest sports movies of all time.
6. Point Break (1991)
Starring Keanu Reeves, the story is that of an FBI agent who goes undercover to catch a gang of bank robbers who slashes surfers. In an interview, Reeves describes his character as a "total control freak and the ocean beats him up and challenges him.
After a while, everything becomes, a game...He becomes as amoral as a criminal. He loses the difference between right and wrong."
The film got mixed reviews but generally, Kathryn Bigelow's majestical portrayal of particularly the surfing scenes became hugely appreciated. Interestingly, some critics are of the opinion that the 2001 film 'The Fast and the Furious' is a copy of 'Point Break', swapping surfing for illegal street car racing.
5. Jerry Maguire (1996)
This is one of those few great sports movies that are not really about the sport or the sportsman but about the people behind them. Unseen and unnoticed by most, those people sweat blood to make the big moment happen in the sporting world.
Played by Tom Cruise as a sports agent, Jerry Maguire gets fired for expressing his moral epiphany in a ruthless business place. So he embarks on a new journey trying to test his newly acquired philosophy with the only athlete who stayed with him.
Based on the actual story of a sports agent, Leigh Steinberg – who acted as a technical consultant for the crew – the film got listed in AFI's 100 Years..100Passions. Besides, it also deserves its mention among the top 10 greatest sports movies of all time.
4. The Wrestler (2008)
Randy "The Ram" Robinson is a burnt-out and aging professional wrestler. He is trying to hold on to his success of the 1980s heyday by continuing his career while his health is failing.
WWE had helped to promote this film through an on-screen angle (a fictional storyline used in wrestling). The Wrestler opened to universal critical acclaim. Mickey Rourke was also praised for his performance which was called "richly affecting, heart-wrenching."
The film had also stirred controversies with regard to a scene. Mickey Rourke violently breaks a pole bearing an Iranian flag, in half, across his knee on that scene. Many Iranian newspapers and websites condemned the film for spreading 'anti-Iranian' feelings.
3. Hoop Dreams (1994)
It is a documentary film that follows the lives of two African-American teenagers pursuing the dream of becoming a basketball star. Three filmmakers shot around 250 hours of footage over the course of five years.
Despite its length (171 minutes) and unlikely commercial genre, it received high critical and popular claims. Famous film critic Roger Ebert said, "this is one of the best films about American life that I have ever seen".
He also later called it the best film of the decade. Without any doubt, this movie deserves third place among the top 10 greatest sports movies of all time.
2. The Hustler (1961)
The film, adapted from the novel of the same name tells the story of a small-time pool hustler 'Fast Eddie' Felson, who in his desire to become one of the greatest pool players of all time, plays a long-time champion in a single high-stakes match.
The Hustler was a major critical and popular success gaining a reputation as a modern classic. And, that also helped to spark a resurgence in the popularity of the pool. The film's exploration of winning, losing, and the characters were lauded.
Here again, Robert Ebert cited, "one of the few American movies in which the hero wins by surrendering, by accepting reality instead of his dreams." This film now definitely deserves its mention among the top 10 greatest sports movies of all time.
1. Raging Bull (1980)
A Martin Scorsese film based on middleweight boxing champion Jake LaMotta's 1970 autobiography Raging Bull: My Story. This biographical sports drama, stars Robert De Niro as the lead character, as an Italian American middleweight boxer.
His self-destructive and obsessive rage, sexual jealousy, and animalistic appetite destroyed his relationship with his wife and family. Categorized among the greatest films ever made, film pundits initially criticized the Raging Bull for its violent content.
Critics unanimously had praised De Niro's explosive art. The film grossed $23 million in the US. Besides, it was also nominated for eight Academy Awards.
Final Words
So, this is our list of the top 10 greatest sports movies of all time. We hope you liked this list. And, don't forget to send us your opinion in the comment box below.
Best Sports Movies Ever | Infographics
FAQs Regarding Greatest Sports Movies
Q. What sports movie is most successful?
In terms of average, The Hunger Games makes $742 million per film, making it the highest-grossing franchise at $3 billion. It is the highest-grossing film in history and the most successful movie of all time.
Q. Which film is based on a real-life sports person?
On the radio (2003), about a friendship between a high school football coach and a mentally challenged man. Two Chicago Bears teammates talk about their friendship in Brian's Song (1971). The Blind Side (2009) tells the story of Michael Oher, a homeless youth who makes it to the NFL.
Q. What is the highest-grossing basketball movie of all time?
Michael Jordan's original "Space Jam" is still the highest-grossing basketball film of all time. Over $1 billion in merchandise sales were generated from the 1996 film, which earned more than $230 million at the global box office.
Q. What percentage of movies are based on true stories?
Between 1996 and 2000 (inclusive), real-life stories took an average of 5.5% of the U.S. box office. During the five years from 2011 to 2015 (inclusive), it amounted to 10.2%.