It was in the late 1970s when women began to take part in bodybuilding competitions which has for long been considered male-only sports. But even before this, in the late nineteenth century, there are records of circuses performing what is called 'strong women acts'. Around 1977, female bodybuilding began being promoted with the belief that women should be allowed the opportunity to display their physiques, the way men have done for years. This list is about some of the Greatest Female Bodybuilders of All Time.
Top 10 Greatest Female Bodybuilders of All Time
Therefore on August 18, 1978, the female bodybuilding contest known as "The Best in the World contest" was organized. On that account, today we bring you Top 10 Greatest Female Bodybuilders of All Time who'll blow your mind away.
10. Denise Masino (USA)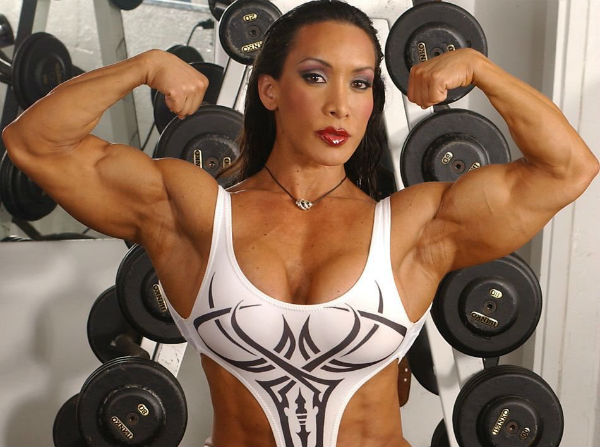 Sánchez, otherwise known as Denise Masino, had her first big win in 1995 at the NPC Nationals. After that, she was featured in various prominent fitness and bodybuilding magazines. She won the Night of Champions in 2003.
Over the years, she has competed gloriously and won prominent places in many competitions, such as she came second in Ms. International (2003), IFBB Ms. Olympia (2004), etc. Masino now holds the tenth place in our list of the top 10 greatest female bodybuilders of all time.
9. Gladys Portugues (USA)
In her bodybuilding career, Portugues' most significant achievement was when she managed a spot among the top-10 in Ms. Olympia. Former Ms. Olympian winner Rachel McLish heavily inspired Portugues. After watching McLish on television, she decided that she'd take bodybuilding seriously.
Portugues has made appearances in three films and once on television. And now, she holds the ninth place in our list of the top 10 greatest female bodybuilders of all time.
Also Read: Best Indian Body Builders
8. Rachel McLish (USA)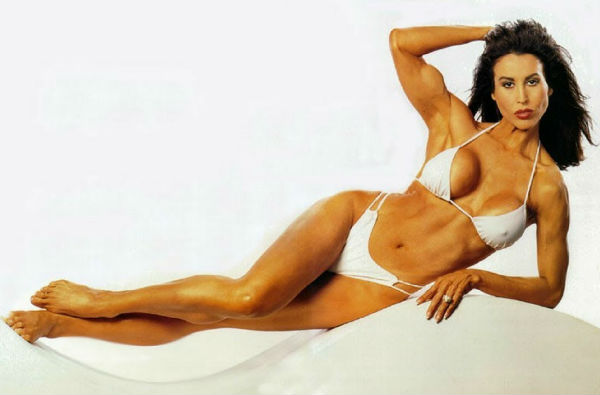 When studying physiology and health & nutrition, Rachel Livia Elizondo McLish started working in a health club and later got inspired to compete in bodybuilding championships after seeing magazines of female bodybuilders. McLish's breakthrough victory came in 1980 when she won the inaugural United States Championships and IFBB Ms. Olympia contest.
For the next five years, no other woman appeared in more magazine covers than McLish did. Although her career spanned only four years, every competition that McLish entered, she at least achieved third place. She has written two New York Times bestsellers on weight training for women.
7. Rasa von Werder (Germany)
Better known as Kellie Everts, she was once barred from entering a competition in 1981. Werder took to picketing and spoke of the injustice being done to her at a radio show. In 2007, the World Bodybuilding Guild (WBBG) awarded her "Progenitor" of Female Bodybuilding and also inducted her into their Hall of Fame.
Werder is the founder of her own church, which is based on a combination of the idea that a woman stripper can also preach. She created the "Stripper for God". She has published six books and numerous articles online on her religious beliefs. Werder now holds the seventh place in our list of the top 10 greatest female bodybuilders of all time.
Also Read: Richest Bodybuilders of all time
6. Marianna Komlos (Canada)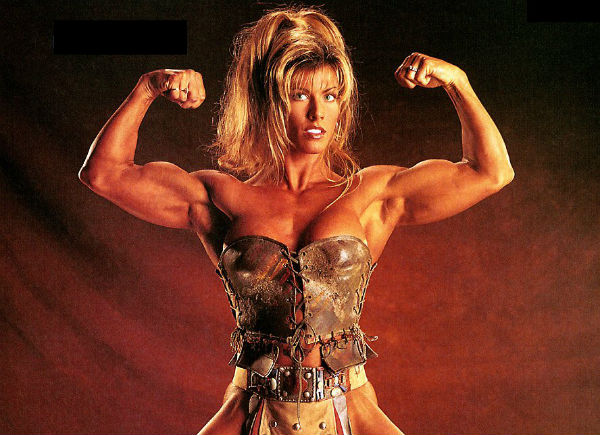 Late Komlos started her bodybuilding career in the year 1993 by participating in provincial contests. In 1996, Komlos had won the Gators Classic, the British Columbia Championship (alongside being named as the Best Poser) in 1997 and the Women's Extravaganza in 1997. Komlos appeared on the covers of many fitness magazines like Natural Bodybuilding & Fitness, Muscle & Fitness (September issue in 1997), Flex (November issue in 1997), and Women's Physique World (December issue in 1997).
In 2004, the editor-in-chief of Flex, Jerry Kindela, when talking about Komlos had said, "Marianna's one of the most beautiful bodybuilders I've ever seen." Komlos died in 2004. She was suffering from breast cancer and was only 35-years-old. However, she still holds the sixth place in the list of top 10 greatest female bodybuilders of all time.
5. Rebekka Armstrong (USA)
A former bodybuilder, these days Rebekka Lynn Armstrong is an HIV/AIDs activist. Back in September 1994, Armstrong declared that she was HIV-positive. Since then she decided to educate the LGBT community about the horrors of contracting HIV/AIDS without even knowing. Armstrong herself had contracted the disease when she was as young as 16-years-old.
Being a competitive bodybuilder, Armstrong has many medals of success. She won the Muscle Beach competition in 2004, NPC Los Angeles Championship (2004), NPC Pittsburgh (2005), and the NPC Los Angeles Championships in 2009. Armstrong had appeared in as the Playmate of the Month in Playboy for September 1986.
4. Nikki Fuller (USA)
Fuller realized early in her life that she was quite strong physically and decided to channelize her focus on bodybuilding. She began trying her hand at workouts in a local gym, transformed herself, and rose to eventual fame. At her largest, Fuller's biceps measured 457 mm and she weighed 91 kg. She began contesting in 1998 and participated in the Novice Oregon where she won.
In 1992, Fuller finished being one among the top ten Ms. Olympia and Ms. International contests. A year later she got featured on the cover of The Women and was part of a compiled photography book of top female bodybuilders. She definitely deserves the fourth place in our list of the top 10 greatest female bodybuilders of all time.
also read: Mandy Rose Net Worth, Career, Family
3. Nicole Bass (USA)
Throughout the 80s and 90s, Nicole Bass-Fuchs was one of the most celebrated female bodybuilders in America. She has participated in eminent wrestling competitions like the XPW, Extreme Championship Wrestling, the National Wrestling Alliance, and World Wrestling Federation. Besides, she won the NPC National Bodybuilding Championship in 1997.
Today Bass wrestles in an independent wrestling circuit, performing at public events and provides personal training. Besides his immense popularity as a great bodybuilder, she also holds her place among the hottest WWE divas of all time.
2. Lisa Marie Varon (USA)
Fans widely know Varon her ring name Victoria. She started her career as a professional wrestler in 1997 and went on to become the WWE Women's Champion twice, TNA Knockouts Champion five times (becoming a seven-time Women's Champion overall) and Total Nonstop Action Wrestling (TNA) once.
Varon had studied biology and medicine and while working at the eye and tissue bank, she started teaching aerobics and became a professional trainer. When she got the opportunity of participating in a bodybuilding competition, she jumped on the offer. She now holds the second place in our list of the top 10 greatest female bodybuilders of all time.
Fun fact: Before becoming a professional wrestler, Varon had a chance meeting with the WWF star wrestler Chyna who encouraged her to join wrestling.
1. Chyna (USA)
Joan Marie Laurer, otherwise known as Chyna, is a bodybuilder among other things. She became famous in 1997 while performing in the professional wrestling promotion of the World Wrestling Federation (WWF). Some of her most notable performance has been in the New Japan Pro Wrestling (2002) and Total Nonstop Action Wrestling (2011).
When not bodybuilding or fighting in the ring, Chyna appeared in Playboy magazine twice, numerous television shows and films. Billed as the "Ninth Wonder of the World", Chyna then became famous for "a lasting legacy as the most dominant female competitor of all time". She definitely deserves the top place among the top 10 greatest female bodybuilders of all time.
Share your thoughts about this list of the top 10 greatest female bodybuilders of all time in the comments below.