Top 10 Fastest Bowlers In The History of Cricket
September 18, 2021 By Sourav
---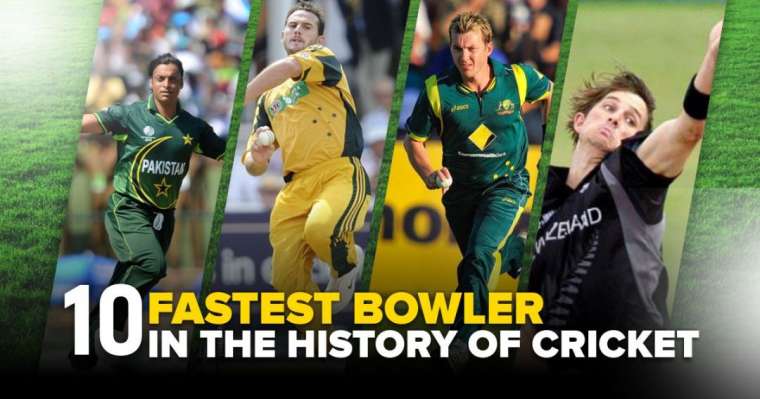 We have updated the list of the fastest bowlers in the history of world cricket to include the latest bowling records of 2021 after the Asia Cup that was won by India, defeating their neighboring country Bangladesh in the UAE.
Cricket is a very famous and widely played game in the world, and bowling is a crucial part of Cricket. There are lots of very famous, fast, and aggressive bowlers in the history of Cricket who made their names by their speed. Here goes the list of the Top 10 Fastest Bowlers of all time.
Fastest Bowlers In Cricket History | All-Time Ranking
Update: Australia's premier fast bowler Mitchell Johnson bowled a 156.8 kmph delivery at MCG against England in 4th Test Day 3 last year. That makes him the 7th fastest bowler in history, ahead of Muhammad Sami (156.4). Previously, Muhammad Sami was at the number 7 spot.
10. Shane Bond | New Zealand
Shane Bond Bowling Speed: 156.4 km/hour [97.1 miles/hour]
New Zealand's right-arm fast bowler Shane Edward Bond is often cited as the fastest bowler of New Zealand. One of the most dangerous bowlers of his time, his fastest delivery is 156.4 kmph (97.1 mph) during ICC World Cup 2003.
The current bowling coach of the Indian Premier League franchise Mumbai Indians, he represented New Zealand in international tournaments from 2002 to 2010.
He took 87 test wickets and 147 ODI wickets for the 'Black Caps' in his active career. His best bowling performance came in a test match against Zimbabwe, where he took 10 wickets in 99 runs in 2005. He also made a 5-wicket test hauls five times, and a 5-wicket ODI hauls four times.
9. Mohammad Sami | Pakistan
Mohammad Sami Bowling Speed: 156.4 km/hour [97.1 miles/hour]
The man with the worst average in test cricket, Mohammad Shami, is a Pakistani Right Arm Fast Bowler. He is the 2nd fastest bowler in Pakistan cricket history and the No.9 on our list.
His fastest delivery of 156.4 kmph (97.1 mph) came in an ODI at Sharjah against Zimbabwe in April 2003. He took 85 test wickets and 121 ODI wickets for Pakistan in his active career since 2001.
He has put his mark in the cricketing history while being the only player to notch a hat-trick in all three formats of cricket. Known for his swing and pace, Sami is undoubtedly one of the best bowlers Pakistan has ever produced.
8. Mitchell Johnson | Australia
Mitchell Johnson bowling speed: 156.8 km/hour [97.4 miles/hour]
Retired cricketer Mitchell Johnson is Australia's premier fast bowler, Who can also bat low down the order. Johnson is at #7 on the list of Fastest Bowlers.
He bowled a delivery with the speed of 156.8 kmph (97.4 mph) in the 4th Ashes Test, Day 3 Against England in December 2013 at MCG. Johnson took 313 test wickets and 239 ODI wickets in his cricketing career between 2005 and 2015.
He received the Sir Garfield Sobers Trophy from ICC in 2009. Johnson also achieved the ICC Cricketer of the Year and ICC Test Player of the Year award in 2014. Recently, IPL side Kolkata Knight Riders bought him on their side for $314,00 in January 2018.
7. Fidel Edwards | West Indies
Fidel Edwards Bowling Speed: 157.7 km/hour [97.9 miles/hour]
West Indian Fast bowler Fidel Henderson Edwards has been playing for West Indies National Team since 2003. His fastest delivery of 157.7 kmph (97.9 mph) came against South Africa in 2003. As a surprising fact, one of the greatest left-handed batsmen, Brian Lara, spotted him in the nets.
And eventually, he earned his call-up for the national side. Fidel took 165 wickets in Test cricket and 60 wickets in ODIs as of 2021. He also took 5-wickets in 12 test matches till now.
Besides international matches, he also played for Bangladesh Premier League franchise Khulna Royal Bengals. He participated in the Indian Premier League while playing for Deccan Chargers and Rajasthan Royals.
6. Andy Roberts | West Indies
Andy Roberts Bowling Speed: 159.5 km/hour [99.1 miles/hour]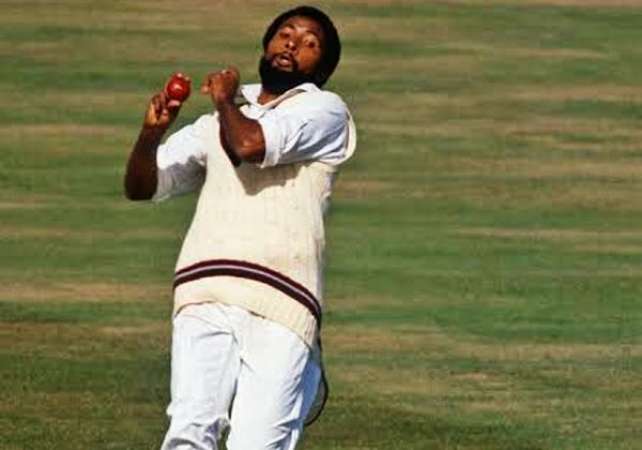 Sir Andy Roberts is a former West Indian fast bowler. He was an excellent fast bowler, twice taking seven wickets in an innings of a Test match.
His fastest delivery of 159.5 kph (99.1 mph) came against Australia in Perth in the year 1975. Known for delivering two different kinds of bouncers, he took 202 test wickets and 87 ODI wickets in his heydays.
He made 10-wicket test hauls twice during his time. Besides international appearances, he also played first-class cricket for Hampshire and Leicestershire County. The United States inducted him into their Cricket Hall of Fame in October 2005.
5. Mitchell Starc | Australia
Mitchell Starc Bowling Speed: 160.4 km/hour [99.7 miles/hour]
His incredible performance at WACA during the 3rd day of the 2nd test between New Zealand and Australia lands him in the fifth position in this list. He clocked his fastest delivery at 160.4 kmph (99.7 mph). And, his average has a consistent value of 146.4 kph throughout the matches.
The left-arm fast bowler helped Australia to lift the ICC Cricket World Cup in 2015. He took 182 test wickets and 140 ODI wickets in his professional career since 2010.
Besides international matches, he also played for IPL team Royal Challengers Bangalore and Big Bash franchise Sydney Sixers. During the 2018 IPL auction, Kolkata Knight Riders got him on their side for INR 9.4 Crores. Undoubtedly, Starc achieved his place among the best fastest bowlers currently in action. Starc is also one of the fastest bowlers currently playing.
4. Jeff Thomson | Australia
Jeff Thomson Bowling Speed: 160.6 km/hour [99.8 miles/hour]
Former Australian right-arm fast bowler Jeffrey Robert Thomson currently holds the No 4 spot in the list of fastest bowlers of all time. He was also the fastest bowler in his era and delivered his fastest ball of 160.6 kmph against West Indies in Perth in 1975.
His bowling partnership with Dennis Lillee earned the reputation of being the most fearsome attack in test cricket of that time. He took 200 wickets in test matches and 55 wickets in ODIs in his active career between 1972 and 1985.
Besides, he also took 675 wickets in first-class cricket playing for Middlesex and New South Wales. As a tribute, the Australian cricket board inducted Thomson into their Hall of fame on 27th January 2016.
3. Shaun Tait | Australia
Shaun Tait Bowling Speed: 161.1 km/hour [100.1 miles/hour]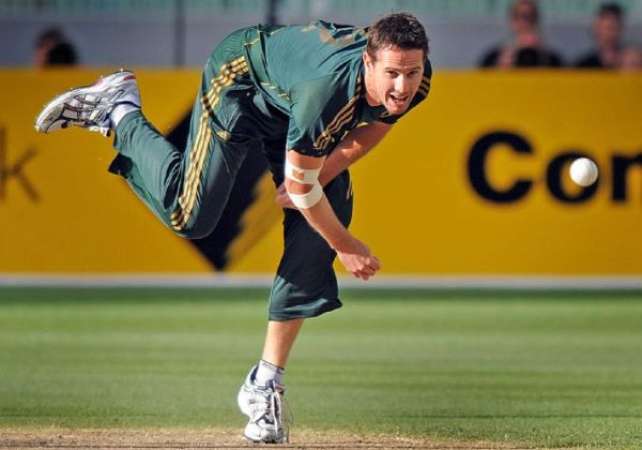 Right-Arm Fast Bowler Shaun William Tait represented Australian National Cricket Team and holds the No.3 spot in the all-time fastest Bowlers list. He bowled his fastest delivery of 161.1 kmph (100.1 mp/h) against England. Mostly known for his ODI performances, Tait took 62 wickets in his active ODI career from 2005 to 2016.
He also represented the Australian side in international Twenty20 matches. He announced his retirement due to a chronic elbow injury in March 2017.
Besides appearing for his country, he also played for IPL franchises Rajasthan Royals and Kolkata Knight Riders. Tait also appeared in Big Bash League for Hobart Hurricanes, Adelaide Strikers, and Melbourne Renegades.
2. Brett Lee | Australia
Brett Lee Bowling Speed: 161.1 km/hour [100.1 miles/hour]
Former cricketer Brett Lee is the fastest Australian bowler in Australian Cricket History and the 2nd fastest of all time in the history of cricket. He bowled his fastest delivery of 161.1 kmph (100.1 mph) against New Zealand at Napier in 2005.
He has an amazing career record of 310 test wickets, 280 ODI wickets, and 487 First-Class cricket. Often doubted as the fastest Australian bowlers of all time, Lee also earned his reputation for being among the best fielders.
He helped his nation to win the ICC World Cup twice, in 2003 and then again in 2007. Lee played for IPL squads Kings XI Punjab and Kolkata Knight Riders. Besides, he also appeared in the Big Bash League playing for Sydney Sixers. As an interesting fact, Lee took the first-ever hat-trick in Twenty20 International cricket.
1. Shoaib Akhtar | Pakistan
Shoaib Akhtar Bowling Speed: 161.3 km/hour [100.2 miles/hour]
Former Pakistani right arm very Fast Bowler Shoaib Akhtar represented the Pakistan National Team in all forms of the game. He is also known as the 'Rawalpindi Express.' Akhtar is regarded as the fastest bowler in the history of cricket.
He set an official world record by achieving the fastest delivery of 161.3 km/h (100.2 mph) against England in the 2003 ICC World Cup. Akhtar is also the first bowler ever to break the 100 mph mark twice in his career.
He took 178 test wickets and 247 wickets in ODIs in his active career between 1997 and 2011. Besides international appearances, Shoaib also played for IPL club KKR and NCL T20 Bangladesh franchise Cyclones of Chittagong.
Honorable Mention:
11. Jofra Archer
Barbadian-born English fast bowler Jofra Archer now also plays for the Sussex County Cricket Club besides appearing for his national side. This 25-year-old pacer recently made a buzz in the media by delivering an excellent performance in the World Cup 2019.
After being selected for the team, Archer played all the matches for England and helped them to win the first-ever World Cup in 2019.
The ICC, right after this grand event, named him the rising star of the English squad. He can now bowl around 150km per hour on average. Known for his lethal bouncers and Yorkers, Archer also delivered some fiery balls in the IPL.
12. Naseem Shah
Shah created a solid buzz in the global media after his recent call by the Pakistan Cricket Board to appear for the test side of the nation. He marked his debut as a 16-year-old boy against Australia in November 2019.
And with that feat, he has also secured the ninth spot among the youngest cricketer ever to make their Test debuts. He started with the new ball against Australia on 21st November 2019.
And on the 22nd, he delivered a ball that clocked at 148.1 km per hour. Although he is too young to judge the international formats, the football pundits around the globe have high hope for him.
Top 10 Fastest Bowlers In Cricket | All-Time List
| | | |
| --- | --- | --- |
| Rank | Bowler | Fastest Delivery |
| 1 | Shoaib Akhtar (Pakistan) | 161.3 km/h (100.2 mp/h) |
| 2 | Brett Lee (Australia) | 161.1 km/h (100.1 mp/h) |
| 3 | Shaun Tait (Australia) | 161.1 km/h (100.1 mp/h) |
| 4 | Jeffrey Thompson (Australia) | 160.6 km/h (99.8 mp/h) |
| 5 | Mitchell Starc (Australia) | 160.4 km/h (99.7 mp/h) |
| 6 | Andy Roberts (West Indies) | 159.5 km/h (99.1 mp/h) |
| 7 | Fidel Edwards (West Indies) | 157.7 km/h (97.9 mp/h) |
| 8 | Mitchell Johnson (Australia) | 156.8 km/h (97.4 mp/h) |
| 9 | Muhammad Sami (Pakistan) | 156.4 km/h (97.1 mp/h) |
| 10 | Shane Bond (New Zealand) | 156.4 km/h (97.1 mp/h) |
Conclusion
Although there is no particular data available about the great west indies bowlers during their heydays, many people believe that they are the fastest and most lethal bowlers the cricket world has ever seen. On the other hand, Pakistan and Australia are also known for nurturing some of the world's fastest bowlers. But, we have only taken into account those players who have recorded data.
Fastest Bowlers Of All Time | Cricket Infographics
Let us know about your personal favorite among these Fastest Bowlers 2021.