Top 10 Famous LGBTQ Athletes Who Came Out Of The Closet
August 21, 2021 By Sourav
---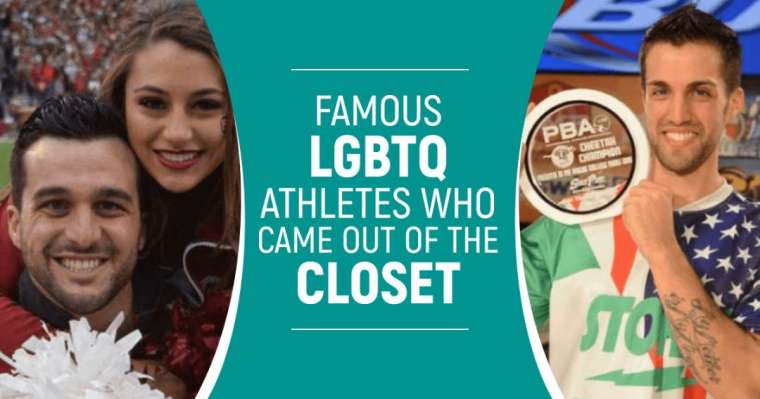 Sportsperson across the world are always under observation by the media and the mass for their performances. Athletes lead two sorts of lives in such a spectrum. Let us take a look at the Top 10 Famous LGBTQ Athletes Who Came Out Of The Closet.
Famous LGBTQ Athletes Who Came Out Of The Closet
One, a public life while the other is more of a personal life where they tend to conceal their feelings and emotions away from people's scrutiny. It requires immense courage for any person to come out of the closet, most of all an athlete, and disclose their extraordinary sexual preference before the whole world.
10. Sean Conroy (Baseball)
Sean Conroy, a 26-year-old popular baseball figure, came out as gay publicly with gusto. With his announcement, Conroy had become the first publicly gay baseball player on a professional level, although there had been Major League Baseball players namely Glenn Burke and Billy Bean who had come out after their retirement.
"It's not that I wanted it to go public, but I didn't care if it was open information. It's who I am," Conroy exclaimed. "I am definitely surprised that no one else has been openly gay in baseball yet.
"I've always played baseball because it was fun and I loved the sport. Being gay doesn't change anything about the way I play or interact with teammates.
I hope that in leading by example, more LGBT youth will feel confident to pursue their dreams, whatever those dreams maybe." Sea definitely holds his place among the top 10 famous LGBTQ athletes who came out of the closet.
9. Israel Gutierrez (ESPN Commentator)
ESPN commentator Israel Gutierrez had come out publicly as gay in a flamboyant blog post in which he disclosed the powerful self-hatred he underwent as a closeted gay person until he came across the true love of his life, David.
He now surely deserves his place among the top 10 famous LGBTQ athletes who came out of the closet. Besides, he also made his name one of the best sports media personalities.
What motivated Gutierrez to take the leap is his impending wedding to his partner on Sept. 12. For those who had the knowledge of Gutierrez's engagement, it's been quite a murmur to see how he would deal with it. "I decided on this simple blog entry.
No formalities, no restrictions, just me letting you into a portion of my life I've kept largely separate from my professional career. I'm gay, which plenty of people, I'm sure, have either deduced or just guessed as much over the years."
8. Keegan Hirst (Rugby)
Rugby star Keegan Hirst of the Batley Bulldogs shared the truth about being gay in a rather lengthy interview he appeared in. "One day, a few months ago, I just thought, 'You know what? Actually, this is who I am. I'm gay.
I felt I could finally be honest with myself." Keegan further added: "I had a wife and kids. I've been a builder, doorman, worked in factories - I play rugby.
"I tick every macho box. How could I be gay? I'm from Batley for goodness sake.
No one is gay in Batley." And he reveals: "The only time I felt free of the torment was when I stepped on the rugby pitch. Now I feel free."
7. Eric Mitchell (Ski Jumping)
Skiier Eric Mitchell happened to be just a kid when he was determined that he had to be a part of the Olympic ski jumping team. But, as he cultivated further in his sport, he also became familiar with the fact that he couldn't continue to conceal that he's gay.
"I lacked so much confidence about who I was. By then I knew I was gay. I knew I was closeted. And all I could do was train harder than everyone else. But it wasn't enough. I couldn't put my whole self into the sport. I'd train at a high level, I'd beat all my teammates in training, but I'd choke in competitions. Any self-confidence was absent."
In the Olympics, Mitchell excelled all expectations. In the quarterfinals, with only the top 50 jumpers qualifying for the next round, Mitchell came 49th.
The semifinals proved to be the end of the line for him, but at 17 - the youngest competitor then in the Olympic event of ski-jumping and one of the youngest Olympians at the Games - he exclaimed to be contented with his accomplished goal.
6. Ryan Ward (Acrobatic Gymnast)
Acrobatic gymnast Ryan Ward along with his partner Kiley Boynton secured a first for the U.S. by winning the Acrobatic World Cup mixed pairs event in Geneva, Switzerland.
One of the courageous and famous athletes who came out of the closet, Ward is publicly gay and the gold medal certainly helped him achieve an athletic goal. He now surely deserves his place among the top 10 famous LGBTQ athletes who came out of the closet.
Ward exclaimed: "Acrobatic Gymnastics is a combination of dance, strength, stamina, balance, flexibility, endurance, and beauty.
Acrobatic Gymnastics involves partner work where each person uses their 'partner' as apparatus (a little different than Artistic Gymnastics which is most commonly known and seen in the Olympics). Kiley Boynton and I have been working together for over three years."
5. Ramona Bachmann (Soccer)
Swiss World Cup soccer player Ramona Bachmann was courageous enough to be one of the famous athletes who came out of the closet and talk publicly about belonging to LGBT, allegedly for the first time.
Bachmann talked to Swiss publication Blick openly about her girlfriend, proudly announcing herself to be a member of the LGBT community and admit being in a lesbian relationship.
"I'm very open. I do not care if someone is with a man or a woman. In Sweden, we deal with this issue fortunately also very open and easy to."
She definitely deserves her place among the top 10 famous LGBTQ athletes who came out of the closet. Besides, she has also made her name one of the best female soccer players of all time.
4. Nathan Novosel (Basketball)
In the 2011-12 season, Nathan Novosel was the skipper of the Univ. of Rochester men's basketball team. While Novosel was with the team he was honored for his academic achievements.
He surely deserves his place among the top 10 famous LGBTQ athletes who came out of the closet.
Yet he was struggling with his recognition as a gay person. "It took me a long time to find a better motivator: happiness. My coming out coincided with being accepted into Teach For America and starting to teach third-grade math and science as an openly gay man.
It started to become clear to me how I could turn my once deepest shame into my strongest asset."
3. Chris Kelley (Rowing)
Rowing star Chris Kelley's coming out of the closet in the conventionally macho world of rowing was striking, but he has been adamant enough to produce safe athletic spaces at Ithaca.
Needless to say, Chris surely deserves his place among the top 10 famous LGBTQ athletes who came out of the closet.
"My name is Chris Kelley, and I've always sorta known I was different. I like athletic men in the bedroom sense.
At 15 I was gay, severely in the closet... ". he is one of the bravest athletes who came out of the closet.
2. Drew Allensworth (Cheerleading)
Cheerleading expert Drew Allensworth grew up in the rural part of Oklahoma, afraid of the disturbing notion that he could perhaps never come out.
Now that he is accepted by his fraternity and also the athletic department at the University of Oklahoma, this one of the famous athletes who came out of the closet is beyond relieved.
"Coming from a small town in Oklahoma, being raised on a farm and in church every Sunday, makes it pretty much impossible to be gay, right? Nope."
1. Anthony Pepe (Bowling)
Professional Bowler Anthony Pepe came out of the closet publicly on Facebook, taking it to a whole new level of boldness, assuring his followers that they were at their liberty to unfriend him if they were incapable of respecting the fact that he was gay.
"The text messages are unbearable so I mine as well share with you all. I've held back my entire life from who I am as a human being, was never truly happy because I was hiding my true authentic self.
During my adolescents, I thought about how it would be to not be on this earth anymore because no one would understand the pain I was going through. I can't believe I'm saying this after 26 years but God made me a beautiful, respectful, genuine gay man.
He also created everyone equally so if you can't respect me go ahead and unfriend me out of your lives."
Final Words
It's an informative list displaying a broad domain of sports. Certainly not meant to be exhaustive, so someone crucial was left off, do oblige to pitch in your own feedback here. And now, we hope that you liked our list of the top 10 famous LGBTQ athletes who came out of the closet.
Famous LGBTQ Athletes - Infographics