Top 10 Interesting Facts About Usain Bolt You Don't Know
January 11, 2021 By Sourav
---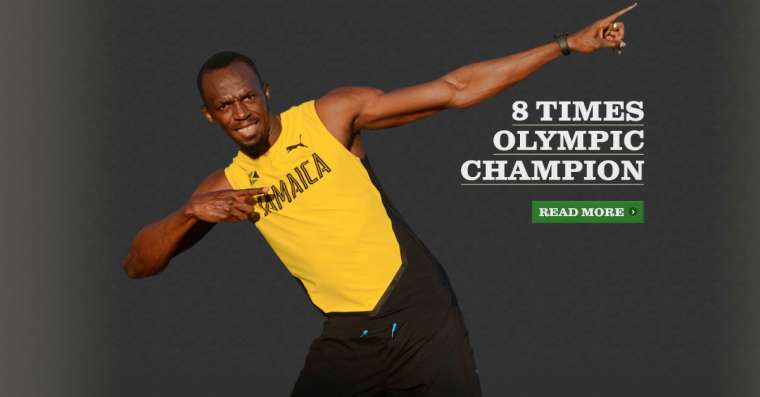 Usain St. Leo Bolt, the Jamaican athlete doesn't really require any introduction. Even if you are not a sports fanatic, you can still be sure you've heard of him because he is 'the ultimate human running machine'. Born in the year 1986, Bolt's success journey took off at the age of 15 when he won the 2002 Junior Kingston championship in Jamaica; the youngest ever to win the junior gold medal. This was the beginning of a very remarkable career that made him one of the biggest names in the world of sport. Even knowing a lot about Bolt, there is much more you aren't aware of, so here are the Top 10 Interesting Facts About Usain Bolt You Don't Know (most probably you don't know).
Interesting Facts About Usain Bolt You Don't Know
Over the years this Jamaican sports star has made and broken many records and has been accordingly awarded on several occasions. He is truly an inspirational Sports Person for all. Besides, each person in this world has also dubbed him as the greatest sprinter of all time. So without much ado, let's delve into 10 interesting facts about the fastest man on Earth – Usain Bolt:
10. His own Headphone Line, clothing line, and restaurant
Usain Bolt has a wide-ranging list of passions that he keeps ticking off every year. There's hardly a soul in this world who does not love music. Bolt along with Soul Electronics has launched two types of Bolt edition 'Run-Free' in-ear headphones. These apart, Bolt owns a restaurant named 'Tracks and Records' in Jamaica.
He also owns a clothing line, the Bolt Collection, which focuses on 3 target markets, one of which is the signature line of polo shirts etched with his trademark 'To Di World' pose. This fact surely deserves its mention among the top 10 interesting facts about Usain Bolt you don't know.
9. Earns at least $23 million per year
That is expectable considering he is one of the most marketable athletes. Bolt garners all this wealth through endorsement deals (with Puma, Virgin Media, Nissan Motors, Visa, Hublot, and Gatorade), prize money, government bonuses among other things. He had ranked among the highest-paid athletes in the world with estimated earnings of 23 million USD.
Bolt has a big heart and occasionally makes charity donations too. Following the 2008 Sichuan earthquake in China, he donated USD 50,000 to help the children of Sichuan province.
8. His own Apple app
Launched in 2012, for the users of Apple iOS phones, the 'Bolt!' game application quickly became the No. 1 application in Jamaica. Usain Bolt struck a deal with RockLive (a gaming company now known as Shorts Mobile, Inc.) and made an animated version of himself who has to, in the game, pass many challenges to win lightning sprinting speed.
In the year's Top Free Apps list, 'Bolt!' had managed to reach the No.2 position in the UK. The introduction of his own app surely deserves its mention among the top 10 interesting facts about Usain Bolt you don't know.
7. Nicknames
Among some of the small things that you might not be unaware of Bolt is that his fantastic achievements have garnered him the nickname 'Bolt from the Blue' by the media. Implying that this man's achievements are so striking that it hits the common phrase 'every man has a limit' right down to the ground.
Following his particular record-breaking stunt in New York, the Press came to call him 'Lightning Bolt' because a lightning storm had passed over the city just before the game was held. This one surely deserves its mention among the top 10 interesting facts about Usain Bolt you don't know.
6. Was powered by Chicken Nuggets before winning the Beijing Olympic
Every athlete has his or her own stress-busting mantra before plunging into the battlefield. It helps to keep their nerves tamed. Some listen to music, some sit around playing video games on their iPhones to get their adrenal pumping, some watch the game, some eat nutritious food and some eat chicken nuggets. Uh, wait, what?
In general, chicken nuggets cannot be considered healthy owing to the fact that it's deep-fried. The story goes that Usain Bolt's secret behind winning the 2008 Beijing Olympic 100 m men's final was chicken nuggets and yams. Sprinting enthusiast, take note of this, chicken nuggets diet is the secret to unforgettable performances.
5. Numerous Worldwide Firsts and other Records
Usain Bolt, as mentioned in the introductory paragraph has made many records and broken several early records including his own. He is the first athlete to have won both the 100 m race and 200 m race simultaneously. Also, the first athlete to win 6 gold medals in sprinting. Bolt has been a very successful 200m runner, winning several titles to his name. An eight-time World Champion in sprinting, Bolt had also created a record in the 4X100 meter relay race.
Bolt is the first man to achieve the 'double-double' (by winning both 100m and 200m games in 2008 and 2012 Olympics consecutively), as well as the 'double triple' (which, along with the 100m and 200m wins includes the 4X100m relay race). This achievement also deserves its mention among the top 10 interesting facts about Usain Bolt you don't know.
4. Wants to play for Manchester United
He had been passionate about football since his childhood days. It is very apt that he wants to play for his favorite football team. Bolt has been a long-time Manchester United fan and had said he wishes to play for Man Utd when he retires. Previously he had admitted to being a fan of Dutch striker Ruud Van Nistelrooy. Back in 2012, Bolt said "If Alex Ferguson called me up and said: 'OK let's do this, come and have a trial,' it would be impossible for me to say no. I would not take up the challenge if I didn't think I was good enough. I am a very accomplished player and know I could make a difference."
Initially, people thought he was kidding but unknown to many Bolt had a long-time ambition to play for Man U. Following this, rumors have it that Ferguson wanted to set him up with Manchester United against Real Madrid in a charity game. This fact also deserves its mention among the top 10 interesting facts about Usain Bolt you don't know.
3. Cricket was his first sports choice
During his rugged childhood, he spent most of his time on the streets of an insignificant town playing cricket and football. Cricket was Bolt's first choice and fast bowling was his passion. It was while bowling that his coach noticed his real itch. Bolt really loved sports and being a part of it, so when his cricket coach recommend him to switch sport, he happily went on to track racing. In the past Bolt has voiced his lifelong admiration towards one of the greatest fast bowlers, Waqar Younis, back then he was an ardent supporter of the Pakistani Cricket Team.
He also heartily spoke of his admiration towards the unstoppable Chris Gayle, 'Little Master' Sachin Tendulkar, and the Australian opener Matthew Hayden. This Jamaican sprinter had once even clean-bowled Chris Gayle during a charity match. Genius! Without any doubt, this fact also deserves its mention among the top 10 interesting facts about Usain Bolt you don't know.
2. Broke record wearing untied shoes
Early in his career Bolt was so nerve-wretched by all the expectations hanging over his shoulders like a blade that in a game, he ended wearing shoes on the wrong feet. Since then he vowed never to succumb to pre-game jitters. In the 2008 Beijing Olympics, Usain Bolt won the 100 m final within a groundbreaking record of 9.69 seconds.
He did this while his shoelace had come untied at some point during running. And that is not all, according to the theoretical astrophysical studies made by the University of Oslo researchers, Bolt could have finished in 9.60 seconds time, had he not slowed down to celebrate his obvious win before reaching the finishing line.
1. His notoriously famous victory pose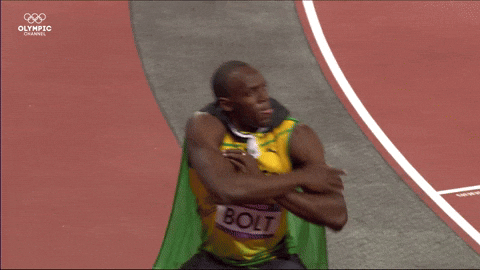 Known as 'Bolting', his signature pose is seen after every win on the race track. That pose can also be interpreted as a dedication to his millions of fans who had prayed, urged, and supported him to win. This is why sometimes the 'lightning' pose is warmly referred to as the 'To Di World' pose. He probably introduced it during the Beijing Olympics 2008 which encouraged instant mimicry around the world. Researchers opine that there is more to Bolt's power pose.
Certain poses and stances can cause a burst of testosterone that helps one feel confident and de-stressed. Cool body movements and gestures, without doubt, affects how other people perceive us and can even often affect our own thought processes. "There's not as much separation between body and mind as we once thought," said Sian Beilock, a psychology professor at the University of Chicago. The image of the pose considered to be one of the greatest sports photos of all time.
More to add in the 'top 10 interesting facts about Usain Bolt you don't know', suggest to us in the comments section below.