Brad Underwood Biography, Career, Net Worth, Salary, Personal Life, Family, And Other Interesting Facts
June 19, 2021 By Sourav
---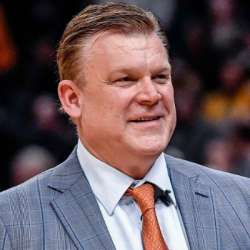 | | |
| --- | --- |
| Real Name | Bradley Cole Underwood |
| Nick Name | Brad Underwood |
| Profession | Basketball Coach |
| Nationality | American |
| Birth Date | 14-12-1963 |
| Age | 57 |
| Gender | Male |
| Birth Place | McPherson, Kansas, United States |
| Zodiac Sign | Sagittarius |
| Religion | Christian |
| Address | 1800 South 1st Street, Champaign, Illinois (Fighting Illini) |
American basketball coach Bradley Cole Underwood, famously known as just Brad Underwood, is a well-known name in the college basketball scene in the United States. He is currently serving as the head coach of the Illinois men's basketball team, Fighting Illini. However, he previously served as the head coach of several great college basketball teams including Oklahoma State Cowboys, Stephen F. Austin Lumberjacks, and Dodge City Community College.
Brad Underwood Biography And Other Interesting Facts
Before joining Illinois, he also worked as the head basketball coach at the Daytona Beach Community College. Underwood also worked as the assistant basketball coach for several amazing college teams including Western Illinois Leathernecks, Kansas State Wildcats, and South Carolina Gamecocks. According to several basketball pundits and critics alike, he is one of the best basketball coaches ever to grace the arena.
Brad Underwood Basketball Playing Career
Underwood started playing as basketball shooting guard during his college days at Hardin-Simmons University. However, he joined the Independence Community College after his freshman year at Hardin. He has achieved an average of 17 points per game during his sophomore year and helped the team to become the runners up at the NJCAA Men's Division I Basketball Championship.
Underwood opted for a recruiting visit at the Oklahoma State University during his sophomore year. One of the best NBA players, Bill Self, was his host at that time in Oklahoma. However, he opted for Kansas State University instead during his senior year. He mainly played under the guidance of the then-head coach, Jack Hartman.
Brad Underwood Early Coaching Career
During his time as a graduate student at the Hardin-Simmons University, Underwood started working as a coaching assistant in the 1986-87 basketball season. And in 1988, he joined as the head coach of the Dodge City Community College. After coaching there till 1993, he joined the Western Illinois University as the assistant of then-head coach Jim Kerwin.
After spending his time for ten seasons in Illinois, he joined the Daytona Beach Community College in 2003. During his stint from 2003 to 2006, he has achieved the Mid-Florida Conference Coach of the year award twice. He then joined the Kansas State in 2006 and worked as the assistant of both Bob Huggins and Frank Martin. Underwood then moved to South Carolina as the associated head coach in 2012.
Brad Underwood Head Coaching Career
He joined the Stephen F. Austin. Lumberjacks as their head coach on 30th April 2013. During his debut season, Stephen F. Austin achieved a perfect 18-0 record and also achieved the Southland Conference regular-season championship. Besides, Underwood also achieved the Southland Coach of the Year for his performance. With that performance, Lumberjacks also achieved their place in the NCAA Men's Division I Basketball Tournament in 2014.
However, they lost against UCLA in the main tournament after defeating VCU Rams. Underwood again achieved the Southland Conference tournament during his third season. Besides, he again achieved their place in the NCAA Tournament. He achieved a brilliant win against the West Virginia Mountaineers, coached by his former head-coach Bob Huggins.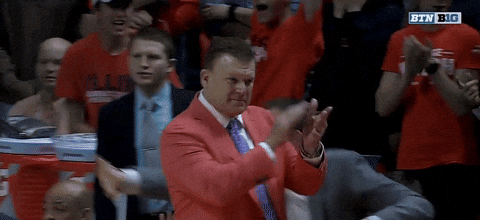 Brad Underwood Recent Career
Underwood joined the Oklahoma State University as the head coach on 21st March 2016. During his debut season, he led the Cowboys to achieve a 20-13 record. However, he eventually lost to Michigan in the NCAA tournament on 17th March 2017. He joined the University of Illinois as the head coach on 18th March 2017. He previously signed a three-year contract, although he recently signed a six-year contract extension on 2nd March 2020.
Brad Underwood Family
Born on 14th December 1963, Underwood spent his childhood in the McPherson city in Kansas, United States. He attended Kansas State University and graduated in the Television and Radio communication in 1986. After dating for a couple of years, he married Susan Underwood. The couple now has three children together, Tyler Underwood, Katie Underwood, and Ashley Underwood.
Brad Underwood Net Worth
According to the recent financial reports, the current net worth of Brad Underwood is estimated to be around $10 million as of the 2021-22 college basketball season. He previously signed a six-year contract worth $18 million with Fighting Illini. However, he currently gets around $3.4 million yearly salaries as the head coach of the Illinois men's basketball team.
Brad Underwood Award
Underwood participated in the Southland Tournament three times in his coaching career until now. Besides, he also helped his team to achieve the Southland regular-season championship three times consecutively from 2014 to 2016. However, he also has personal accolades that are as follows.
Southland Coach of the Year: 3 Times
Joe B. Hall Coach of the Year: 2014