If a professional game lacks scandals then it can be considered incomplete. Every sport brings glamour with which come scandals that make viewers stay glued to the screen. If tennis is your favorite sport and you are still unaware of the scandals that occurred in this game, below is a list of Top 10 Biggest Tennis Scandals In History just for you. Read on.
Biggest Tennis Scandals In History
10. The car chase of Bernard Tomic
Bernard Tomic, tenis star loses license
Bernard Tomic and his need for speed in his yellow sports landed him into hot water with the police. The chase was not long but the interrogation with the police lasted three hours straight! This incident now holds its place among the top 10 biggest tennis scandals in history.
9. A not-so-lovely encounter of Boris Becker
One of the greatest tennis players of all time, Boris Becker, couldn't keep himself from the ladies and what he calls a mere encounter landed him to become the father of a daughter. London restaurant was the place of the encounter to be exact.
8. Suspicious betting of Nikolay Davydenko
Nikolay Davydenko was caught putting stakes in a bizarre match which led him to get the law enforcement involved as well. With this, you can conclude that being a millionaire is probably not enough for some people.
And now, this incident has earned its place among the top 10 biggest tennis scandals in history.
7. Wayne Odesnik caught in smuggling
Wayne Odesnik Banned - Tennis Now News 05/19/2010
Tennis star Wayne Odesnik not only made use of the growth hormone but started selling it to a few of his customers. When brought to interrogation he denied it thereby digging the hole, which he was to fall in, a lot deeper.
6. David Nalbandian kicked a line-judge 'by accident'
David Nalbandian kicks a line judge
David Nalbandian, always involved in some controversy or the other, lost the final match of Queens in 2012. The frustration got to him so bad that he ended up kicking a line judge 'by accident'.
5. Bill Tilden imprisoned -- Not once but twice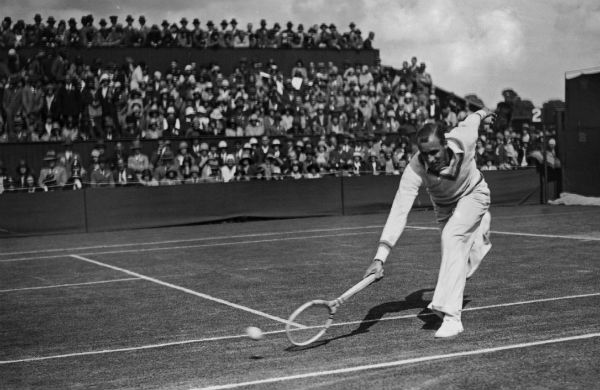 Tennis player Bill Tilden, a proud winner of 10 grand slams, sentenced to imprisonment for his sexual relationship with a male skin trader. The next time he was found groping a male hitchhiker leading him to the gates of the jail for the second time. This still dubbed as one of the top 10 biggest tennis scandals in history.
4. The Second Marriage of Bjorn Borg
Bjorn borg's ex says ace was the love of her life as mcenroe clash film released
One of the most successful tennis players in French Open, Bjorn Borg, married Loredana Berte who then became his second wife. Berte was an Italian rock star who appeared half-covered with her bare body covered in glitter. This story still dubbed as one of the top 10 biggest tennis scandals in history.
3. Roseleena Blair banned for posing
Women's Tennis - Hype vs UNC
Amateur tennis player Roseleena Blair, a student at the National Collegiate Athletic Association, was suspended when she was found posing for Playboy, the edition for Sports. The authorities informed that it was against their policies for an athlete to be paid directly or indirectly for their athletic skills.
2. Flavia Pennetta caught his boyfriend cheating
When Flavia Pennetta found out that her boyfriend, Carlos Moya, cheated on her with a television presenter, she could not stop but brag about how it all had hit her hard. She went on and on about how it had made her numb and she had lost the taste of life. That now cited among the top 10 biggest tennis scandals in history.
1. The unrealized filming of Francesca Schiavone
francesca Schiavone dopo . . .
Francesca Schiavone was probably thinking sex, the evidence of which was captured as she made gestures to a spectator during her changeover. There are countless footages of this Tennis Scandal available on YouTube which can be viewed for confirmation. This scandal now holds its place among the top 10 biggest tennis scandals in history.
So, here is our list of the most infamous scandals in tennis history. We hope you liked it. Don't forget to send us your opinion in the comment box down below.