Top 10 Best Sports Anime Series of All Time
January 23, 2021 By Sourav
---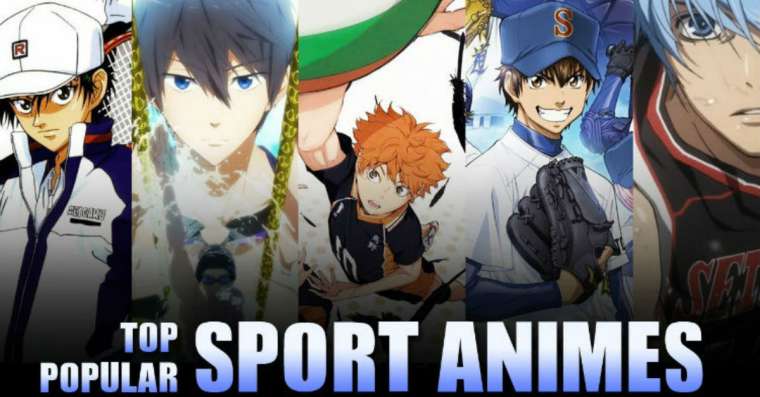 Anime which refers to Japanese hand-drawn or computer animation is a global phenomenon. Animes have been nominated for Oscars and their movies have grossed millions across the globe. Due to localization, it was initially available to only the Japanese audience, but it was soon dubbed and reached the western shores from where it became popular in the entire world. Though most of the popular animes like Naruto and Dragonball Z are of the action genre, sports animes are among the best animes ever made. Here we countdown the Top 10 Best Sports Anime Series of All Time.
Best Sports Anime Series of All Time | 2021 Updates
10. Yowamushi Pedal
At number 10 in the top 10 best sports anime series of all time, we have Yowamushi Pedal. This anime is about cycling and though it sounds kinda boring, stick with it and you will be in for a surprise. It's about an otaku (person obsessed with anime) who has no friends who discover in high school that he can an uncanny talent for cycling.
It does not only do a good job in explaining the world of cycling but also through its exciting races makes the viewer understand the underlying strategy and tactics involved in cycling. Who knew cycling was so deep right?
9. Captain Tsubasa
No Sports anime list is complete without this one. Captain Tsubasa is to sports anime what Dragonball is to action; this is enough to signify its importance. It follows the story of 11-year-old Tsubasa who joins a new school and soon becomes an integral part of its soccer team and his journey to join the national team.
This anime-inspired a generation of kids to get out of their houses and enjoy the game. This film now deserves its place among the top 10 best sports anime series of all time.
8. Eyeshield 21
At number 8 in the top 10 best sports anime series of all time, we have Eyeshield 21. It is the only anime that focuses on American Football and it does a great job in explaining the game and its rules. The story is about Sena, a weak and coward high school student who in his years of escaping from bullies has become unbelievably fast.
This is noticed by the soccer captain of the school who puts Sena in the team and makes him wear an Eyeshield with number 21, making him the mysterious Eyeshield 21 who shocks everyone with his blazing speed.
7. Diamond no Ace
At number 7 in the top 10 best sports anime series of all time, we have Diamond no Ace. It's a baseball anime and follows the story of Sawamura who is recruited by a strong baseball school because of his moving fastball and deals with his ups and downs in his new team, his rivalries, and his journey to win the nationals and become the ace pitcher of the team.
Fast-paced, awesome characters, thrilling matches, and funny moments, this is a must-watch.
6. One Outs
At number 6 in the top 10 best sports anime series of all time, we have One Uut. It's a sports anime like none other because it's a psychological thriller sports anime, yes you heard that right! It's about a gambler who is the undisputed king of a gambling form of baseball called One Out and is recruited into the team Lycaons under a unique contract.
For every batter, he gets out he earns 5 million yet but for every run, he gives he pays back 50 million yen. What follows is a psychological battle that feels straight out of Christopher Nolan's movie.
5. Major
At number 5 in the top 10 best sports anime series of all time, we have Major. This baseball anime follows the story of a young kid Honda Goro who follows his father's footsteps to become a pitcher with a dream to play in the Major Leagues.
It follows the story from little league to high school, to clubs and shows the entire journey from Honda that is joyful, emotional, heartbreaking, and overall satisfying. This anime focuses more on the story of Honda than the technicalities of the game but we don't complain because the story is just too good.
4. Haikyuu!!
At number 4 in the top 10 best sports anime series of all time, we have Haikyuu!!. This anime is on volleyball and damn is it fun. Fast-paced, funny, great character development, and flashy moves with great animation are what this anime is about.
The story follows the journey of Hinata, a short high school player who wants to become a great speaker like his Idol "The little giant" (another short but great volleyball player). The story is about how he makes up his disadvantage in height by explosive jumping power.
3. Kuroko no Basket
At number 3 of the top 10 best sports anime series of all time, we have Kuroko no Basket. This basketball anime is one of the most popular animes right now. Though it's a bit unreal with all the special powers and crazy moves but is what makes it even more fun to watch.
With well-distinguished characters, fast pacing, great story, and superb animation, this anime has already acquired cult status. Revealing anything about the story will be a potential spoiler but rest assured that it will hook you up from the first episode itself so just watch it already.
2. Slamdunk
At number 2 of the top 10 best sports anime series of all time, we have Slamdunk. This basketball anime is one of the older animes on the list. It has outdated animation but is still one of the best animes ever due to its great characterization. This series also has a great story, pacing, and comedy.
It follows the story of Sakuragi who was rejected 50 times by girls in middle school. In order to win the heart of a girl, he enters the Basketball team of his school. Though initially, he is a cumbersome player he soon evolves to become the core of the team. This is a cult anime for all anime watchers.
1. Hajime no Ippo
At number 1 in the top 10 best sports anime series of all time, we have Hajime no Ippo. The fight for the top spot was pretty tough as all the animes in the list are great. However, there has never been an anime so inspiring and uplifting than Hajime no Ippo. This boxing anime follows the story of Ippo, a kid who doesn't have many friends.
He spends his time helping his mom who faces bullying but a chance encounter with a boxer instills the desire in him to become one and what follows is one of the best underdog stories ever told. Enough said.
So these were the top 10 biggest sports anime you need to watch. Feel free to share your thoughts in the comments down below.