Top 10 Best Indian Athletes You Probably Haven't Heard Of
November 7, 2021 By Sourav
---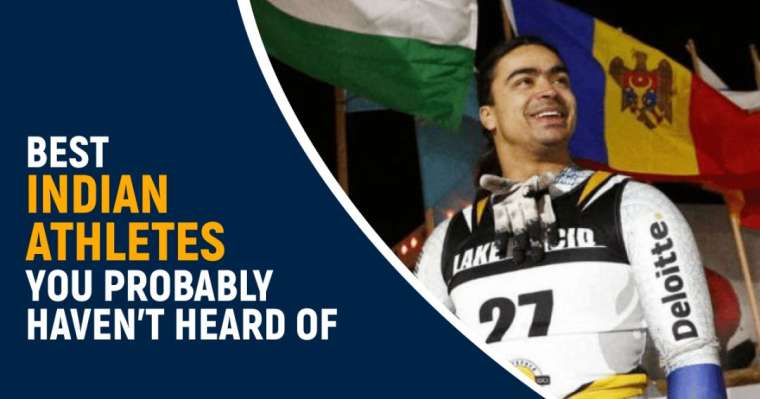 Unsung they maybe, but not entirely forgotten. Hey, there won't be this article if these guys were absolutely forgotten. Sure people didn't part like the Red Sea when they walked into the room but nonetheless, these 10 men were a bunch of ass-kicking athletes! Let us take a look at the Best Indian Athletes, who didn't get it into the limelight scene.
Best Indian Athletes You Probably Haven't Heard Of
Ghulam Muhammad or The Great Gama (Wrestling)
This badass athlete, also known as 'Gama Pahalwan', has had a reputation of being undefeatable in a career spanning over half a century. Kind of reminds me of Rocky Marciano, the champion heavyweight boxer who also remained undefeated throughout his career.
During his 'Pahelwani' career Gama had won some spectacular matches. To mention a few, his first encounter with Raheem Bakhsh Sultani Wala, where Raheem was expected to blow him off in a single breath, was a draw.
Then again in 1910, having defeated all the prominent Indian wrestlers he sailed to England and went straight to challenging the Western Wrestlers on their face. He ended up winning the John Bull Belt. From then on, Gama was entitled to Rustam-e-Zamana or the World Champion.
Interesting fact: Bruce Lee is a Gama fanatic and a sucker of all-articles-written-on-Gama. For years now, Lee has been following Gama's training routine.
Leslie Claudius (Field Hockey)
This one among Indian Sportsmen was initially interested in Football until he got spotted by a renowned Indian Field Hockey player (lucky him). Following Claudius's induction into the Bengal and Nagpur Railway hockey team, they entered the Beighton Cup and finished in the second position. Claudius gave up Football then and there.
While he was a member, the Indian Hockey Team won the Olympic gold in 1948, 1952, and 1956 and silver in 1960. Later he also found himself wearing the captain's hat and becoming one of India's greatest hockey players. He now holds his place among the top 10 best Indian athletes you probably haven't heard of.
Khashaba Dadasaheb Jadhav (Wrestling)
Coming from a home where wrestling was the first priority on any given day, Jadhav made his parents proud like hell when at the age of 8, believe it or not, he defeated the local champion in just 2 minutes. Jadhav got national recognition for winning a bronze medal at the 1952 Summer Olympics, becoming the first Indian to have won it.
And for the next half a century, this achievement remained unbroken until Leander Paes managed to win a bronze in the 1966 Summer Olympics. He now holds his place among the top 10 best Indian athletes you probably haven't heard of.
Paan Singh Tomar (Running)
Not as unknown as the rest of his fellow sportsmen in this list, thanks to the Irrfan Khan starer 'Paan Singh Tomar' (2012) film. This man had one heck of a life journey – from a soldier to an international sportsperson to being a dacoit.
When in the army, in the 1950s and 60s, he was a national-ranking athlete. For seven consecutive years, Tomar won the national champion of steeplechasing. Being a celebrated as well as gifted athlete, the Indian government thought it wise for Tomar to not participate in the 1962 and 1965 wars.
And you'd be surprised to know that for the last 10 years, there remains a national record of 9 minutes and 4 seconds in the 3000-meter steeplechase which was made by Tomar, still waiting for someone to break it. And for his contribution, sprinting events also became one of the most popular sports in India.
Shankar Laxman (Hockey)
The great Shankar Laxman is a sad story. To think of a sportsman who had achieved such success as an athlete but died with poverty tugging at one of his leg and gangrene at another. It's just plain sad. But, he now holds his place among the top 10 best Indian athletes you probably haven't heard of.
Now, if you're done mourning then let us seize this moment to remember this kick-ass athlete. First off, Laxman was a goalkeeper of the Indian hockey team in the 1956 Olympics when the team had won gold, in the 1960 Olympics when the team had won silver, and again in the 1964 Olympics when the team had won gold.
Laxman was the first goalkeeper ever to have become captain of an international hockey team and under his leadership, the Indian hockey team had won the 1966 Asian Games. Laxman has been a recipient of the Arjuna award and the Padmasri from the Indian government.
Bir Bahadur (Footballer)
Endearingly called the 'Forward Cheetah', Bir Bahadur was an amazing Indian footballer. He had represented India in the 1966 Bangkok Asiad. Fans still know him for his incredible dribbling skill that struck terror in the hearts of his opponent. Once this powerful kicker caused the Mohan Bagan goalkeeper to fall back and fracture his shoulder and it was after this match that he got his entitlement, the 'Forward Cheetah'
Bahadur's successful career began at the age of 14 when he was chosen as the captain of his school football team. He went on to join the army and started playing for the Services.
Apart from appearing in a number of national-level matches, including the DCM Trophy, Rover's Cup, Santosh Trophy, and Durand Cup, in 1962 he had scored a hat-trick against Denmark at the Lal Bahadur Stadium. Though the Indian team had lost in the quarterfinals of the Bangkok Asiad, Bir Bahadur's contribution and talent were lauded by football fanatics.
A. Maria Irudayam (Carrom)
Apart from the fact that A. Maria Irudayam had won the Indian National Championship nine times, he has also won the World Carrom Champion twice. So far, Irudayam is the only carom champion to have been honored with the Arjuna Award in 1996 by the Indian government.
In his international career, he has won numerous matches. He also became a crucial member of the Indian team, winning championships and bringing glory to the mother nation.
The 1990s were his heyday when he'd ended up in one of the top three positions at almost every match he participated in. Interestingly he has won both the single and double matches twice in 1991 and in 1998 at the SAARC Carrom Championship.
Shiva Keshavan (Luge)
Keshavan is one Luge record-making Indian Sportsmen and a keen promoter of Luge in India. He isn't just the first Indian to compete in Luge at the Winter Olympic Games but is also a 5 times Olympics participant.
Born to an Indian father and an Italian mother, Keshavan picked up Luge at the age of 15. And since then, he has never looked back. He has won gold twice, silver once, and bronze twice in the Asian Cup. He has been a nominee to the Arjuna Award and Parshuram Award in the year 2012. Keshavan holds an Asian speed record at 134.3 km/h. And in 2012, he managed to set a new Asian track record at 49.590 seconds.
Interesting fact: Keshavan became an overnight sensation following an incident where during a training session he fell off his sled but climbed back and completed the run. Once the video of the incident reached the Internet, people went gaga over this young athlete. Interesting man!
Mohammad Nissar (Cricket)
Arguably hailed as one of the fastest bowlers in the world of Indian Sportsmen during his time (i.e. pre-India-Independence). He first came into the limelight in 1932 when the Indian cricket team went for the England tour. Nissar became the first man to take a wicket for India on international ground. During the tour, the Indian team played a number of matches. And, Nissar rose like a star with 71 wickets at an average of 18.09.
To his credit, the media compared him to the daunting English cricketer Harold Larwood. He became famous for terrorizing the Australian team in 1932 via Bodyline tactics. Nissar played with his contemporary cricketer Amar Singh. And together, they basically did a lot of smashing of the opponent team's batsmen. Today Nissar is fondly remembered as the first cricketer of Pakistan (he migrated to Pakistan during the partition of 1947). He also became famous as one of the founders of the Pakistan Cricket Board (PCB).
Interesting fact: Mohammad Nissar had correspondence with significant leaders of both Pakistan as well as India. Currently, a memoir of him is being compiled. These include letters from Mahatma Gandhi, Mohammad Ali Jinnah, and Lord Mountbatten of Burma.
Jimmy George (Volleyball)
He not only became the first professional volleyball player in India but also played for a club in Italy. Starting from the age of 16, Jimmy had represented Kerala State Team around nine times.
He later played for various clubs in Abu Dhabi and Italy. And in between, he played for India's national volleyball team in the Asian Games in Tehran (1974), in Bangkok (1978). Besides, he also played in Seoul (1986) where India managed to secure the bronze medal.
Under Jimmy's leadership, India had won the Gold Cup International Volleyball Tournament at Hyderabad. And just so that you know Jimmy was also the youngest volleyball player to have received the Arjuna Award. He now holds his place among the top 10 best Indian athletes you probably haven't heard of.
Conclusion
Can you name some other best Indian athletes, who were good enough but couldn't get the deserved limelight? Send us your answer in the comment box below.
Best Indian Athletes - Infographics