Cricket is counted reasonably as one of the best sports games which are immensely popular all over the world. Even people from every age group love to play this game. Due to some unprecedented reason, if you're not able to play this game formally on the field and looking for some best HD cricket games for Mac, Windows 7 and 8 PC fine for your taste, then keep reading. Below in this article, we're going to mention some of the best Cricket Games for Windows 7, 8 and Mac PC.
Top 10 Best Cricket Games for Windows PC
The online games and PC games earn their places in the heart of Gen-X. As young kids are now more attracted to the virtual world rather than the real world. And after the start of 20-20 leagues such as IPL and Bigbash, every fan of cricket wants to try their hand on the online or pc Cricket games. Quite undoubtedly, it gives its players the real feel of the excitements and thrill of playing cricket.
EA SPORTS Cricket 2005
Cricket 2005 India vs Australia 10 over match 1st Innings
EA SPORTS Cricket 2005 featuring popular and most notable international teams and also bonus squads to keep them company, in which you can now play passionately with domestic teams and compete in countries like England, Australia, New Zealand, and South Africa. The all-new Twenty20 tournament will soon be fully licensed with season modes also making an appearance on offer.
The developers have done their utmost best to give a real feel of the cricketing experience, field position editor will allow for auto or manual fielding. This is a true addition to the list of the top 10 best cricket games for Windows PC.
Brain Lara International Cricket 2005
Brian Lara International Cricket 2005 PC Gameplay | 1080p
In the next game of the Top 10 Best Cricket Games for Windows PC, you can play as England, Australia or the West Indies contesting a one-day warm-up of six over that are played at one of the biggest cricket stadiums -- "The Oval".
Test your skills with a flavor of crazy and try smashing the ball to every side of the boundary just like the legend Brain Lara loves to do in the field and check how you are able to beat the Aussies Again!
Brian Lara International Cricket 2007
Brian Lara International Cricket 2007 - ICC CRICKET WORLD CUP 2007
Brian Lara International Cricket 2007 effectively focuses on the shorter, one-day events of the very sport. This game also released as Ricky Ponting International Cricket 2007 in some areas. Play through the ICC Cricket World Cup, with all of the 16 finalist teams from the 2007 tournament.
The game deserves praise for its dedication to ICC World Cup mode. It earns its spot among the most popular and best cricket game out there, making it to the list of the top 10 best cricket games for Windows PC.
EA SPORTS Cricket 2007
How to take all 10 wickets in EA Sports Cricket 2007 Hardest Level ?
The gaming giant EA Sports released the Cricket 2007 game as a recent and elegant update of the previous Cricket 2005. It earns its place in the cricket game world as a great reflection of EA Sports Cricket 2005 with some refined additional features. Now players can enjoy full control over their foot choice, shot, direction, power, and timing. All of the movements are governed by the use of both analog sticks.
A back or front foot stroke is technically selected with the left stick, then shot timing and direction are effectively judged with the right stick. It is a reasonable addition to the list of the Top 10 Best Online Cricket Games (video) for Windows PC.
International Cricket Captain 2012
International Cricket Captain 2012 (PC) - Review and Gameplay
This cricket game featuring South Africa tour of England with intensely action-packed series of International and domestic fixtures. Whether you sincerely enjoy the ultimate challenge that test matches offer or the cutthroat and crazy world of twenty over cricket, International Cricket Captain 2012 returns successfully with new leagues and offers you the chance to conquer at both international and domestic levels. And not to say, it also achieves its place among the cricket games for pc free download full version.
Cricket Coach 2012
Cricket Coach 2012 (PC) - Review and Gameplay (NEW)
The Cricket Coach 2012 is one of the leading cricket simulations for Windows PCs and Macs. This game features a realistic match engine and very detailed strategy options. Quite undoubtedly, the Cricket Coach 2012 earns its place as the ultimate companion for any dedicated cricket fan. A game featuring correct and precise future tours including England's series against West Indies and also South Africa.
Revamped player database with the inclusion of 1000 entirely new players from every corner of the globe and in an anticipated fashion the game also featuring both Indian & Australian T20 franchise leagues with the player auctions, hence it's a viable addition to the list of the Top 10 Best Cricket Games for Windows PC.
International Test Cricket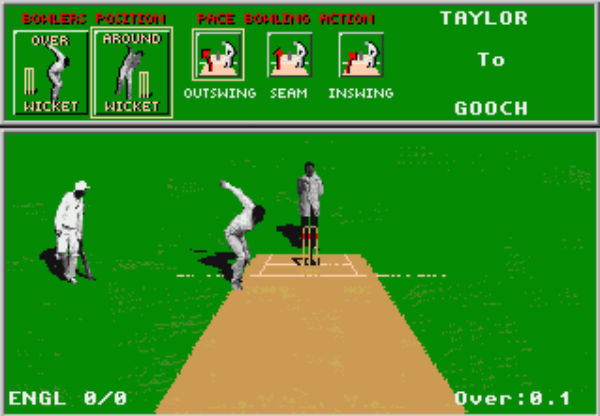 The International Test Cricket game is an immensely accurate statistical based Cricket Test Match computer game for Windows. If you are searching for a manager type cricket game more than the action itself, then this is the option to go blindly. So tweak your strategy in an efficient manner. And don't forget to monitor your results until you find the killer team that will intimidate the opponent. Quite obviously, this game earns its place among the best cricket games for pc list.
Ashes Cricket 2009
Ashes Cricket 2009 PC Gameplay | 1080p
The Ashes Cricket 2009 deserves its place in this list and also among the top 10 best cricket games for pc windows 7. Popular Transmission Games first developed this game in 2008 and Codemasters released this game in the UK. Atari also took its part in the game and released it in Australia. It is a tribute to the famous Ashes series.
The game includes an intuitive and interactive bowling control scheme and dynamic and instinctive batting, with greater coverage and more shot choices than previous games. The game also features official Hawk-Eye visualizations during the span of the play.
Cricket 97
EA Cricket 97 Ashes Tour Edition
Cricket 97 quite undoubtedly earns its spot in the list of top 10 best cricket games for pc free download. The developer of this game first released the edition in 1997 as a sequel to the Cricket 96. This game comes with improved graphics with fascinating three-dimensional stadiums (though players remained rendered as sprites).
The first time provided commentary from the cricket legends Ritchie Benaud and Sir Ian Botham. But the game, unfortunately, did not feature real player names as they did with previous games in the series.
Stick Cricket
Division 1 Final In Stick Cricket Super League
Stick Cricket earns the top place in the list of the top 10 best cricket games for pc online. It also earns the feat to be the legendary number one website for the genre of flash cricket games. Try out our All-Star Slog cricket game or indulge yourself to play Stick Cricket with your buddies on our new multiplayer cricket game. And of course, don't forget to share it with all your cricket fanatic friends who might love it just the same!
These are the top 10 best cricket games for pc 2020. Which of these are your favorites? Or, do you think some other names should be on this list? Let us know in the comments below about the Best Cricket Games you have played!