4 Basketball Essentials That Every Player Must Have
May 20, 2021 By Admin
---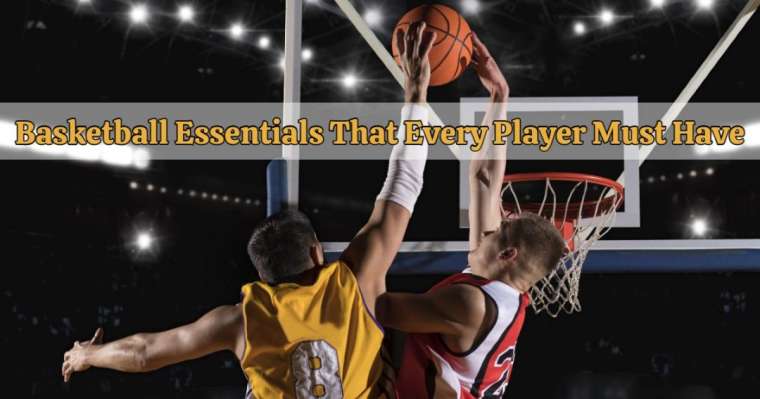 Basketball is a fun sport to play, but it does require some special equipment if you want to be successful. Every player needs to make sure their body has the proper basketball essentials to play the best possible game.
Every Hooper's Must-Haves
1. Basketball Shoes
2. Jersey
3. Ball
4. Training Aids
There are a lot of hooping essentials every player should possess in the wardrobe to help them improve their game and ensure their safety while playing. These can range from shoes, jerseys, shorts, socks, and more. Here are a few things every player needs to be at the peak of their performance.
1. Basketball Shoes
As with any sport, if you want to excel, you need to have the proper footwear, and this includes having a good pair of basketball shoes. Although there are numerous brands and models for this, choosing the best one could make all the difference.
There are many aspects to consider when purchasing basketball shoes. To start with, you should know the size of your feet. It'd be ideal if you can try on a few pairs before buying, so you can compare the fit. Never buy a pair just because they look good or cheap because you might get injured if it has an inferior quality.
Your choice of basketball shoes also depends on the level of your skills. Those who are just starting to learn may opt for low-top sneakers, so they don't put much strain on their knees and ankles. If you're an advanced player, then you can consider getting something with extra support. The most common styles of shoes for these kinds of players are those with a steel toe for durability.
2. Jersey
Players need well-designed jerseys they can be comfortable with while running and shooting. When buying basketball jerseys, the most important thing to consider is the material they're made of. You'll want to make sure you get something fitting properly.
On the other hand, you may have to invest in a pair of shorts with built-in ventilation. Although you'll spend a bit more money when you buy custom uniforms, you'll find out it's worth it since you'd be getting the best quality available.
3. Ball
You might be wondering what kind of ball you need to play the game. The first thing you'd want to consider when choosing your hooping ball is the size and weight. It's essential to use standard-sized basketball, so you can get the actual feel of it when you dribble and shoot.
The next thing you'll want to think about is where you'll play. There are many different basketball courts you can be in. Some materials aren't appropriate for outdoor courts while some aren't efficient when used indoor.
It's essential to determine the material used since the friction on the floor can damage the ball's surface. You can choose a ball made of leather, rubber, or a hybrid of both. Having a ball can be a considerable investment, so be careful about how you decide to buy one.
4. Training Aids
There are many sports training platforms available today aiming to help people improve their hooping skills. When you do these programs, you'll also need some training aids. These are essential basketball items you should have to improve your game. Here are some you can use:
Ball hogs

Agility ladder

Jump rope

Resistance bands

Agility hurdles

Disc cones

Dribble Stick

Resistance sprints
The purpose of these training aids is to optimize your skills and enhance your overall physique to perform better during the game. Many basketball coaches use these to ensure their players are in top shape.
Summary
If you want to play like the hottest NBA players today, you need to have the essential tools to be at the top. The first thing you should have is a good pair of basketball shoes. It's necessary to buy the appropriate shoes because these will absorb the impact when you make powerful movements on the court. You need to ensure the pair is made of high-quality materials and is a good fit for your skills and size. It'd also be best if you choose a good pair of basketball jerseys to make you more comfortable on the court.
Basketball training is essential if you want to develop. With this, you need a good quality ball and training aids to practice and improve. The aids are also critical to make you physically fit in running up and down the court. Take into consideration the items mentioned here and invest in these to be the best hooper you can be.