Top 10 Best Neymar Hairstyle 2021
March 14, 2021 By Sourav
---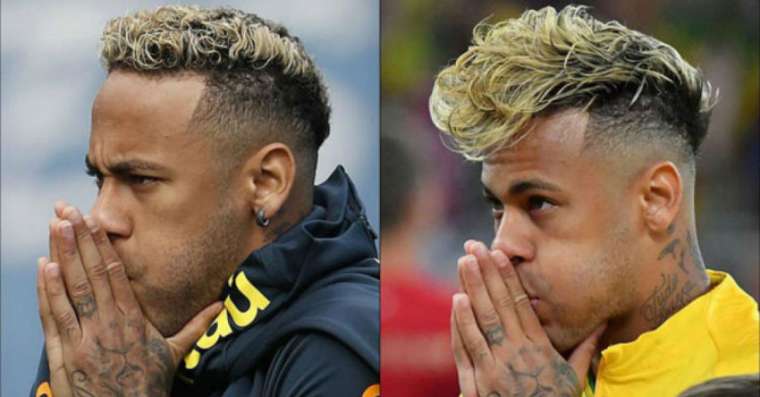 Neymar Jr. or Neymar, as he is popularly called, is one of the best soccer players of today. He was born on the 5th of February 1992 at Mogi das Cruzes in Brazil as Neymar da Silva Santos Júnior. Neymar is now the captain of the national soccer team of Brazil and is also a part of PSG. He holds the position of winger or forward and bears the number 10 on his jersey. Here goes a detailed article about some of the best Neymar Hairstyles in 2021.
Neymar and his Football Legacy
Besides the formal recognition that has been endowed upon him for his excellent sporting skills, he has also received appreciations in the sporting form for his great skills, and his contributions have changed the performances of his teams. Off-field, he is seen actively promoting Brazilian pop music, especially Música Sertaneja. His video footage where he dances in the Santos locker room to a Michel Teló number has been viewed numerous times, and he also performs the dance moves after making goals on the field.
The fashion sense of Neymar
Neymar is a great watch, not just for his technique and skills on the field, but also because he is quite easy on the eyes. He has an incredibly cute smile, a warm skin tone, and a well-chiseled body. And to complement all that, he has a great sense of style and fashion. He is particularly bold and creative with his hairstyles, which have changed a number of times since his career began.
As a professional footballer and even before that, Neymar has maintained a number of different hairstyles. He wore Mohawks and mullets of different kinds, dreadlocks, etc., all in different colors, lengths, and textures. He has never fallen short in being eccentric and outrageously creative and has marked his rise to fame.
Top 10 Best Neymar Hairstyles of 2021
1. Neymar Hairstyle - Natural Curly
Most people do not know that Neymar's hair is naturally black and curly. He appeared for Santos in March 2009 with shaggily buzzed hair that looked like it had been fashioned in a hurry, showing off his natural hair. He was 17 at that time.
2. Neymar Hairstyle - Baby Mohawk
Neymar appeared for Santos in May 2010 with a Mohawk as the sides were buzzed. Thus, he appeared officially for the first time with a Mohawk, a style that became his trademark. This baby Mohawk was short but kept.
3. Neymar Hairstyle - Long Mohawk
In a friendly match against the United States in August 2010, Neymar appeared as a part of Brazil with a Mohawk, which now was carefully stylized to look more ostentatious. This time, his hair strands were longer – or higher, to be more accurate – and very distinctly formed into a Mohawk.
4. Neymar Hairstyle - Metro Mohawk
In March 2011 during a friendly match against Scotland, he sported a stylish, Cristiano Ronaldo-ish Metro Mohawk that was better styled, as well.
5. Neymar Hairstyle - Fauxhawk
In December 2011, Neymar appeared in the Club World Cup sporting a hairstyle that was more like a fauxhawk, his bleached into blond hair growing in all directions. The spikes were gelled to stand upright at the center and were more flamboyant and still stylish.
6. Neymar Haircut - Mute Colored Messy Fauxhawk
In January 2012, Neymar went to receive the Puskás Award for the best goal of the year at the Ballon d'Or in Zurich, Switzerland, donning a messy fauxhawk, but in a more muted color. With great confidence, he attended the formal award show looking dapper in a suit and sporting a flamboyant hairstyle.
7. Neymar Hairstyle - Layer with Headband
During the Olympics of August 2012, Neymar sported a cross between his Mohawk and a mullet, with shortened sides, and spikes shooting here and there. He often secured the layers with a headband.
8. Neymar Hairstyle - Bleached Hair
Neymar appeared in a friendly match against England in February 2013 with hair bleached brilliantly blond and the Mohawk uniquely gelled.
9. Neymar Hairstyle - Layered Mohawk and Dye
Neymar appeared in a match against England in June 2013 where he was given the jersey of the iconic number 10. He appeared staid in his new hairstyle as he discarded his Mohawk and dyes, and went for a simpler, tame, and stylish look with layers.
10. Neymar Hairstyle - Shaved Sides
In August 2013, Neymar gelled his hair down to tame his hair for one of the richest football clubs, Barcelona. He also shaved the sides, though he ditched the dyes again.
Neymar is indeed one of the finest players now. Undoubtedly, he has the capability to grab the attention of the fans while he is on the field. He also has the look and style to fascinate people, on and off the field. Let's hope to see some more fun hairstyles in the coming days!